15 Cheap Amazon Purchases That Helped Ease My Anxiety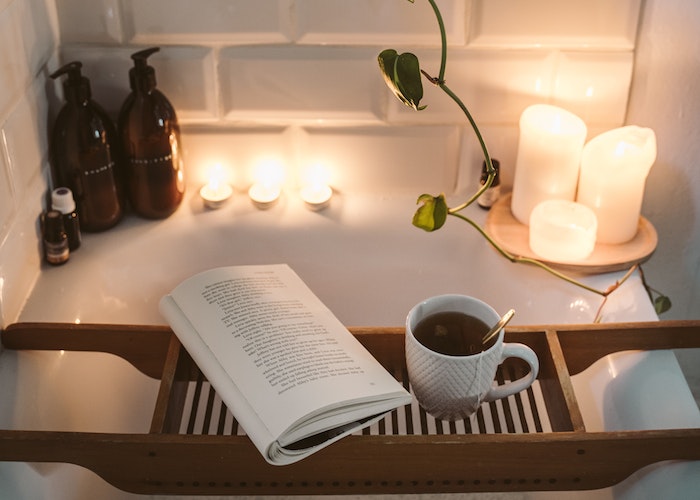 Since my budget has drastically changed since COVID-19, I have to be extra careful with how I spend my money. Granted, I should have always been careful and more aware of how I spent my money, but since I used to make a lot more of it, I didn't pay much attention to my finances. Prior to the pandemic, I was able to put a large chunk of money into my savings every month, and I spent any "extra" funds on whatever I wanted.
Online shopping has long been a favorite form of stress-relief for me. While I never go overboard on spending,  if I had a particularly long week, you could 100% bet to find me in bed, scrolling through the dresses on Zara, or browsing lipsticks on Sephora. Not to mention, e-shopping has always helped ease my anxiety.
Since money just so happens to currently be one of the main factors making me anxious as of late, I can't casually partake in that carefree ritual anymore. But if I ever feel like I want to purchase something as a treat to myself (and if my budget allows for it), I generally look for a product that either alleviates stress, is super functional, or just truly "sparks joy" as Marie Kondo would put it Although I'm still being ultra-conservative with my budget, I'm also allowing myself an affordable, worth-it indulgence, from time to time.
With that said, here are some of the products I actually purchased in the last few months. Bonus: The majority of them are under $25!
I don't know precisely when we all made the leap from yoga pants to bike shorts, but it's a move that makes sense to me — a human living in the sweatbox that is Los Angeles, California. It's been so stuffy and dry inside my house as of late, so I ordered four pairs of these super breathable, comfy bike shorts, and they've become part of my daily uniform. Since it won't get cold until late November, these will be in constant rotation for the next two months.
Instead of buying a ton of outfits for myself, I mostly buy outfits for my dog, and it makes life feel a little more normal and delightful, even. Usually around this time of the year, I'd be looking ahead at cozy, pretty sweaters I could wear out with friends. But since there will be very little of that this fall and coming winter, there's no need to fill my closet with new seasonal additions. Plus, I own a lot of sweaters already. Also – look at how adorable this flannel bandana is! My dog has truly been a mental health and lifesaver this year, so investing in her is also investing in myself.
This hair mask in particular makes me feel like I'm back at my go-to hair salon (which uses Davines products), so I simultaneously get a dose of olfactory nostalgia which makes me happy. Plus it really conditions my hair back to life.
I purchased these highlighters to help "brighten" up the burdensome task of daily planning. Crossing out the million things I had to do with just a regular ink pen began to feel overwhelming, so I bought these multi-colored highlighters to help streamline my productivity, and make my daily tasks feel more manageable. I also came up with a color-coded system to indicate which tasks were priorities and which tasks could be carried over to the next day.
Even though 2020 is a dumpster fire, that doesn't mean I have to let actual trash accumulate everywhere! This is something that began to happen in my at-home office as of late, as I found myself becoming too lazy to walk over to the kitchen to throw anything away. Eventually, the mess started to become unnerving, and since I needed a trashcan anyway, I decided it may as well be a cute one. This isn't the exact gold trashcan I bought (who knew gold trashcans were a hot commodity?) but it's close, and it kind of doubles over as a piece of accent furniture.
When I feel sad, I bake, because I am a trope. Realizing I didn't have a bundt pan, I first went to Target to find one (they were sold out — this was during the hyper baking kick the entire country was on at the same time), and then found this Nordic bundt pan online. In the end, it made a pretty banana bread, and I got to focus on something else besides the 10,000 worst-case scenarios inside my brain. Win!
Also, bundts will never not make me think of this scene in My Big Fat Greek Wedding. #iconic
Is it reductive to call a kitchen gadget an "angry mama," or am I overthinking this? Anyway, possible stereotypes aside, this little tool really does make cleaning your microwave so much easier, plus it also kind of feels like a science experiment. To use it, you just add vinegar and water, microwave it for seven minutes, and watch a lifetime of grease get steamed away. Keep in mind that you'll still have to wipe off all the remaining residue, but it'll be much easier to degrease your microwave. Plus you'll be left with an oil-free, non-sticky surface. Knowing things are clean always makes me feel that much at ease, especially if it's an area I've been avoiding.
By no means is this intended to be a fancy nail kit, but it does the job. One of my favorite stress-relievers is giving myself an elaborate, multi-step manicure, and this comes with all the basics for buffing, assuming you already own nail clippers, cuticle pusher, and some kind of cuticle oil or hand cream.
I've been a diary-ist since I was little, so I always, always, always have a journal around. One of the most effective ways for me to unload worries and anxieties is to write everything down  – more specifically this includes jotting down what's bothering me, whether I can fix it, or if it's a situation that's entirely beyond my control. This journal is ike the budget-friendly version of a Moleskine. Honestly, I'll probably need another one real soon, considering that I've been journaling a lot this year.
I bought this back in spring when it rained every day for about a month straight in LA., and the weather threw me into a fashion existential crisis. It was pretty chilly, but a sweater wasn't quite warranted, either. Still, I wanted to look "put together" if I had an interview or video call, so this became my go-to sweater. I can attest it is very soft and comfortable and one of those tops you can truly just "throw on" and feel good in.
I'm currently on Season 1 of Schitt's Creek, and it's just the show I needed to binge-watch this year. This mug is a reminder that there is some joy in all this craziness. (*Note: If you're not quite a fan of the 'Creek,' I'd suggest shopping for any affordable pop-culture-themed mug, that references your show of choice!)
You know when you get super stuck on a band or musician because their songs are propelling you forward and making you feel more invincible and productive? Run the Jewels is my focus-mode music of choice, and this T-shirt also goes nicely with my bike shorts collection. No, it wasn't a necessary purchase, but since I live in comfy tops and bike shorts these days, believe you me this is getting worn. *Note: Amazon sales a ton of artist-inspired tees for your choosing!
Normally, I would never suggest purchasing skincare or beauty products on Amazon, but I've bought these exact Korean face masks for a few years now, and can vouch for them. You can also buy less at a cheaper price if you don't quite feel like making this big of an investment. When I'm anxious, I also tend to break out, so I rely on a few good skincare products to get me through a case of "stress acne."
A fellow editor turned me on to rose tea, and now it's a nightly ritual to brew some and try to get at least 15 minutes of reading in before I go to bed. I've found that rituals are so helpful in stressful times; just having one thing that you do every day makes stress seem a little bit more manageable.
**And as a bonus, not from Amazon, but from Sephora:
I know buying makeup in a time when I rarely make contact with humans these days sounds silly, but putting on a light face of makeup a couple of times a week is something I've started to do again. I've found that getting even the slightest bit made up adds a sense of normalcy to my life. I haven't bothered with lipstick because my mouth is covered by my mask, which makes my eyes front and center. So I decided to switch things up by getting this cool army green eyeliner, different from the jet black liquid liner I normally wear. It's definitely an indulgence ($22 for eyeliner isn't cheap), but for the price, I was able to buy myself a little bit of confidence, which felt worth it. On top of that, I used up 700 beauty reward points and got a bunch of free products on top of that, so the gift to myself felt much more substantial!
Gina Vaynshteyn is an editor and writer who lives in LA. You can find more of her words on Refinery29, Apartment Therapy, HelloGiggles, Distractify, and others. If you wanna, you can follow her on Instagram or Twitter.
Image via Pexels
Like this story? Follow The Financial Diet on Facebook, Instagram, and Twitter for daily tips and inspiration, and sign up for our email newsletter here.