16 Handy Little Things Every 9-5 Career Gal Should Have At Her Desk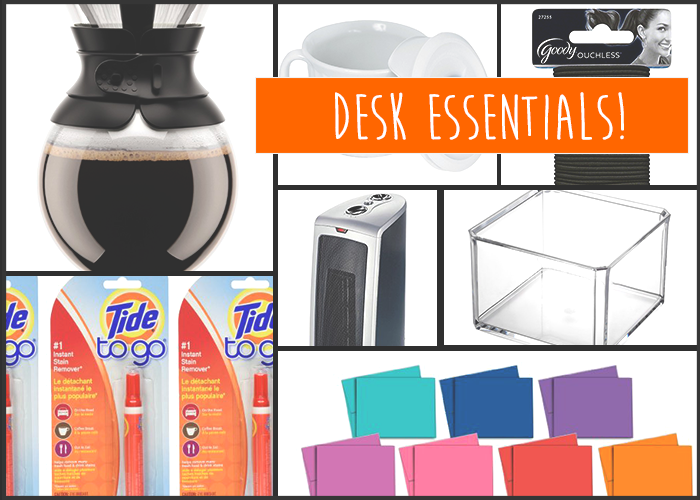 I've had a lot of jobs. I worked as a receptionist all throughout my college years, and have worn many hats ever since: leasing office assistant, receptionist again, content writer, freelance copywriter and editor, and now, of course, managing editor to TFD! (I've also had three unpaid internships, but we won't…go there.) And other than freelancing — a lot of which I do from a library, coffee shop, or…my couch — each of those jobs had at least one thing in common: an office, complete with my very own desk.
I've learned that I love offices. Namely, desks. To be able to have one space to call all your own, to fill with your own tchotchkes, photo frames, cute stationery products, as well as useful little things to get you through your day, is one of life's little pleasures that just keeps on giving. I find that completely personalizing a workspace so that it's someplace I really enjoy sitting, as well as making it clutter-free and comfortable, motivates me to work more than most other things. That being said, your desk is also where you likely spend most of your working week — it needs to be equipped with whatever you need. Personalizing your workspace extends far beyond inspiration boards and cute photos.
And let's face it: most offices aren't going to be a completely perfect working environment for you. They may be too hot, too cold, too stuffy, not liberal with supplies, provide terrible coffee, you name it. Any small thing you can add to help make yourself feel more ~at home~ in your office or at your desk, or more ready to tackle a small, unforeseen challenge that's not even work-related, is worth it, in my opinion. So that's what I focused on for this week's Amazon Prime Roundup: things to make your desk more organized, more comfortable, and all around better for your productivity. If I were to dream up a perfectly-equipped personal workspace, it would include all of these things. Enjoy!
1. POUR OVER COFFEE MAKER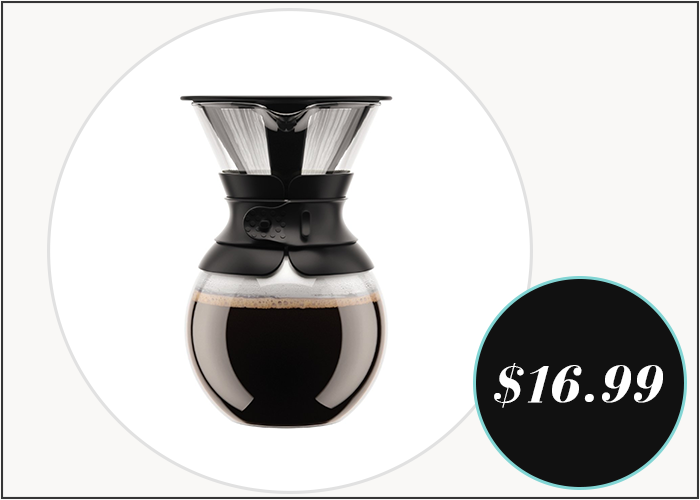 Let's get one thing out of the way: coffee is very important to everyone at TFD. Most of have at least one or two cups per day, if not more (not naming names). When I work from home, I only make pour over coffee. For one thing, I don't have the counter space for a larger coffee maker, but it's also super easy to make, and you have even more control over how strong you want it. | Bodum 11571-01US Pour Over Coffee Maker with Permanent Filter, 34 oz, Black
2. CERAMIC SOUP MUG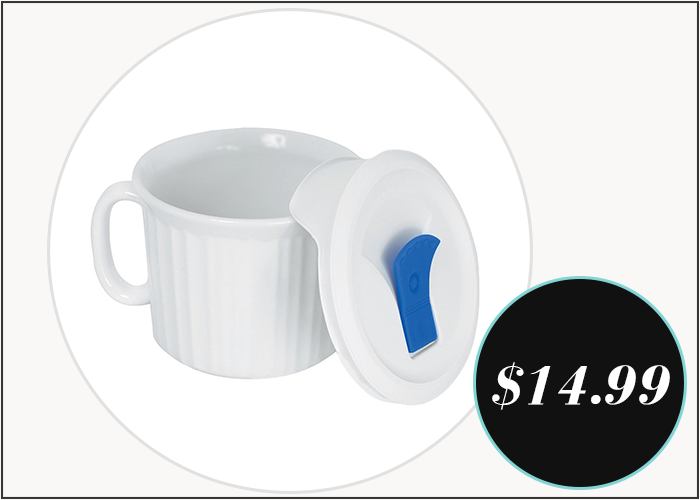 Annie, our Sales & Partnerships manager, swears by this ceramic soup mug she got recently, and I honestly couldn't be more excited to get one for myself. I have an arsenal of different soups I make in the winter, which are great, cheap meals that make plenty of servings and are endlessly freezable. I cannot stress the value of something that can be transported between the oven, microwave and dishwasher, that's also a portable something that you can easily eat out of at work. | Corningware 20-Ounce Oven Safe Meal Mug with Vented Lid, French White
3. TWIN-SIZED FLEECE BLANKET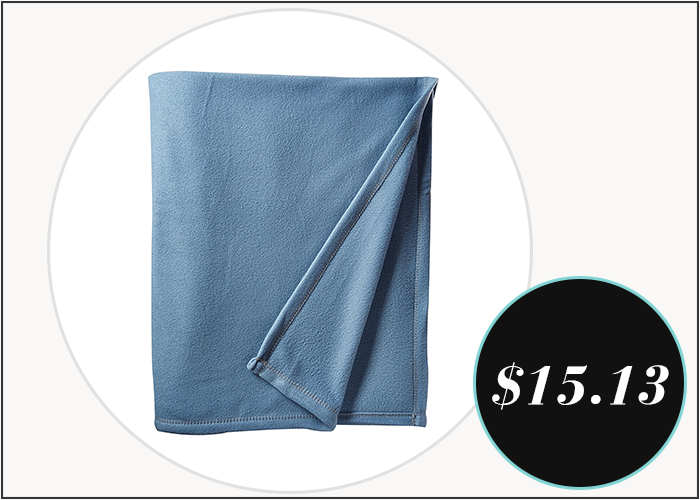 I grew up in Atlanta, and spent a few summers in high school working as an intern (a paid one!) at a life insurance company. Even in very sticky and hot Georgia summers, blankets were a hot commodity thanks to the air conditioning that seemed to never not be on full blast. And no matter where I've worked, I find all offices to be cold. I think a twin-sized blanket is the perfect size to stash under a desk or in a file drawer, and fleece is a nice warm material that's not too bulky. | Martex Super Soft Fleece Twin Blanket, Blue
4. INDIVIDUAL SPACE HEATER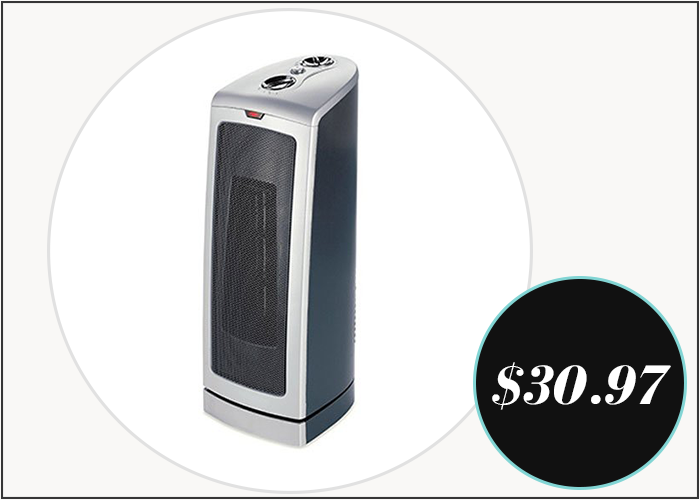 Have I mentioned that offices are cold? If you have room for a space heater under your desk and get cold often, I cannot recommend one enough. I had one of these under my receptionist desk in college and it made the Vermont winters just peachy. | Lasko 5307 Oscillating Ceramic Tower Heater, 16-Inch
5. DETACHABLE BACK SUPPORT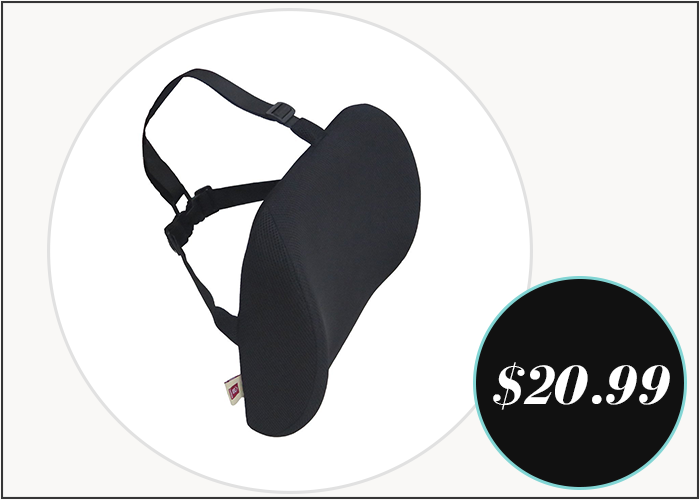 Another idea stolen from my college work days is extra lumbar desk-chair padding. I've personally worked many, many hours on a couch, and I physically notice the difference when I sit somewhere with actual back support. These things make any not-great office chair so much more comfortable, and you can find them for not much money. | LoveHome Memory Foam Lumbar Support Back Support with 3d Ventilative Mesh cover and 3-way strap – Alleviates Lower Back Pain – (Black)
6. CLEAR ORGANIZERS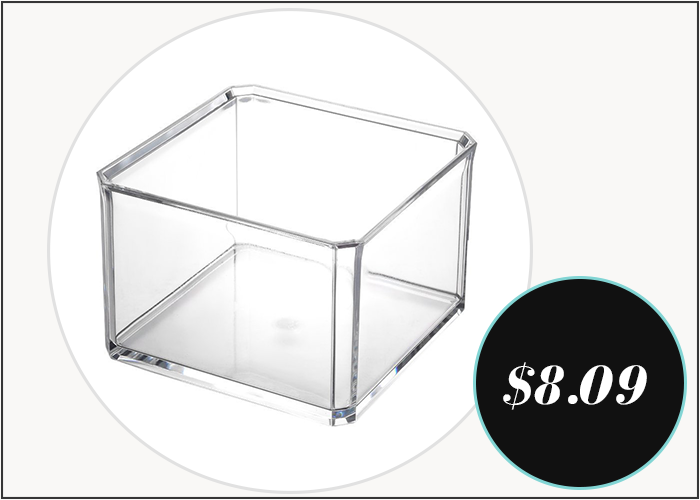 The nice thing about clear organizers is that you don't have to guess what they're holding, and you can tell as soon as they start to get dusty or gross. Plus, they're a great place to store bobby pins, hair bands, or mints, or anything else you don't want getting lost *somewhere* in your desk drawers. | Choice Fun Multifunctional Acrylic Makeup Organizer Cosmetic Box 3.7″L3.7″W2.6″H
7. METAL-LESS PONYTAIL HOLDERS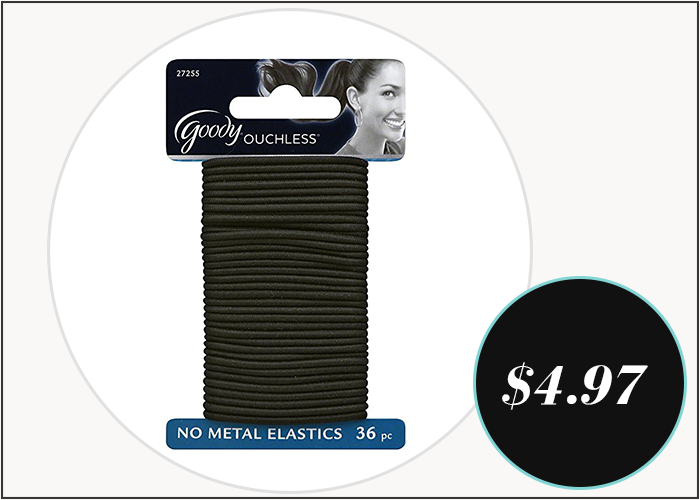 I personally really hate wearing hairbands on my wrist, but I always want to have them with me. Keeping some in your desk is an easy way to make sure you always have them handy. I love these ones especially, because they don't have any metal that gets caught in your hair, and they tend to last longer than most! | Goody Ouchless Gentle Elastic Ponytail Holders, Black, 36 ct
8. PORTABLE CHARGER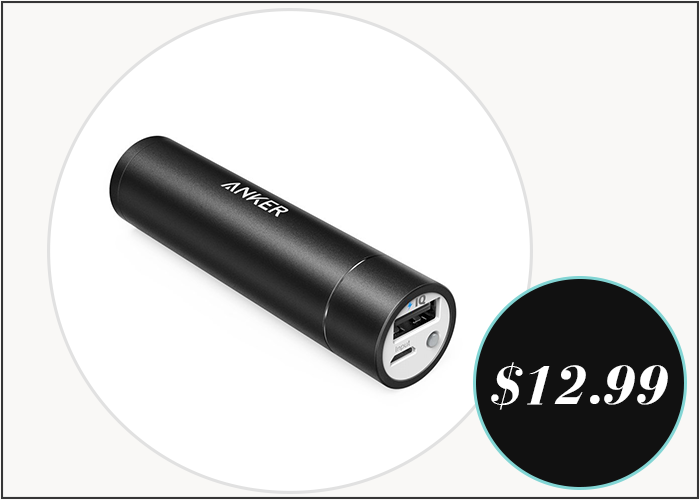 Keeping an extra phone charger at your office is basically second-nature to most of us now, and a portable charger is even better. You can take it with you to a meeting or out to lunch to make sure you never run out of juice during the work day, and then you can also be sure you have enough charge for the commute home — which is insanely important. | Anker PowerCore+ mini, 3350mAh Lipstick-Sized Portable Charger (3rd Generation, Premium Aluminum Power Bank), One of the Most Compact External Batteries
9. BLANK NOTE CARDS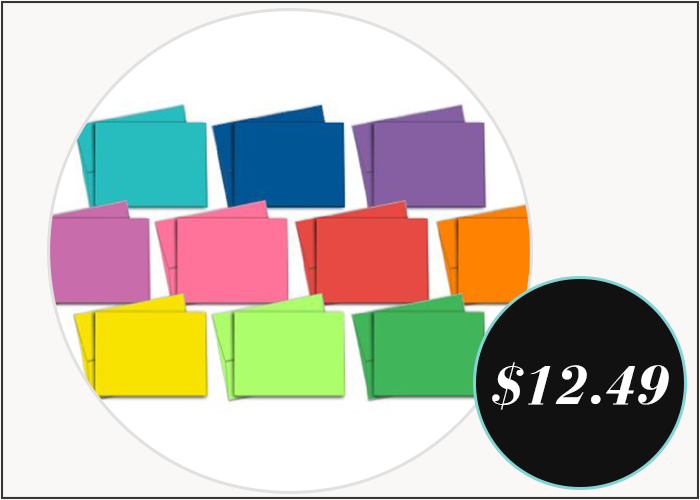 Let's face it: most of us are not the best at remembering birthdays until we notice them while scrolling through Facebook feeds at lunchtime. If you already have a stack of multi-use cards (in pretty, cheery colors!) at your desk, you don't ever have to worry about accidentally missing a coworker's birthday. These are also great for occasional thank you and thinking-of-you notes! | Blank Note Cards – Multi-Color Pack – 40 Thank You Note Cards – Matching Color Envelopes Included
10. LINT BRUSH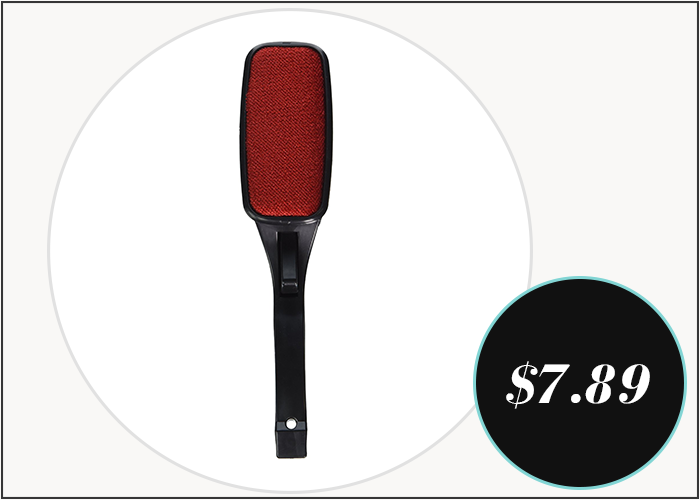 I spend half of my time in an apartment with a cat, and lint rollers are just a life saver. The disposable paper ones work great, but I also feel pretty wasteful using them, so I much prefer these reusable ones. This particular pack of two is a great deal, and bonus, you can keep one at home and one at your work desk! | 2 Magic Lint Brushes-For Pet Hair, Lint and Dust – Swivel Head
11. HOT SAUCE/OTHER CONDIMENTS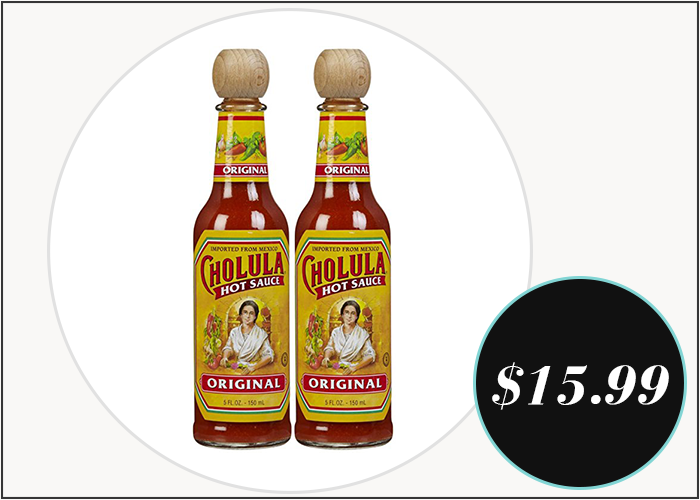 The best hack for giving work/desk lunches a spruce: keep hot sauce at your desk, or in the communal fridge (with your name clearly marked, of course). I'm a Cholula girl, but keeping a small stash of whatever condiments you prefer will make lunchtime a little happier! | Cholula Hot Sauce Original 5oz. ( 2pk )
12. TIDE TO-GO PEN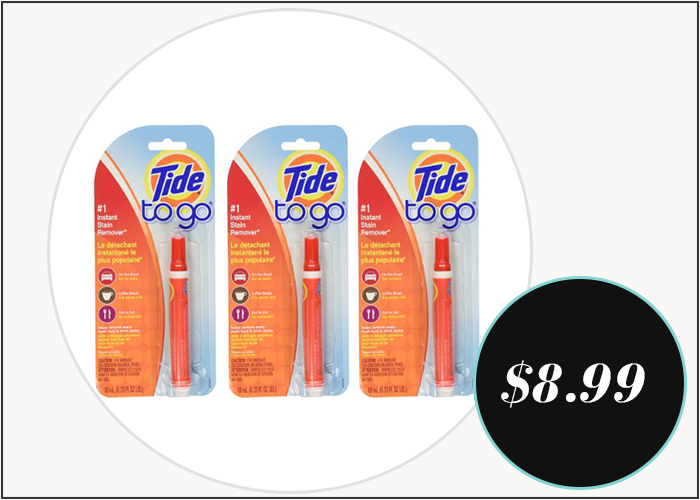 Frankly, these are a life saver. I find that they even work on pen marks, which somehow always land on me only on the days when I'm wearing a white shirt. Keep one in your desk, one in your purse or car, and one at home, and you'll always be prepared. | Tide 0Mini Instant Liquid Stain Remover – 3 ct
13. CLEAR NAIL POLISH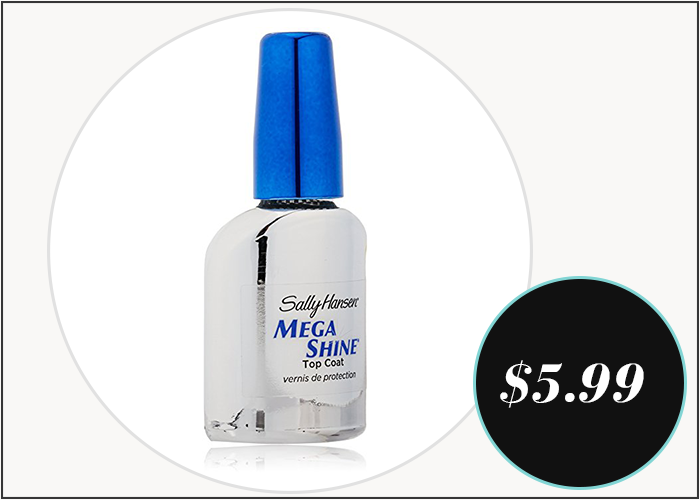 Okay, so I'm not actually suggesting you paint your nails at work. I feel like I've seen secretaries do this in 80s movies, but I'm also convinced it wouldn't fly in any of the offices I've ever worked in. But a little trick I learned in my dance competition days is that, if you snag your tights, you can keep them from running by applying clear nail polish around the edges of the hole. Literally one of the best/easiest hacks, and it will save you the trouble of having to constantly be replacing tights. | Sally Hansen Mega Shine Top Coat 3460 Clear
14. SEWING KIT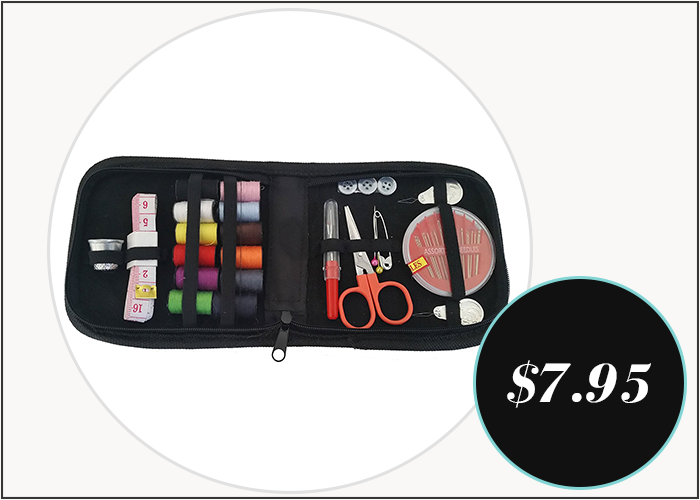 Being able to sew a button is simply just something everyone should know how to do. (There are many YouTube tutorials if you don't know how to yet!) I've been in the Yikesville situation of losing a pants button at work once, and I had to go MacGyver them to stay up using just a paper clip, because no one at the office had a sewing kit, or even a safety pin. Learn from my mistake. | Mini Sewing Kit for Travel, Home, Campus, Car, Professional and Emergency Use. Premium Portable Starter Sewing Kits for Kids and Adults. Best Sewing Kit That Comes with Spool of Multicolours Thread
15. SPARE UMBRELLA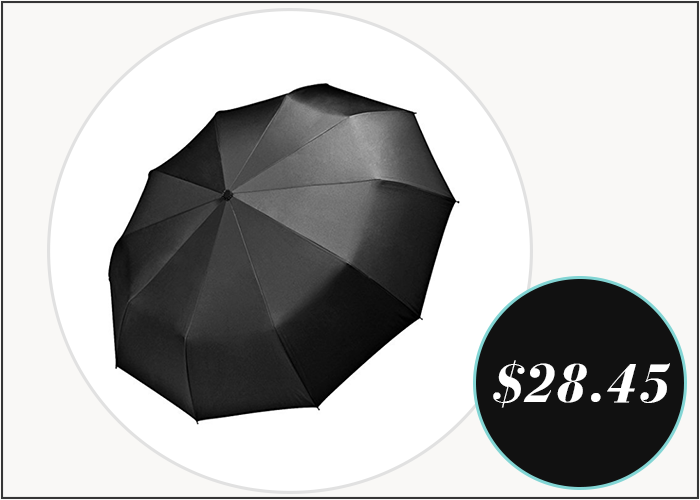 I can't tell you the number of times in my life where I've been stranded sans umbrella, and ended up having to buy one for $5-10 at the nearest Duane Reade. Keep an extra one at your desk in case of an unexpected downpour — and, of course, remember to return it the next day, so you don't once again find yourself having to do without! | RayGone 60 Mph Windproof 10 Rib Travel Umbrella with Auto Open Close Button
16. MINI DRY SHAMPOO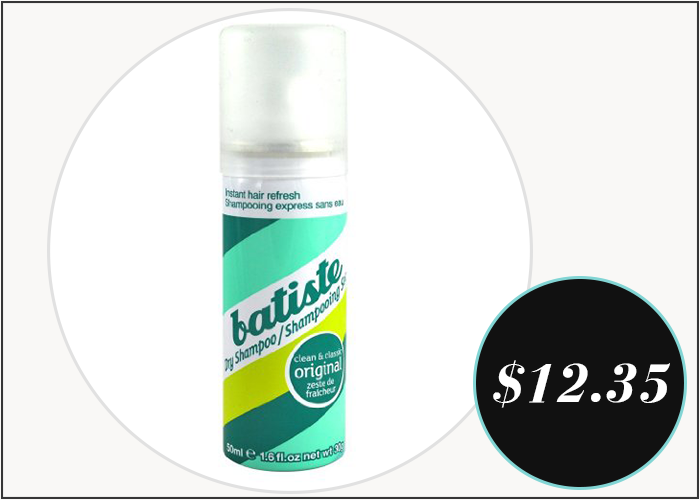 I owe a lot of my facade of put-togetherness to dry shampoo. And I'm not normally a stan for one specific product, but I will say that Batiste is the only brand of dry shampoo I will buy. If I didn't use it, I'd have to wash my hair once a day to keep it from looking greasy, because that's how greasy my hair is. I highly recommend keeping a travel-size one in your bag or desk for mid-day hair emergencies, especially if you are like me and could do with a little less oil up top. | Batiste Dry Shampoo 1.6 oz. Original (PACK OF 3)