20 Quick & Easy Dinner Ideas For People Who Hate Cooking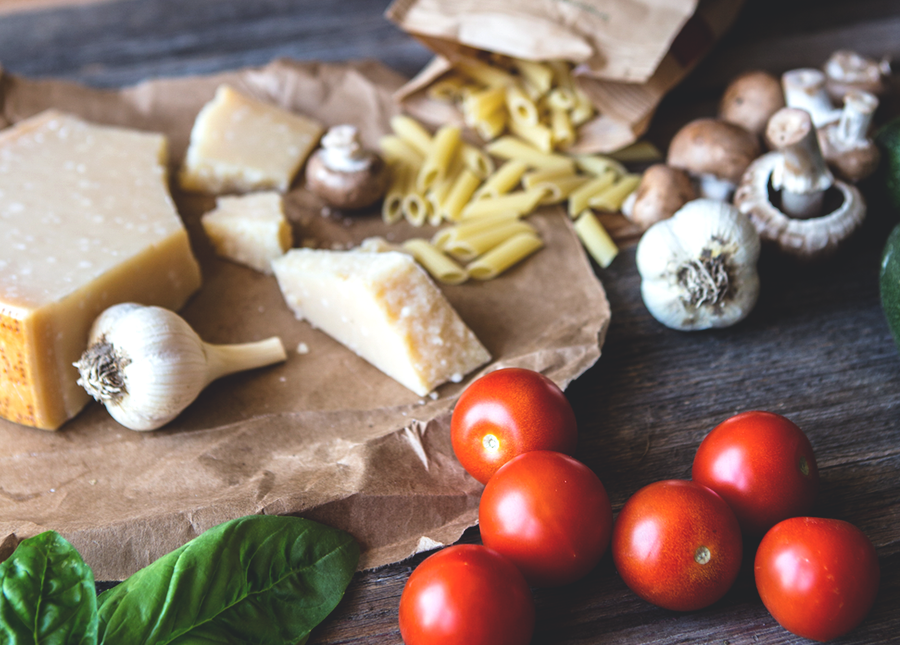 My mom used to tell me never to use the word "hate." "You don't hate it, Sarah, you just dislike it." Thanks for the advice mom, but no. I'm allowed to hate things. And anyone who reads my blog knows that I hate cooking. I'm terrible at it, and the only part I enjoy is the eating.
But you know what? It's necessary. My boyfriend does almost all of the cooking in our house, but there are those odd nights when he's stuck at work, and I need to get something on the table before I spiral into a hanger tantrum. That's wheremy best quick dinner ideas come in. These are the times when takeout is oh-so-tempting, but getting into that habit is terrible for my budget. Instead, I have a few quick dinner recipes in my arsenal that I turn to when my name comes up on the dinner schedule. Here are my favorite recipes for people who hate to cook:
Loaded Carbs
Carbs are my friend. I love them…a lot. And they also make the perfect base for some of the most accessible dinners you can whip up. Disclaimer: none of these are actual recipes. They are basically layering methods, so you can switch them up based on what you have on hand in your fridge and pantry.
1. Grilled Cheese and Tomato Soup
The quintessential classic. Two slices of bread, a few slices of cheese (whatever kind floats your boat, or is already sitting in your fridge), a couple of smears of mayo, and a can of Campbell's tomato soup. And yes, I did say mayo. If you haven't subbed mayo for butter on the outside of the bread for your grilled cheese, you must. It sounds weird, but it's delicious. If you want to step it up a notch, then make your own tomato soup. This recipe is done in the slow cooker, and it isn't much more effort than opening a can.
2. Beans & Cheese on Toast
Anyone else out there have British parents who fed this to them on constant rotation when they were kids? It was a go-to for my mom, and I've found myself coming back to it as an adult. All you do is toast a piece of bread, top it with some canned baked beans and a healthy dose of shredded cheese, and stick it under the broiler for a few minutes. Maybe it's the nostalgia, but I think it's delicious.
3. Naan Pizzas
This is almost a weekly meal for us in the summer, because they can be done on the BBQ, and are a super quick dinner. There are also endless combinations you can make (just like real pizza), so they'll hit the spot with even the fussiest of eaters. I buy bags of premade naan bread, put them on the BBQ for a few minutes, flip and add my toppings, and cook until the bottom is crisp and the cheese is melted. A few of my favorite combinations:
Classic margarita with tomato sauce, fresh mozzarella, and basil
Sliced beets, goat cheese, and spinach
Smoked salmon, cream cheese, capers, and a lemon wedge on the side
Shredded chicken with pesto, mozzarella, and cherry tomatoes
Prosciutto and pineapple with shaved parmesan
4. Nachos
Because yes, you can absolutely eat nachos for dinner. Think about it: nachos cover all the food groups. You've got your meat or beans for protein, your cheese and sour cream for the dairy, corn and jalapenos and guacamole for the veggies, and of course, the chips for the grains. Nailed it.
5. Tacos
Tacos are pretty much nachos, but more accepted as a dinner option. And they, too, have endless varieties you can make. My all-time favorite taco is chorizo, which is quick and easy to fry up, but you can also do a batch of shredded chicken or pork in the slow cooker. If you're not a meat eater, then you can look to mushrooms or beans as a base.
Clean-Out-The-Fridge Dinners
For those times when the fridge looks full, but there's still nothing for dinner. This happens to me more often than I'd like to admit. We are avid meal planners, but certain products seem to multiply in our pantry. We always have boxes of pasta, cans of beans, leftover veggies and at least a couple of blocks of cheese. To ensure these extras don't go to waste we make a point of doing a "clean-out-the-fridge dinner" every couple of weeks.
Not only does this salad use up a lot of things that tend to accumulate in your fridge, but it's also delicious. Meat, cheese, chickpeas, a bunch of vegetables and a garlicky dressing equals perfection in salad form.
7. Scrambled Eggs (or a frittata if you want to be fancy)
Eggs are one of the best simple dinner recipes, even if you're terrible at cooking like I am. They're also something most of us keep on hand. If you need dinner in a hurry, just whip up a batch of scrambled eggs and throw in whatever veggies, meat or cheese you happen to have on hand. If you want to make something a little more "dinner-worthy" but still easy, try a frittata. It's basically scrambled eggs, but baked in the oven.
8. Stir-Fry
Stir-frying get a bad rap, because it is the "boring" thing everyone cooks when they have nothing left to cook. That doesn't need to be the case, though. All you need is a good sauce — and the best sauce is from scratch, not from a bottle. Trust me (although I'm not sure why, since this whole post is based on my lack of cooking knowledge), it makes a difference. It's also a good idea to step up your rice game. Try coconut rice, or add a little saffron for a flavor kick.
9. Freezer Soup
Are you the kind of person who makes big batches of soup to stock the deep freeze but then never actually eats them? Me too! Set a goal to eat one freezer soup per week to make your busiest night easier and your grocery bill lower.
10. Pasta Salad
Pasta is great warm or cold, so use that to your advantage. Go a little heavy-handed when making pasta, and use some the next day for an easy pasta salad.
No-Fuss Sheet Pan Meals
If you haven't discovered the magic of sheet pan dinners, you are missing the heck out. Technically, these involve cooking, but not really. You chop, season, spray, spread, cook, and serve. And if you line your sheet pan with foil or parchment paper, you barely even have to clean. Score! Try one of these combos, which are sure to please whoever you're cooking for (including just yourself):
One Step Up Meals
Maybe you have company coming over or want to make something for a date night in — these options will take it up a notch, but are still easy enough for even me to accomplish.
16. Charcuterie Board
This is perfect for date night. Yes, you'll probably need to go to the store to stock up on supplies, but there's zero cooking involved. A few types of cheese, meat, crostinis, mustard, and preserves, and you'll have a delicious dinner you can share over a bottle of wine.
Restaurant-style lettuce wraps cook up quickly, and have the added perk of being healthy.
This is one of my favorite pasta dishes ever. It sounds (and tastes) fancy, but it's about as easy as it gets. You will want to get the best quality tortellini you can find, as it's the star of the show. And make sure you don't burn the butter. Just brown, not black.
I've made this specific quinoa salad so many times, and it's always a hit. It's my go-to side dish to take to summer BBQs, but it also works as a main dish. The best part? It keeps well, so you can eat it for days after.
The dressing on these bowls is so addictive. I recommend making a double batch so you can give in to the second-day craving. The Minimalist Baker has so many amazing plant-based recipes. If you're looking to reduce the amount of meat you eat, then browse her site and get inspired.
*****
Getting dinner on the table doesn't need to be a big production. There are plenty of options for easy and quick dinners that will keep you satisfied and away from the nearest take-out joint.
Do you enjoy cooking or is a chore you dread? What are your favorites for when you need to get something on the table fast? 
Sarah is a Canadian personal finance blogger over at Smile & Conquer. She has been working in the world of finance for almost a decade and uses that experience to help other millennials get smart about their money.
Image via Unsplash