What I Actually Spend On Groceries In A Week At Trader Joe's (+Receipt)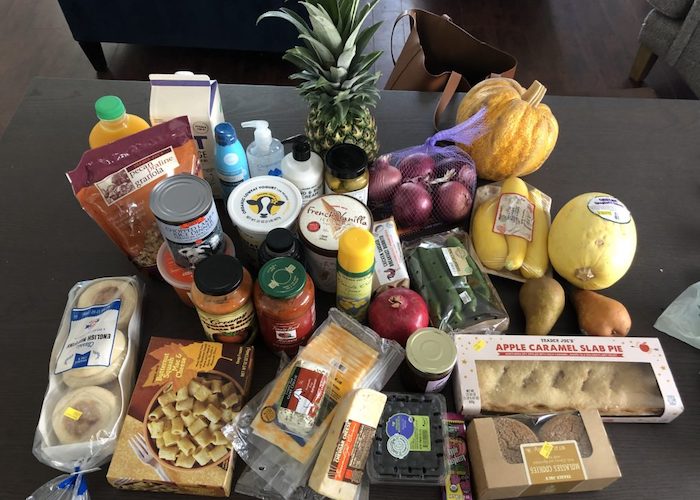 Normally, my groceries cost me under $100. If it's a normal week and I'm not entertaining guests or buying something luxurious in light of a holiday or milestone (my go-to "celebration dinner" is steak and shrimp) I'll spend $70, tops.
However, last week, I ended up spending more than I normally would at my go-to grocery shop, Trader Joe's, since I still needed a few essentials from there, that I would normally grab at a drug store or Target.
Since I already had all my pricier items (like meat and poultry) from Costco in the freezer, I mainly needed veggies for dinner, breakfast, dessert, a microwave meal because I knew my week would inevitably go bonkers and I didn't want to tempt myself with delivery, and I desperately needed to restock on cheese.
After I was done shopping at Trader Joe's, I decided to do my routine grocery list audit, to track costs and spends. Here's how it turned out.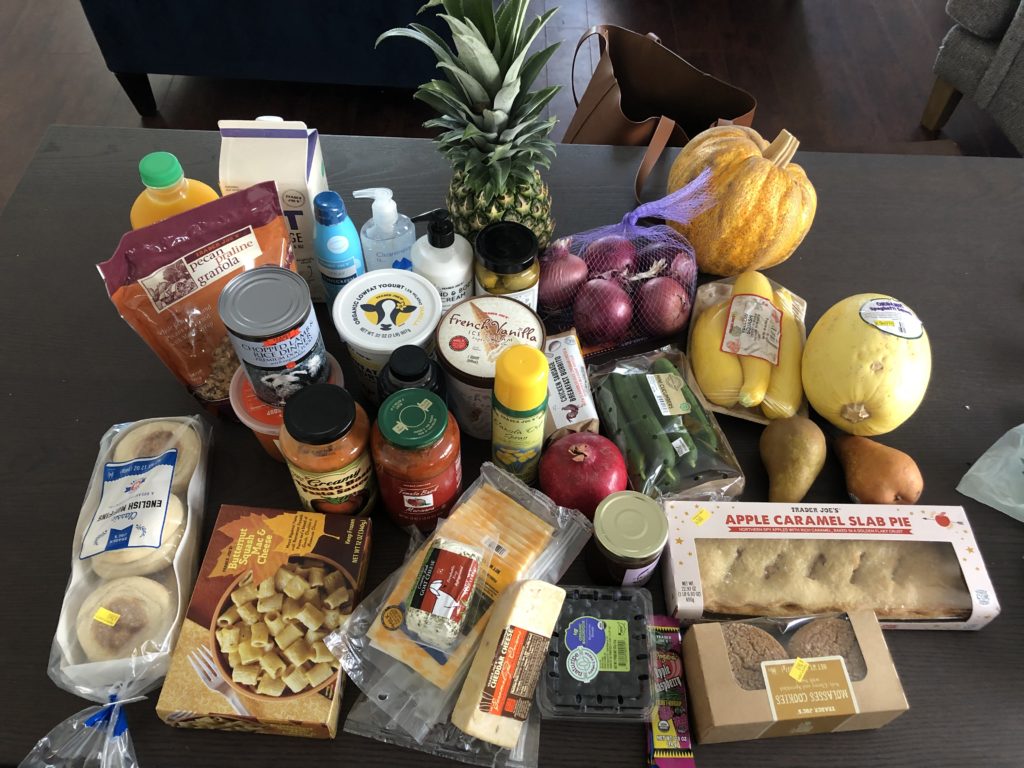 My Meal Plan For The Week (Per Day):
Sunday: Spaghetti squash with marinara sauce
Monday: Grilled chicken with red potatoes that I already have (I'll probably do something easy, like roast them in the oven), and sautéed yellow squash
Tuesday: Grilled cheese sandwiches and Trader Joe's tomato soup with feta
Wednesday: Turkey burgers with lettuce buns (I already have these ingredients on hand)
Thursday: Quick taco bowl with ground turkey leftovers (I should have a tomato, some black beans from my quarantine can-hoarding days, and can pick cilantro from my little garden if the heatwave hasn't zapped it to a crisp)
Friday: A frozen pizza I definitely already have in the freezer
Saturday: Honestly, probably takeout. I will be a zombie by Saturday and will need Taco Bell to sustain me through the weekend.
My Recipe Items For The Week, Per Meal
Breakfast: Yogurt, granola, and blueberries, English muffins, and a breakfast burrito. Plus oat milk for my coffee.
Lunch: Leftovers, butternut squash mac 'n cheese frozen meal, and cold brew iced tea to wake me up from my post-lunch coma
Snacks: Fruit (pomegranate, pineapple, and pears), sliced cucumbers with hummus, fruit wraps, and cheese (colby jack, provolone, herbed goat cheese, and caramelized onion cheddar — the cheese is also for the grilled cheese I'm having for dinner). Also, chips I already have. My husband also tossed the olives in the cart, but olives aren't really the journey for me.
Desserts: Apple caramel slab pie with vanilla ice cream, molasses cookies (one night I most definitely will crumble a cookie into a bowl of vanilla ice cream), and vanilla ice cream and hot fudge because that sounded comforting
Miscellaneous items picked up from Trader Joe's:
Sunscreen
Body lotion
Hand sanitizer
Canola oil – I prefer olive oil from a jar, but my husband likes the kind that sprays)
Dog food – my dog likes the kibble kind, but I like to mix it in sometimes to make it more special; plus I get to say "bon appetit."
Tangerine juice
Normally I never drink juice, but since we have a lot of sparkling water from our Costco run from a few weeks ago, I thought it would make a cool drink for this weather, especially with a shot of vodka. Oh yeah, and I bought some rustic-looking fall decor.
Here's my total: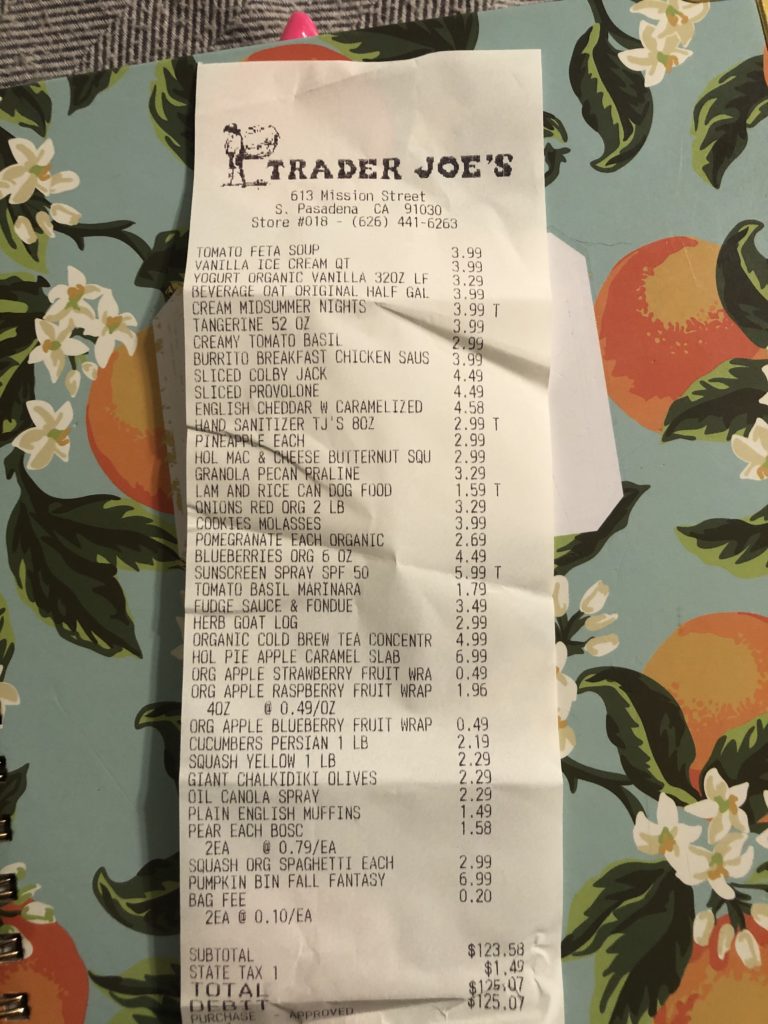 Normally I don't go so dessert-heavy, but lately, my lunches have been lighter and I've been enjoying something sweet at night while I wind down and try to read or watch Schitt's Creek. So, no, I'm normally not buying cookies and pie and ice cream and hot fudge like I'm making up for lost time at the state fair. It's just been a month, y'all. I also usually have cheese on hand, but completely ran out after hosting a small gathering for my husband's birthday last month. Also, my pumpkin was pricey ($7) but so worth it. I'm not carving it, so it'll last me at least a month if I use the A/C in this LA heat.
In total, I spent $125 on my Trader Joe's splurge.
That's about $55 above my normal weekly spending.
Do I have any regrets? I probably shouldn't have gotten the cookies and the pie, to be honest. Not because I shouldn't eat them, but because the cookies might go stale before I finish them (they just looked so good!) But honestly? I'll be eating relatively healthy meals all week, and get to treat myself at the end of the day.
Not too shabby.
Gina Vaynshteyn is an editor and writer who lives in LA. You can find more of her words on Refinery29, Apartment Therapy, HelloGiggles, Distractify, and others. If you wanna, you can follow her on Instagram or Twitter.
Image via Unsplash
Like this story? Follow The Financial Diet on Facebook, Instagram, and Twitter for daily tips and inspiration, and sign up for our email newsletter here.