The 20-Minute Meal Plan: 5 Different Dishes, 12 Total Ingredients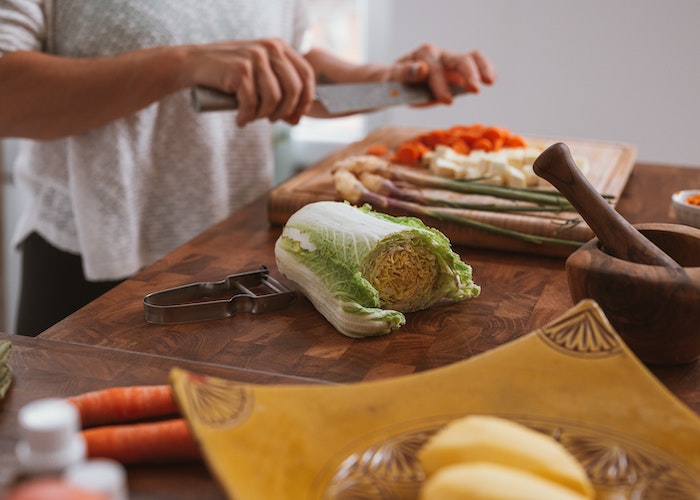 If you live alone, or at any rate have to cook for one, you undoubtedly understand the struggle of grocery shopping and meal-prepping for yourself. From my experience, I either wind up eating the same meal for a week (or longer), or I inevitably have leftover ingredients I need to get creative with. As such, I've developed a handful of recipes that use the same ingredients, are quick to make, and never get old. 
For these meals, I've used the twelve ingredients below, but I've assumed that typical spices, like turmeric, are not an ingredient. Other common household spices and sauces, such as soy sauce (hoarded takeout packets count), onions & garlic, curry pastes, sugar, vinegar, hot sauce, etc.  — are also not included, since most usually already have them in their spice rack. If, of course, you don't have any of them items above — or below — this may require more than twelve grocery store items. However, I promise that spices are an investment worth making.
Chicken or Tofu

Black Beans

Rice or Quinoa (Grain of Your Choice)

Tomatoes

Bell Peppers

Spinach

Veggie/Chicken

Coconut Milk

Lentils

Mushroom

Zucchini

Avocado 
With these ingredients, I mix-and-match to make chicken burrito bowls, either chicken salads or a vegetarian salad with lentils, Thai red curry (again, either vegetarian or chicken), a coconut lentil stew, and stir fry. 
1. Burrito Bowl
Burrito bowls  are easy: I cook the chicken with cayenne, cumin, salt, pepper, garlic, onions, and chili powder for an extra kick. I then add any vegetables I desire, usually spinach, bell peppers, and tomatoes. I also include this mixture to a bowl of cooked rice, usually brown, and top it off with black beans and hot sauce. You can always add tofu or other vegetables, like mushrooms, to this and additionally it never hurts to pick-up homemade salsa or guac from a small-business or restaurant nearby. For the sake of using minimal ingredients, I stick to adding an avocado and forgo other sauces, but you certainly don't need to stick to merely twelve ingredients. For another
2. Salad
Everyone likes their salads a little differently and my preference happens to be for salads without dressing, just a drizzle of olive oil, if anything. Weird, I know. I usually enjoy a spinach salad with a bit of brown rice, black beans or lentils, sautéed vegetables (bell peppers, zucchini, and tomatoes) along with avocados and grilled chicken or tofu. I typically season the chicken with salt, pepper, paprika, garlic, an Italian seasoning blend, chili flakes and a splash of lemon. This is a really simple salad and one I usually make at the end of the week, putting together any leftover ingredients from this batch of groceries. 
3. Thai Red Curry
Believe it or not, Thai red curry is incredibly simple. For a vegetarian version, I sauté onions and garlic with other veggies, mainly bell peppers, zucchini, mushrooms, and tomatoes though you can add broccoli or snap peas as well. I then add Thai red curry paste, coconut milk, and allow this to simmer. You can amp up the seasoning with chili powder, fish sauce or soy sauce. If cooking this with tofu or chicken, add it in at the beginning with the rest of the vegetables. I also add a generous helping of spinach at the end, just before it's done fully cooking, and serve this with rice.  (There are also recipes like this where you can turn this into a soup using chicken or veggie stock and zoodles, just in case the grain bases are too heavy for some.)
4. Coconut Lentil Stew
I like to eat vegetarian as much as possible and this coconut lentil stew is an easy way to do that. Simply cook lentils, and a generous amount of spices, from curry powder to turmeric, and add coconut milk. I often add some spinach at the end, just to have a few more vegetables, and serve this with rice, as well, sometimes even roasting a few additional vegetables on the side for added fiber and nutrients. 
5. Stir Fry
Finally, stir fry is a no-brainer method to use up any leftover vegetables or meat, especially if salad isn't your thing. Simply cook everything—chicken, bell peppers, tomatoes, mushrooms, zucchini, onions, garlic, spinach—with soy sauce, red chili flakes, sesame oil, and Sriracha and you've got yourself a delicious meal to serve with rice! You can amp up a simple stir fry by making a peanut sauce with peanut butter, soy sauce, and white wine vinegar instead, if that's more your speed, or even follow the recipe linked that uses chicken stock and cornstarch to thicken the gravy, but either way, this is simple and truly takes just twenty minutes or less. 
While these five recipes are simple, I encourage you to find go-to meals like these to use up your leftovers. Given that I'm no longer meal-prepping thanks to work-from-home, it's nice to change up my meals with the same few ingredients. It cuts down on my grocery bill, too, since there's often a deal on meat or veggies to buy multiple, not just one or two servings. As such, having them in bulk is useful and ensures that my palette doesn't get tired. Feel free to swap out ingredients, too, and use this template to challenge yourself to shorter grocery lists, even if you simply begin with just twenty or fifteen ingredients instead of ten or twelve.
Keertana Anandraj is a recent college grad living in San Francisco. When she isn't conducting international macroeconomic research at her day job, you can find her in the spin room or planning her next adventure.
Image via Unsplash