$25 Grocery Haul & Recipe, Vol 5.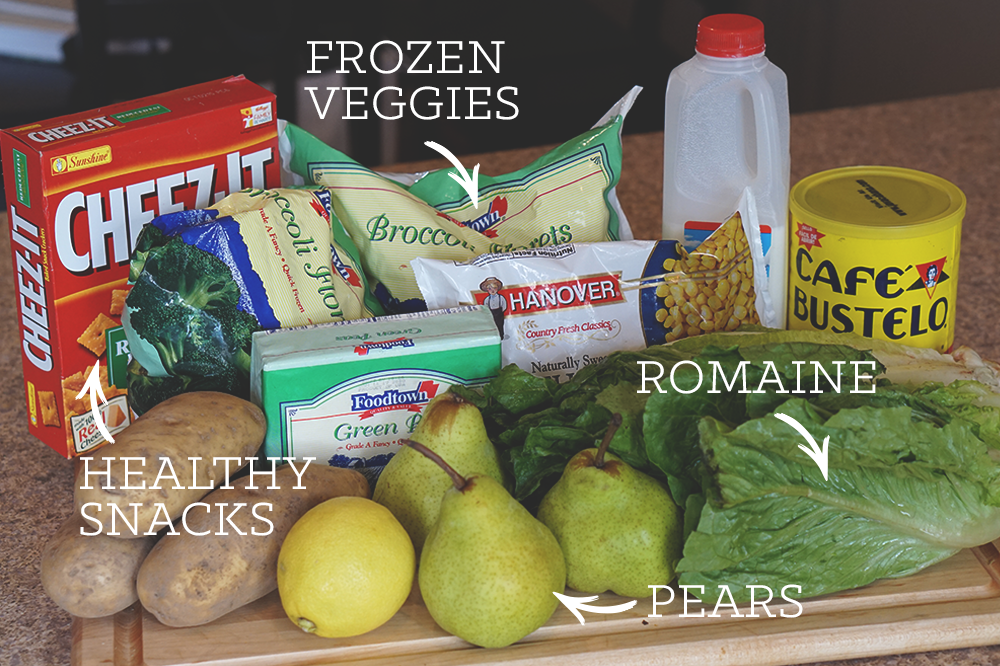 So it's a big first for the $25 Grocery Haul this week, as we've included our first processed snack. Reduced Fat Cheez-Its, despite being only somewhat healthy, are a bit of a vice, and if you actually go by the serving size, tend to last you a long time. So on this meat-free haul we still technically splurged on something that can't be put into a meal or be considered truly healthful and "whole," but hey. You have to live. Also, note that we cracked into the milk for some coffee and whatnot before this photo was taken. We can't be perfect, but we can try our best.
Anyway, overall, the food went to good use. So far we've used one bag of broccoli on baked potatoes with cheese, garlic, and — you guessed it — tons of broccoli. (Note: if you ever want the taste of sour cream but not the heaviness, use a dollop of greek yogurt.) We also used a pear, sliced up at breakfast, and the peas and lemons in our recipe below. All in all, it has been a meat-free week that doesn't feel like anyone's being deprived, and though we could have swapped out the coffee and Cheez-Its for a few more basic, super-cheap items, sometimes a girl's gotta live.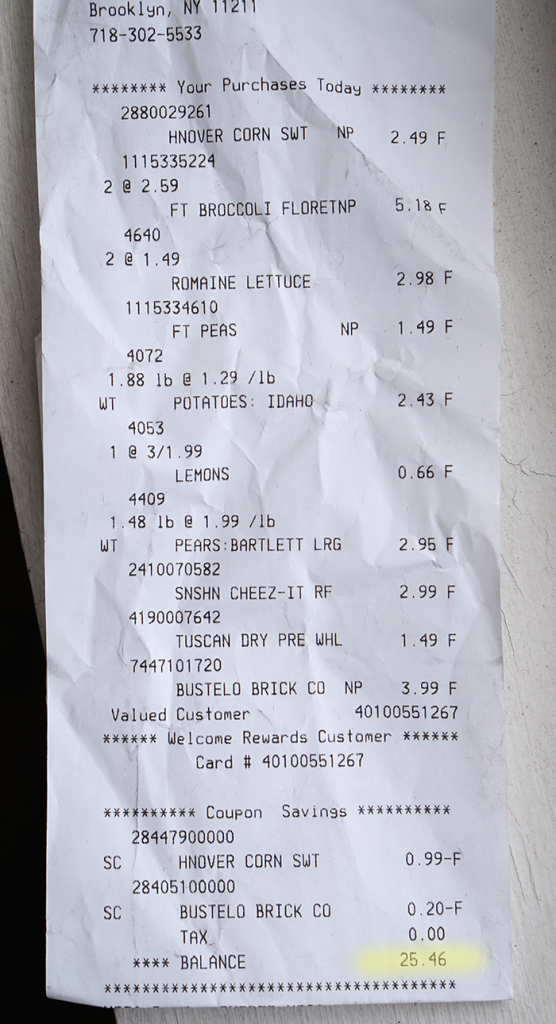 This week's recipe was a simple brown rice risotto, made in part because of the brown rice we had on hand from another haul. It was creamy despite the near-total lack of any cream-based element. It's a Pea and Feta Risotto, and though it requires only a sprinkling of feta, you would think that it was full of luscious, rich cheese. (Note: We chose to use feta because we had some on hand from last week, but you are encouraged to use any veg-and-cheese combo you have on hand. Pretty much any can be swapped into this recipe for equal effect.)
And also note that the creaminess of this risotto comes from the stirring. (It's my understanding that vigorous stirring leads to creaminess by breaking up some of the starches in the rice grains and mixing it in with the delicious, savory liquids. But I'm no Alton Brown. The point is, this bad boy is creamy and rich on chicken broth along, long before you sprinkle in the feta.) For anyone on Weight Watchers, it ends up around 6 points per serving, which is a pretty low amount for something so satisfying. We made a big batch here, but you can scale it as you see fit. You will need:
-1.5 cups brown rice (You can use more traditional risotto rice and all it will really do is cook more quickly, have a different texture. Up to you)
-5 cups chicken broth (Can also use veg if you want to keep it entirely vegan)
-3 cups water
-.5 small yellow onion
-2 large cloves garlic
-A few tablespoons olive oil
-1 package frozen peas
-3 oz feta (2.5 for the pan, .5 for sprinkling)
-A lemon
-Pepper to taste
First and foremost, chop/mince your garlic and onion, and sautee them in a large pan thinly coated with olive oil. Get them nice and caramelized, then add your brown rice to the olive oil/onion mixture to coat it and slightly "toast" the grains of rice. This will add a rich, nutty flavor. Let the rice toast in the mixture for a few minutes.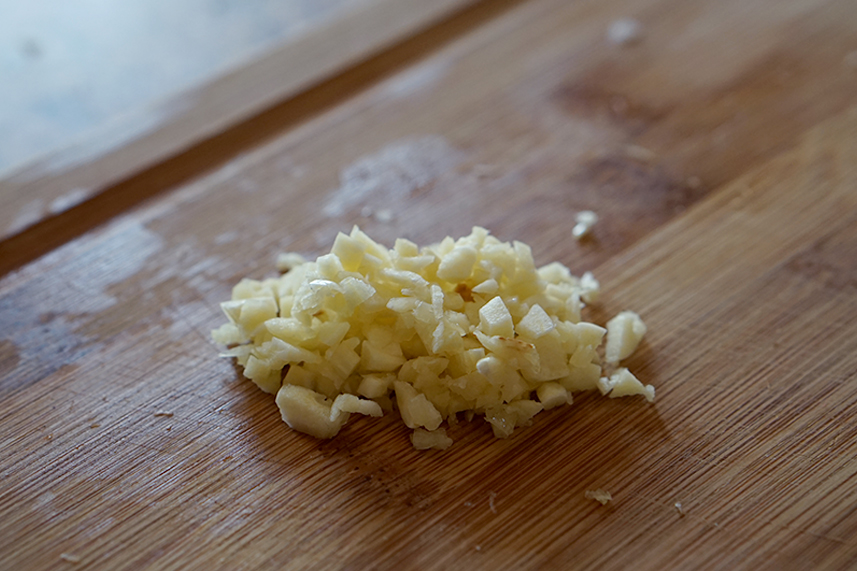 Start ladling in your broth one or two ladles at a time, to nicely coat the rice so it can simmer. Stir frequently, but then let it chill and simmer back down until you have to add more liquid. You're going to have to repeat this process with the broth, then the water, until it is nearly all gone.
You'll ladle about once every 10-ish minutes, stir a bunch, then let simmer. With brown rice, it takes over an hour to fully cook, but again, with a thinner white rice, you'll need much less liquid and it will cook much more quickly, so adjust accordingly.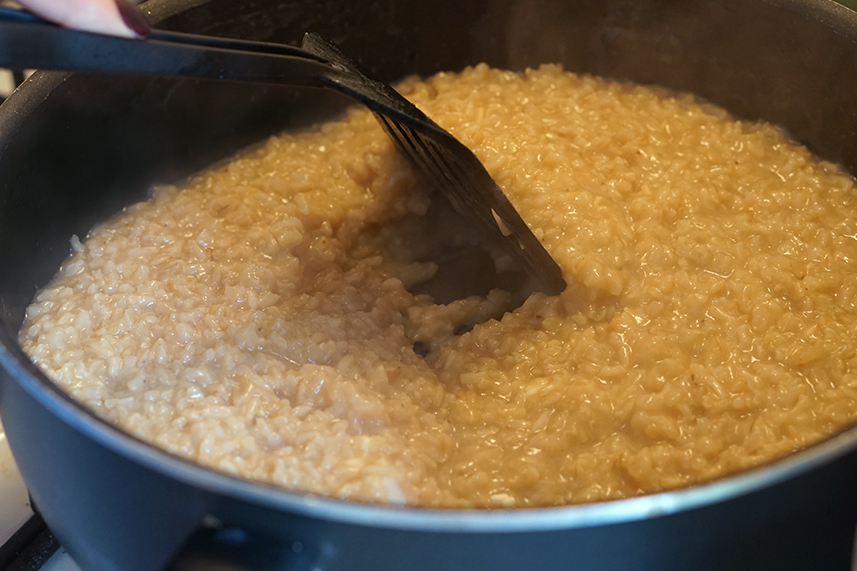 Once the rice is nicely al dente, you're going to add about 2.5 oz of feta — to taste, of course, you can add more or less — and your peas. Also pepper vigorously, but in my opinion, don't salt. This recipe is salty enough from the broth and the feta, so it really doesn't need the additional sodium.
Add a squeeze or two of lemon and a bit more water so it can go down for one final simmer. Taste the risotto as you go, of course, to make sure that it's at the consistency you're looking for. (We prefer our risotto on the al dente side, but some people prefer it even more smooth/rich.)
Once it's cooked down to your liking, serve with a nice sprinkling of feta and a few more cracks of pepper. It's the perfect spring dish: light, fresh, while still nicely creamy and flavorful, leaving you satisfied but not heavy feeling. It's comfort food for the warmer months, and making it with brown rice instead of white — despite making it look a touch on the oatmeal side — leaves you much fuller for longer, and therefore adds a bang to your buck factor when you're thinking about serving sizes. This one made eight servings for us, and we're still enjoying the leftovers.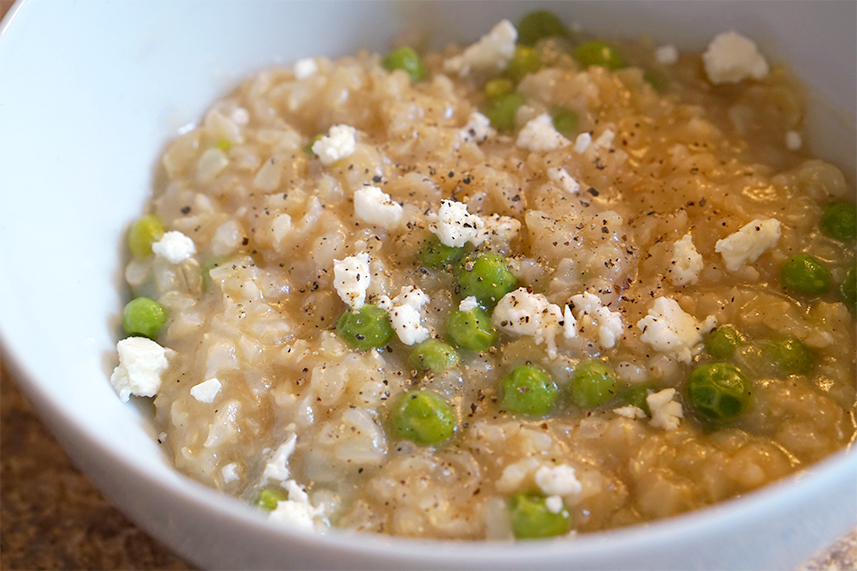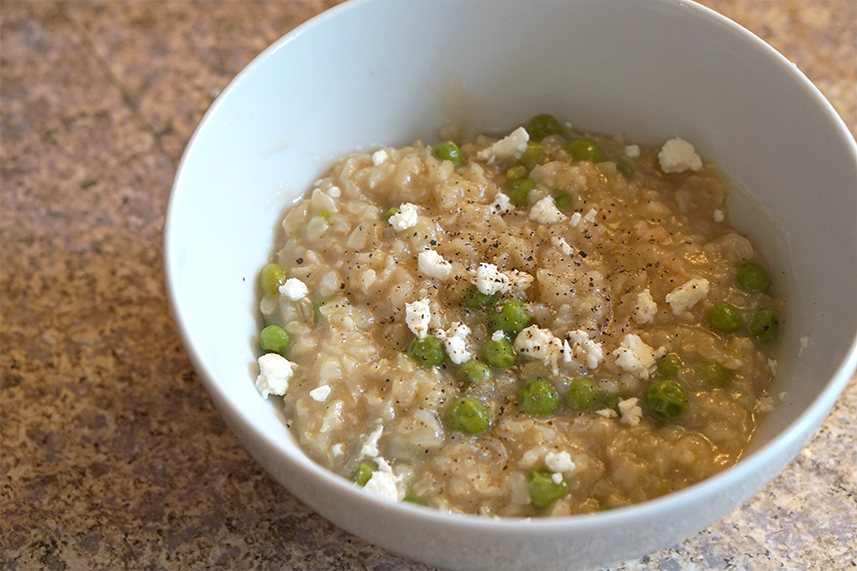 Bon appetit!