3 Things I Did Differently For My Spring Cleaning This Year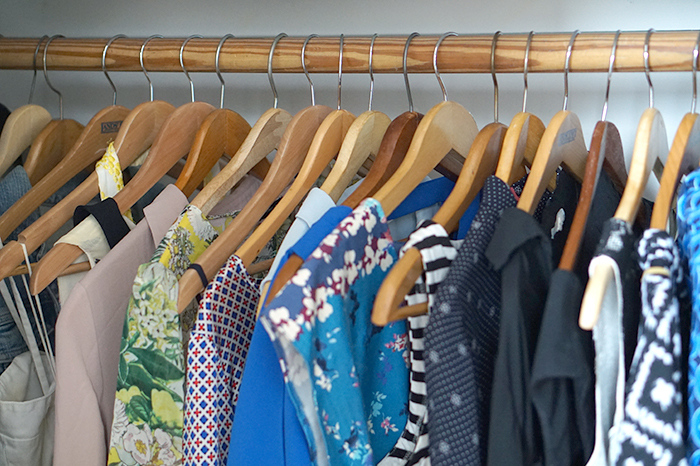 So, I finally did it. After much delay and putting things off, I finally did the spring cleaning and general organizational overhaul that my wardrobe so desperately needed. Now I can enter into the warmer months with a feeling of calm and simplicity, knowing that everything is in its place back home, and that I know exactly what I need. No more buying things I already have three of, because not a single thing has gone unaccounted for.
And it was difficult this year, because after a total home makeover — post coming soon, I promise! — there were a lot of unfinished ends that left me shoving things in the closet to clean up my room for company, and ruined the good will that had been accrued during my last closet purge. My closet was a mess of winter and summer clothes, with a Tupperware haphazardly thrown in there, our bedroom AC unit taking up half the floor, and bags hanging everywhere filled (mostly) with things I didn't need.
Never was there a better time for spring cleaning, and to do it right, I did three big things differently this year.
1. I invested in a good dresser.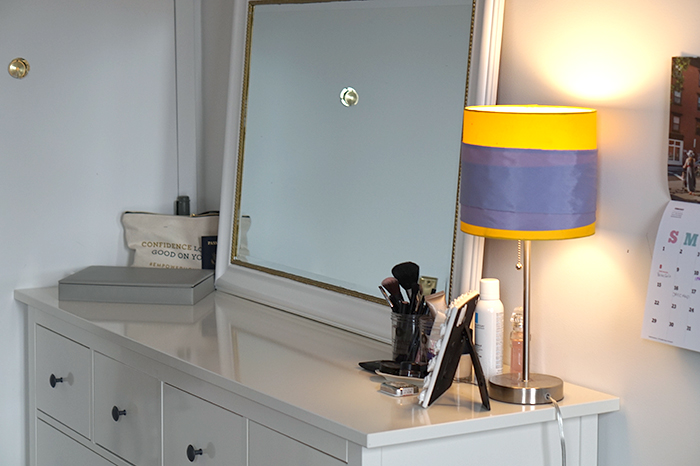 Before I started even considering redoing my organization, I knew that I needed a new dresser. My old one was crappy, tiny, and so flimsy that it had basically fallen apart to the point that I could no longer use it. It had three drawers and stood only a few feet tall, and even at its best moment, could barely hold anything.
So I sucked it up and invested in this IKEA dresser, which is huge and — while still being IKEA — quite solid. It provides ample room for my non-hanging clothes as well as things like spring/summer scarves, as seen here: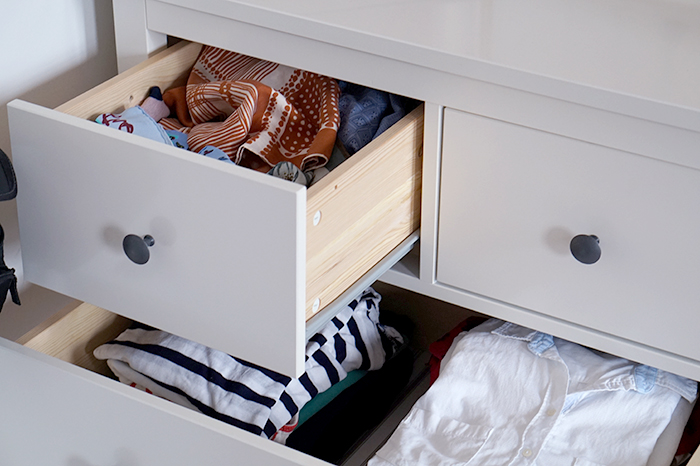 I got a mirror
for cheap online and painted a bit of it gold myself, and the dresser is large enough to accommodate the (huge) mirror, which now serves as my vanity, a little makeup station, as well as a big toiletries bag and a jewelry case, all while still leaving tons of space free. I took advantage of (finally) having some drawer storage to really whittle down the things that went in my closet, so that my hangers could have some breathing room and I could actually see what I had in there without having to push my clothes around.
2. I got a bed with storage.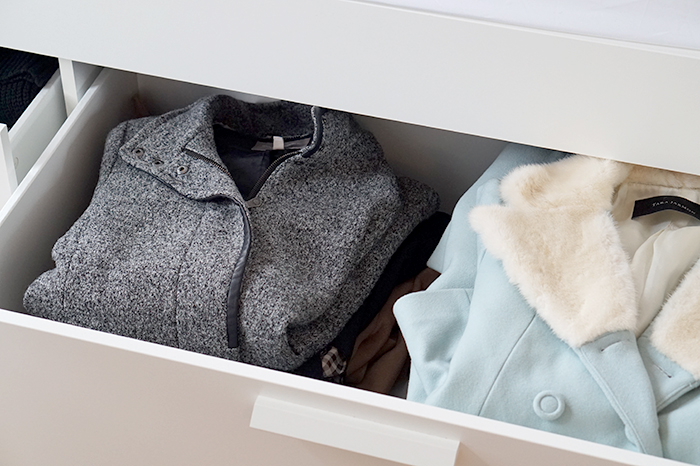 Once again I must give a big shout out to IKEA for this awesome bed, which provides ample storage underneath the mattress as well as deep bookshelves on either side of the headboard. We knew we were getting a new bed and were finally going to have one with some storage underneath (we'd made the mistake before of having a bed with basically no space below it), and were either going to get something with drawers or something that was high off the ground and put Tupperwares
underneath it.
Drawers just seemed like the smarter choice for this, and especially at this price point, it's really the perfect setup for storing all of your bulky winter clothes. Just being able to put away my big coats and heavy sweaters freed up nearly a third of my closet space.
No matter how you get it done, utilizing your under-bed space is an absolute must, unless you want to be perpetually finding room for 50 percent of your clothes that you don't actively need.
3. I was actually ruthless about what should stay in the closet.
I have a very bad habit (that sort of lingers from adolescence) of letting things pile up in my closet because, well, you can always close the door on it and have everything else look clean. My parents always knew to open up my closet right away when I cleaned my room as a kid because, nine times out of ten, that's where all my things had gone.
We'd recently had a rash of people come over so the "throw everything in there and close the door" strategy had reached a peak. When I opened it up today there was a small Tupperware (from my paperwork purge, no less), a suitcase I was too lazy to put in the overhead closet, a ton of hanging bags, and a mess of clothes that were mostly season-inappropriate. Because I believe in being #honest, this was the before: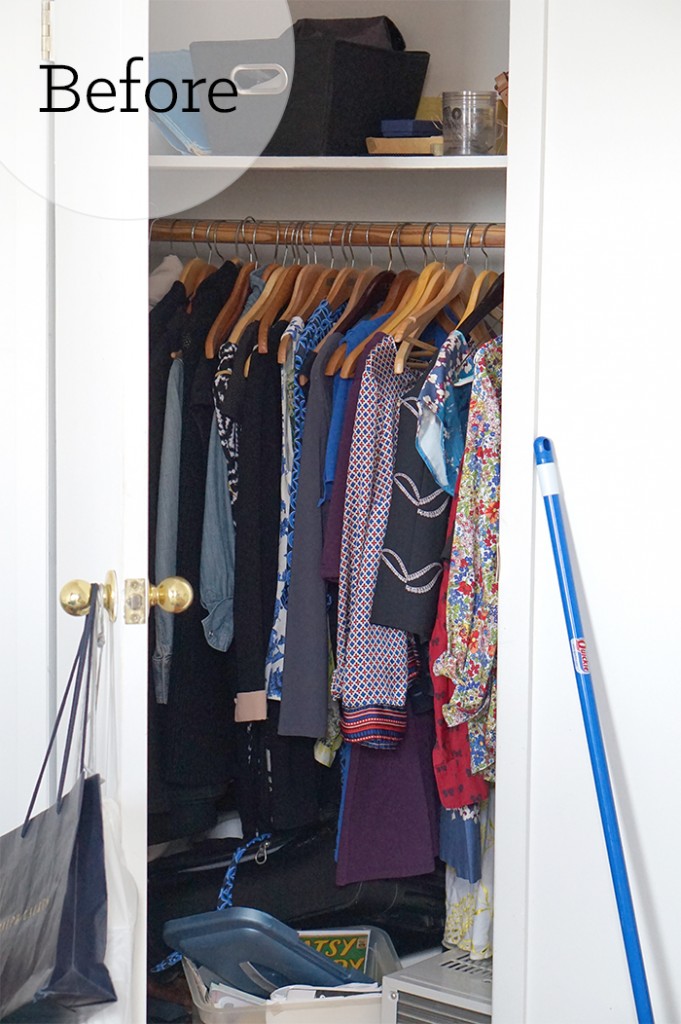 So, as mentioned, I removed everything that didn't make sense from the closet, and got rid of quite a bit of stuff (and this is my third purge, we keep so much shit we don't need!), and moved nearly all of it to the drawers and storage. I wanted to have each item get its own space, and feel clean and calm when I opened it.
For me, doing a semi-color-based organization was helpful to that, and nicer on the eyes. (Yes, I realize that my spring/summer wardrobe is not entirely #NeutralLife, but I had a good amount of nice dresses that I didn't just want to throw away, and blue is a neutral…) Anyway, I arranged things leaving as much space as I could (I even had enough room leftover to hang my large laundry bag
in the back), and though I had to keep things like the AC unit, just having all that space between the hangers made it feel so much less crowded.
The after:
And as a last touch for my closet area, I got a nice chair
to go in the corner. Yes, sometimes I end up tossing clothes on it at the end of the day, but it's extremely nice to have somewhere near your closet/mirror where you can put on shoes/stockings or even just be able to sit and read a book in your ~beauty zone~. It's the first time I've ever owned a bedroom chair just for the sake of owning it, and I can confirm that in your wardrobe area really adds to the overall feeling of cleanliness and intentional beauty.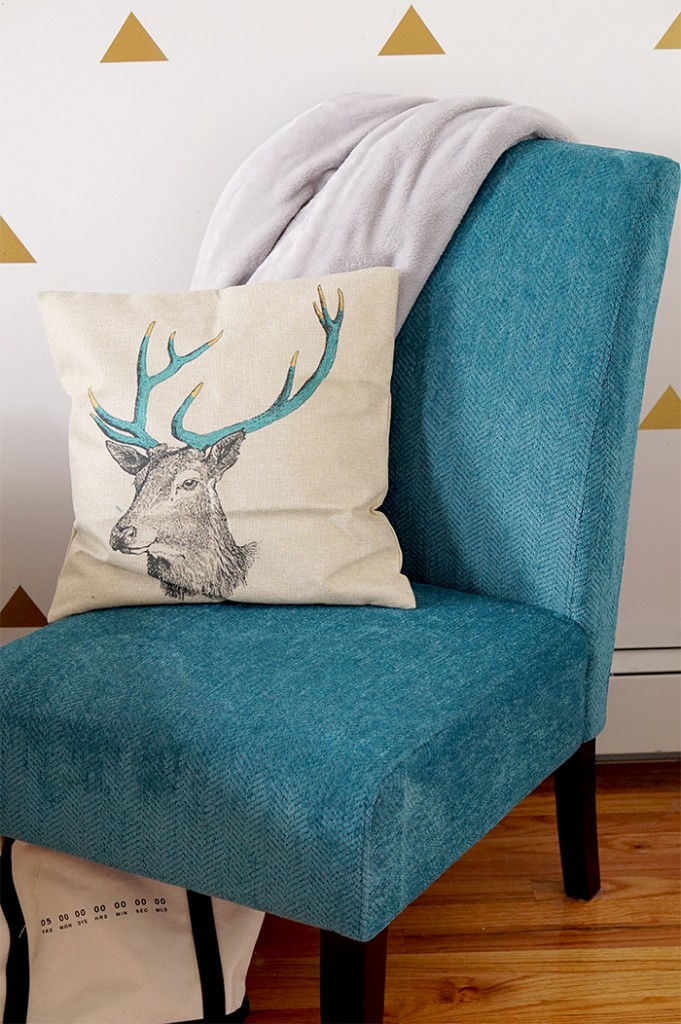 My spring cleaning is complete, and was (relatively) painless. I put on an episode of a good reality show and listened to it as I was working, and it flew by in a few quick hours. Whatever you need to do to get it done, do it. Light a couple candles and pour yourself a tea or wine, and make it a luxurious experience that feels as restorative and meditative as getting a good manicure.
Do something good for yourself and get a jump on spring cleaning this year.