3 Ways To Score Cheaper Rent If You're Apartment Hunting Right Now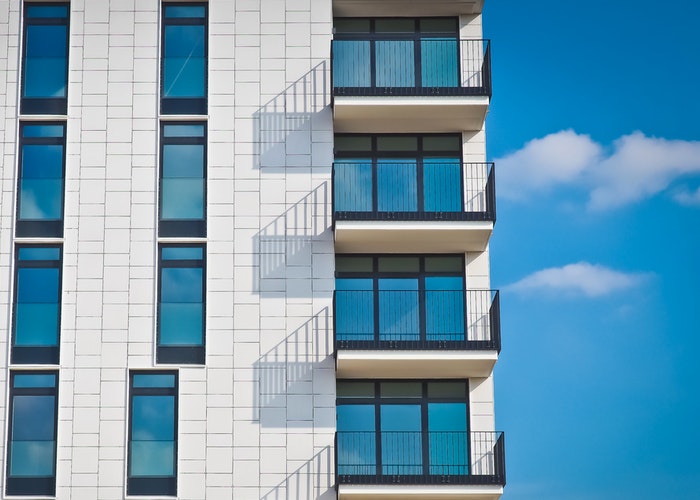 If you've seen rental prices in your area drop, you're not alone. Over the past decade, rents have risen by 150 percent — experts are now saying that bubble is about to burst.
While that sounds like good news on the surface, it's due to a lot of larger economic problems that are reaching a boiling point right now. We were already in the middle of a housing crisis before COVID, but with higher unemployment rates and a recession on our hands, many people are at risk of losing housing, as they can't afford rent or mortgage payments. And this has basically turned the rental market upside down, like a lot of other industries right now.
To put it simply, the financial future for many folks is simply uncertain. It's perhaps too soon to tell exactly what kind of impact the pandemic has had across the United States, but in some areas, like Boston, the rental landscape has certainly changed. While it's impossible to say how long lower rental prices will last, there are a few things you can do to lower your housing costs with all of this in mind.
1. Negotiate.
While many of us don't think to negotiate beyond our jobs, you can negotiate with your landlords, especially now. If you're financially struggling or have lost work due to the pandemic, talk to your landlord and see if you can work out a new agreement. It's in their best interest for you to avoid breaking your lease and moving back in with your parents, after all — they may have a hard time finding new tenants in this market. 
If you're looking for a new place, don't be afraid to call out what your dealbreaker is when looking at apartments. If you're on a tour and notice an apartment doesn't have a dishwasher, you can tell the landlord something like, "I love the apartment and would be interested in signing, but not having a dishwasher is a dealbreaker for me. Is there any way that can be added before the start date?" If a landlord is looking to get an apartment off the market quickly — which seems likely right now– you might be surprised what kind of requests can be met. During my own apartment hunt, I successfully negotiated a landlord down from $1,400 to $1,300 monthly. That's a huge difference over time.
2. Be flexible on timing whenever possible.
Your ability to be flexible on your move-in date depends on your own financial and living situation, but if you can afford to start a lease a few weeks before or after your ideal date, you may make yourself a more attractive tenant to landlords.
In the negotiation situation I mentioned above, I was able to leverage my flexible move-in date to barter down the price. The landlord noted she was having a hard time filling the apartment and just wanted to get it off the market as soon as possible. 
3. Consider subletting
As many people struggle to break their lease, they may be looking for someone to sublet their apartment, and they or their landlord might be willing to accept a rate that's lower than the lease agreement. Look on sides like spareroom,  Apartmentlist, and even Airbnb to find tenants who may need to move out but can't afford to break the lease.
Of course, we should be mindful of everyone's time and effort during this challenging period. If landlords, tenants, or realtors are taking the time (and exposure risk!) to show you an apartment, make sure you have good reason to be there and are truly interested. Virtual tours can also save everyone involved time and effort, but whenever possible, I'd still make sure to check out the property on-site to check that it is well-kept and in an area that you like. 
This post originally published on June 15, 2020.
Simplicity Bryan is deeply entrenched in the worlds of self-help, gratitude, personal finance, and organization. She's happiest paddleboarding with her pup and storytelling with a purpose. You can follow her here.
Image via Pexels
Like this story? Follow The Financial Diet on Facebook, Instagram, and Twitter for daily tips and inspiration, and sign up for our email newsletter here.