4 Rules We Follow For Easy & Cheap Meals For Two (That Make Plenty Of Leftovers)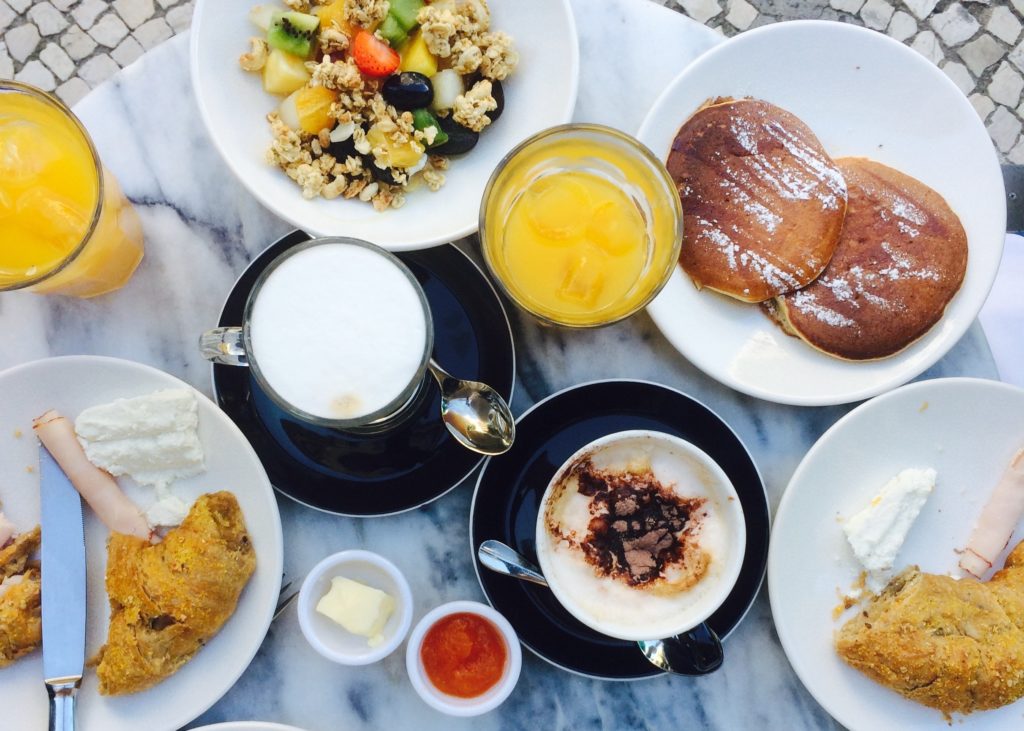 If you were going to give me $100 to tell you what I ate in college and how I managed to make dirt cheap meals for two on a student budget, I probably still couldn't come up with an answer. I have zero recollection of what I ate and how I grocery shopped while away from home for the first time in my life.
What I do remember, though, is that a few years ago when my then-boyfriend (now husband) and I moved in together, we realized that because we didn't meal plan or make a grocery list, we were wasting time, food, and money every month — money that could have been going toward fun stuff, or at least toward savings. We could make our rent and credit card payments, but we were spending a lot of money on food and still felt like we never had anything to eat.
Fed up, I finally started asking around, looking for good recipes, and trying to figure out: what are some cheap healthy meals? Ones that we will actually enjoy cooking and eating? We took a hard look at our food spending, got some new recipes, and came up with some strategies for cheap dinner ideas for two. Here's what worked for us (and what didn't).
1. Cook Bigger Portions
We got a super cute cookbook titled something along the lines of "The Couple's Guide to Cooking Together," which had lots of meals for two. But we found that cooking a two-portion meal every night did not work for our lifestyle, and it meant that we ended up eating out more often than we had before. Why? Well, we'd go through the hassle of making dinner, eating, and then cleaning up after dinner, and the only thing we had to show for it was one cheap 30-minute meal. It was kind of exhausting.
Then, we worked out that doubling or even tripling the recipe meant that we had leftovers for lunch the next day and dinner that next evening. This took the stress off of cooking every single night, which made the nights we did cook feel more worth it.
2. Stock Up On Cheap Ingredients
I also found that we needed to lean in hard on buying cheap groceries. Many of the dishes we made regularly could be put over rice, which stretches a dish and is super budget friendly. A 5-pound bag of brown rice, which is usually less than five dollars, lasts for weeks. In addition to being filling and perfect for curries and soups, brown rice is pretty good for you, too, so I was happy to add it to the rotation.
If the dish we were making for dinner wasn't going to go well with rice, we'd put it over greens and make it into a salad instead. Our local supermarket often sales on bagged spinach or spring mix that we'd buy to add to dinners as appropriate. This wouldn't have made any list of tips for buying cheap groceries for us because fresh produce is often more pricey than frozen. But for some reason, it was often on sale at our store and we snatched it up every time it was.
3. Eat More Plants
We also switched to only eating plants at home. I've never been much of a meat eater, and since I was cooking more and handling raw meat with some regularity, it became more real to me that it was, well, meat. I didn't really like cooking with it, and it's more expensive than a plant-based diet anyway, so we stopped making meat-based dishes at home. No judgment or carnivore-shaming here: every once in a while, I'll have something with meat in it when we're eating out, and my partner eats meat whenever he wants. It's just not something we cook anymore. Instead, we focus on cheap, easy, healthy meals that are plant-based. Giving up meat at home was an easy choice for us, and it really made a difference in our grocery budget.
4. Have A Stash Of Emergency Meals
Finally, we realized that while some of our takeout and restaurant meals were worth the splurge, many of them were just "meh" meals we grabbed in desperation because we didn't have anything at home to eat for dinner. We started brainstorming easy weeknight dinners that could be assembled from mostly frozen and shelf-stable stuff. Macaroni and cheese and frozen edamame became a regular feature, as did Trader Joe's naan and a bag of stir fry veggies. Heat everything up, put them together with a drizzle of balsamic vinegar, and voila: four servings of roasted veggie flatbread for less than the cost of one takeout meal.
We now have a collection of a dozen or so of these last-minute dishes for emergency weeknight meals and try to keep the ingredients on hand, which helps us avoid weeknight meltdowns, spend less on food, and save for what we really want.
*****
It took a bit of trial and error, but now we have a solid plan for cooking cheap easy meals on a budget. We still go out to eat, but for the most part, it feels more budgeted for and intentional, helping us avoid the annoying "where'd all my money go?" question we'd been facing monthly, which makes me and my wallet happier. So, how do you reign in your food budget? Any good tips for what to make for dinner under $10? Let me know in the comments!
A grant writer by day and personal finance fanatic by night, Marisa is an avid traveler who lives in Pittsburgh, PA. When she's not reading or writing for work or play, she enjoys running, thrifting, and searching for the most authentic Mexican food in the city.
Image via Unsplash
Like this story? Follow The Financial Diet on Facebook, Instagram, and Twitter for daily tips and inspiration, and sign up for our email newsletter here.