4 Impossibly Easy Meal Prep Recipes That Use 5 Ingredients Or Less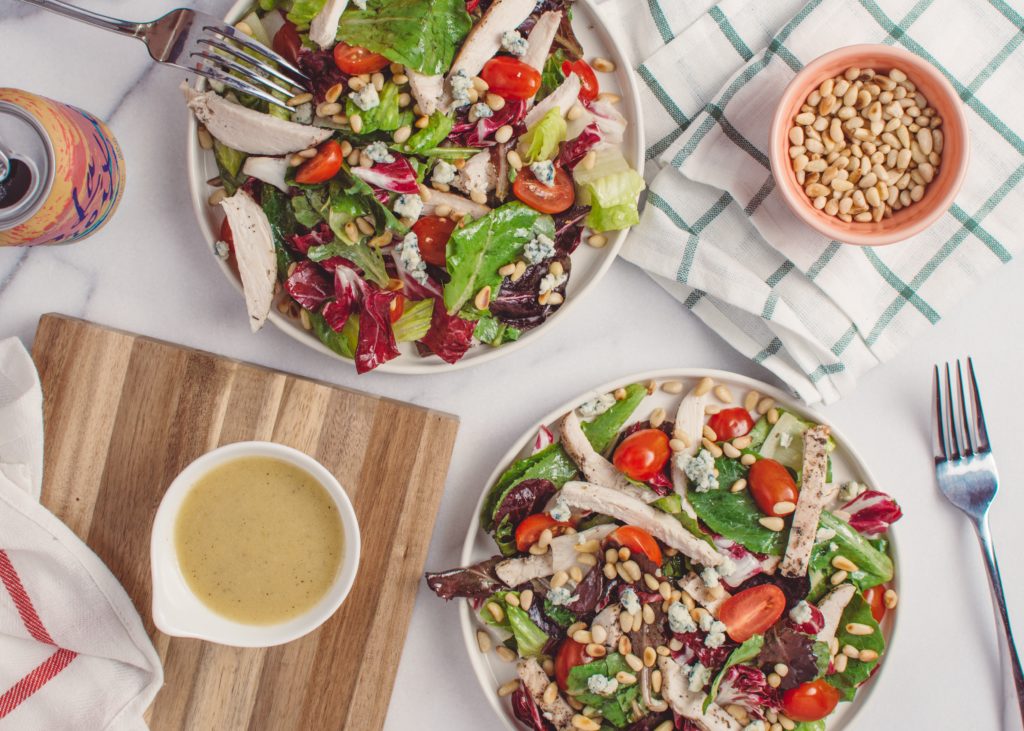 I've recently been busting ass at the office and, as a result, my weekly meal prep routine has more-or-less disappeared. I just haven't had the time, or the energy, to devote to cooking as I did before. But, I also wanted to continue to stick to my budget of $50 per week of groceries. 
My go-to grocery store is Trader Joe's or the local bargain grocery outlet in my neighborhood. Both stores offer a mix of produce, which is usually what I purchase, and semi-pre-made dishes. Over the past few weeks, I've been exploring the latter options in greater detail. 
Here are some simple meal prep ideas for when you're sick, bogged down at the office, or just want a break. They're all five ingredients or less, which helps to maintain that budget, too. 
5-ingredient meal prep recipes:
1. Chicken shawarma bowls
One of my pre-made discoveries has been pre-marinated chicken shawarma from Trader Joe's. Even if you don't shop at Trader Joe's, there are definitely meats that have already been seasoned available at your grocery store. I started pairing this with some pita bread, hummus, tzatziki, and cherry tomatoes to create a simple, healthy, and within-my-budget plate for lunch. As the chicken cooked, I assembled the hummus, tzatziki, and cherry tomatoes and packed my pita bread in a separate Ziploc so that it wouldn't get soggy. I then added the cooked chicken shawarma into my five meal-prep bowls and, shockingly, within 30 minutes I was done! 
Usually, meal-prepping takes me roughly an hour since I have to marinate the meat or vegetables myself. And if I hadn't been so pressed for time or energy, I would have made my own tzatziki. Despite that, however, this meal-prep still came within $25, leaving me with plenty of leftover cash for my go-to breakfasts of overnight oats and a simple dinner consisting of an omelet. You can change up this recipe however you wish, substituting tzatziki or cherry tomatoes for a Mediterranean salad (there are salad kits available at Trader Joe's!) or choosing to make wraps with the pita bread and chicken instead of a bowl. 
2. Pumpkin bisque
I adore the October food options at Trader Joe's, and one that I've completely fallen in love with is their Pumpkin Bisque. It's creamy and delicious and two cans of it (at $3.99 each!) last for an entire week of meal-prepping. I added some grated parmesan cheese on top (around $4) for added healthy fats (and to make the soup more filling), and even splurged on some bread to dip into the soup. (Trader Joe's has loaves of focaccia for about $3.99 in their bakery aisle.) 
I find that this is the perfect I-only-have-15-minutes meal-prep that also manages to be healthy, filling, comforting, and ideal for the cooler weather. You can add pepper, roasted chickpeas, or even spinach to the soup if you want a little extra "oomph!" or pair this with a smaller salad on the side to be even healthier. Overall, this recipe costs me about $16. 
3. Potstickers & stir-fry veggies
I love Asian food, and potstickers along with frozen stir-fry vegetables are guaranteed staples in any grocery store. You can simply cook the frozen veggies with soy sauce, microwave or bake the potstickers to perfection, and add some quinoa on the side for a quick and healthy meal-prep. If you live near a Trader Joe's, their General Tso's Sauce makes this dish even tastier, and you can always substitute the quinoa for frozen fried rice. You can also add tofu or chicken to the stir-fry, if you wish. 
I enjoy cooking Asian cuisine, but when I'm stressed and pressed for time, I simply don't have the energy to cut vegetables, tofu, chicken, and make a genuinely tasty sauce. In discovering so many tasty frozen options, I was pleasantly surprised, especially by the fact that these packages didn't break the bank. This recipe costs anywhere between $15-25, depending on the additional garnishes. It can take as little as 20-30 minutes or as long as an hour, depending on if you choose to add tofu or chicken to the recipe. 
4. Quesadillas
This is definitely my go-to since it hits all the flavor profiles I adore and is so, so easy to make. Tortillas, even wheat or spinach ones, are cheap and each package comes with 5-8 large tortillas, so just one is sufficient for an entire week of meal prep for me. A large package of Mexican Blend cheese at about $6 is essentially enough for this recipe. I like to buy pico de gallo, roughly $5, and splurge on avocados to eat alongside these simple quesadillas. Overall, this takes me roughly 15 minutes to make and assemble into my meal prep bowl and if time permits, I even add black beans and jalapeno peppers, both canned. 
Being able to buy canned goods which are essentially ready-to-assemble is incredibly helpful. The hardest part of this recipe, for me, is just opening the can. But once I do, I just add the black beans to the melting cheese atop the tortilla on my stove, garnish with jalapenos, and assemble with a few slices of avocado and a generous helping of pico de gallo. Overall, this can cost anywhere from $10-20, depending on how many toppings you want to include. 
Frozen foods = meal prep gold
When I'm stressed, it's incredibly important for me to maintain a sense of routine. This means going to the grocery store and meal-prepping, but I often want to spend as little time as possible doing these chores so that I can get back to the work I need to finish or to finally get in some much-needed rest. I hope these quick recipes can help others who are similarly overwhelmed before the holiday season and maybe even inspire other, new dishes! 
I rarely ventured into the frozen aisle before this month and having done so, I'm definitely re-evaluating how I can meal-prep, going forward. My prior assumptions about frozen foods being unhealthy or not filling were proven entirely false. And while I look forward to having the time to actually cut vegetables and marinate my meats myself, I'm glad these options exist for the moments when I don't have those luxuries.
Keertana Anandraj is a recent college grad living in San Francisco. When she isn't conducting international macroeconomic research at her day job, you can find her in the spin room or planning her next adventure.
Image via Unsplash
Like this story? Follow The Financial Diet on Facebook, Instagram, and Twitter for daily tips and inspiration, and sign up for our email newsletter here.