4 Practical Ways To Make Being Healthy Totally Free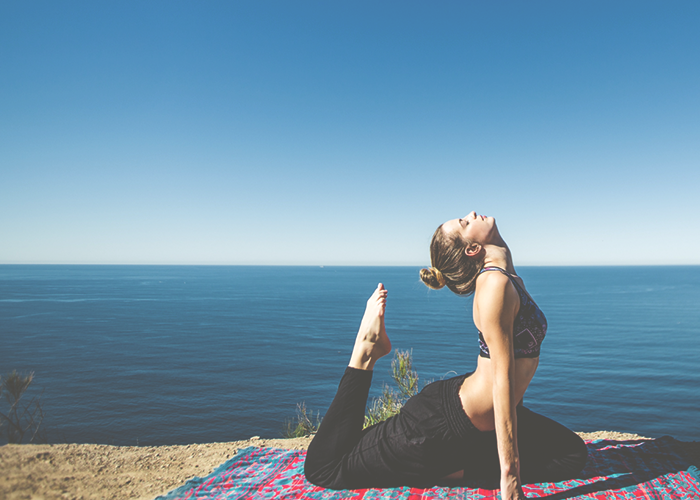 I used to pay $50.00 a month for a gym membership that I would use on occasion. "Occasion" became rarer as the year went on. Like the majority of the population, I joined the gym in January when my New Year's resolutions were fresh in my mind and my motivation was at an all-time high. By the time February hit (read: by the second week of January), my "I am making working out a priority this year!" attitude faded as deadlines dropped and the hectic work schedule following Christmas break ensued. Eventually, my budget did not allow for this wasted expense, and I had to find alternatives when the next month rolled around. Luckily, there are plenty of options for those of us who do not have a gym membership listed in our monthly budget!
1. YouTube video workouts. Working out in your living room is seriously underrated, for so many reasons. For starters, you avoid the commute time to and from the gym. I live 20 minutes away from the closest gym, so attending a class adds almost another hour to my already WAY-too-time-consuming workout. Secondly, you can wear whatever you want! More power to the people confident enough to wear any outfit to the gym, but when I go, I feel like I need a matching outfit that will hide all signs that I haven't worked out since my last New Year's resolution. Working out in the comfort of my home saves me the added expense of a new Lululemon wardrobe.
There are endless workouts on YouTube. I can guarantee that you can find practically any type of workout you want: everything from intense cardio workouts such as Millionaire Hoy's programs to Pop Pilates with Cassey Ho. There's even relaxation yoga and meditation available, completely free!
2. Charity workout classes. Many yoga studios have charity yoga classes as part of their regular schedules. To attend these classes, you just pay a small donation ($5.00 is usually the recommended minimum), and you can attend a full class which might cost upwards of $15 for a regular drop-in. If you prefer regular yoga, then I would recommend just watching a YouTube video (try Yoga With Adriene) for guidance, but for those of us who LOVE hot yoga, these are the classes to look for. They often fill up fast, so download the studio's app on your phone or visit their website to sign up early! To look up promo codes for yoga retreats, receive updates and promotional offers for yoga events and classes, and find yoga studios in your area, try Yogafinder.com.
If you thrive in a group fitness atmosphere and think you will get sick of working out in your living room every night, gyms and trainers also hold charity classes every so often. These will usually be available at a discounted rate, with all proceeds going to a good cause. I just attended an outdoor, boot camp-style charity workout class for only $5.00, and I was able to support my favorite animal rescue at the same time! The best way to hear about these classes is to follow your favorite charities online or on Facebook, look at local newsletters and bulletin boards, ask your local gym for recommendations, or google classes in your area.
3. Groupon: Groupon's Health & Fitness section is another way to supplement your at-home workouts with low-cost group fitness classes and other new workouts you have yet to try. You can find Groupons for various classes, programs, and gyms in most cities. These deals can feature discounted rates for a short term at the gym, discounted rates for a certain number of classes, or one-time, low-cost personal training sessions. Without having to commit to a membership contract, you are able to change up your work outs for a short period of time. I recently purchased a Groupon for a local gym that allows me to attend 20 group fitness classes over a three-month period for only $20! I have yet to actually activate this deal (I was supposed to start tonight, but opted to write this piece instead). But when I finally do, it will be worth it!
4. Outdoor activities: Of course, walking and jogging are available as completely free, viable options when it comes to cardio. If you are like me, though, you will quickly get bored of running down the same paths every evening. Instead, research your local parks (find a park through the National Parks Service) to find an array of hiking trails offering beautiful views and challenging landscapes. Many trails will offer descriptions and difficultly levels, along with the total length of the hike. Hiking has quickly become one of my favorite workouts. Not only do I get to explore different places and see sights I did not know existed in my area, but it only costs me the gas to get there! With all the beautiful outdoor and wildlife distractions, hiking does not even feel like I'm working out!
There are many options to choose from when it comes to alternative work out options. An expensive gym membership does not always fit into the budget, and many people (like me!) will end up being locked into a contract that they can no longer find the time or use for.  If you focus on working out in your living room, basement, or rec room and supplement those workouts with some of the other low-cost classes and activities mentioned above, you could save yourself hundreds of dollars each year. Now I just have to get off the computer and start practicing what I preach!
Jodi Paradoski is a full-time accountant and coffee addict who loves animals, taxes, spreadsheets and savings accounts. She recently started her own blog, Economical Girl's Guide! 
Image via Unsplash