4 Small Grocery Swaps That Are Better For My Wallet (& the Environment)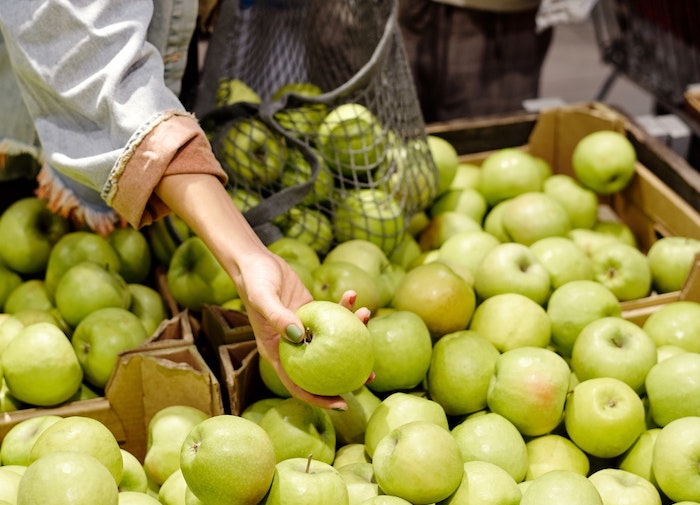 Have you ever found yourself with "too much month at the end of your money?" Yeah, me too.  I had to make some changes, so I took a closer look at my receipts and how I was actually spending my money.  A few things immediately came to my attention, and a couple of other habits became apparent once I started actively working on lowering our grocery bill.  Our family of four (two adults, two littles) adapted to some new eating habits, and as the main cook, I took some new approaches to meal planning and prep. With each new change we implemented, the benefits spoke for themselves.
1. I swapped specialty drinks for DIY versions.
I found that I had gotten into a bad habit of spending a considerable amount (around $15 per week) on different drinks. I would buy a fancy coffee creamer, or worse, a can of cold brew.  I would pick up a couple of bottles of kombucha for $3 or $4 each and grab a can or two of coconut water.  It added up quickly. So I began cutting back and looking for alternatives. Instead of pricier coffee creamers, I would get a carton of half and half (sorry, milk just didn't cut it) and add a splash of maple syrup.  Don't judge it before you try it – I found that syrup mixed better than sugar and it is also a "healthier" sweetener if you use the 100% pure version.  I found a large jug at Costco that lasted me several months. And yes, I tried going without, but I couldn't get on board with straight black coffee.  I also began making my own kombucha from a starter and recipe shared by my sister.  It sounds pretty sketchy, but I actually prefer it, and believe it or not, my daughter loves her "bucha" too!  This alone saved me a lot, plus I am not throwing away all those glass bottles. 
I found powdered coconut water at my local Natural Foods store that makes 19 servings for the price of seven cans at the store.  I can flavor it with a bit of juice or lemon juice concentrate. And again, it is less waste to throw away or even recycle.  Although our alcohol purchases don't affect our grocery budget (it comes from our entertaining bucket), I also began substituting plain sparkling water with a splash of amaretto or other hard liquor instead of hard seltzers.  These changes in "specialty" drinks made a big impact on our monthly budget.
Average Monthly Savings: $38
2. I started meal planning instead of buying ready-made stuff.
I am all for convenience, but there came a time when it wasn't worth my money to save a few minutes here and there. I used to buy individual cups of yogurt, and applesauce cups for the kids, etc.  I would occasionally buy frozen meals or pre-cut veggies. No more!  I invested in a set of portion-sized Tupperware (about $12 worth) and began buying large tubs of yogurt. And honestly, I prefer mixing some plain Greek yogurt with a flavored variety and adding granola and berries vs. the more expensive individual sizes. I learned to plan ahead more effectively so I wasn't tempted to grab a quick, frozen pizza.  I took a little bit of time each week to prep some overnight oats and cut fresh veggies for lunches. 
I also began buying sale and bulk items from the meat department. I could save, on average, $1 per pound of meat (or for our family, about $4 each week). I get home from the store and break it into freezer bags for future use.  Not only am I saving my money, but we are eating healthier, too!  An added bonus: the reduced waste we were creating from the packaging of those individual, ready-made items.
Average Monthly Savings (after initial Tupperware cost): $32
3. Grocery apps have been a lifesaver.
I have been using a couple of grocery store apps for the last couple of years (mainly Ibotta) and I have to admit, it is a trap to some extent. In order to "save" the money, you had to buy according to their specifications. I found myself buying things here and there that I normally wouldn't have, just because I could get a dollar back. It added up.  I tend to be an impulse buyer, so if I saw a "deal" I had a hard time saying no to it. Now, I still use the Ibotta app (along with Fetch) but I take the time and willpower to only buy the things I need and choose the cheaper version whenever possible. 
Average Monthly Savings: $27
4. I switched to a menstrual cup.
I used to spend about $5 each month on menstrual products.  (Apparently, most women spend much more.)  For the sake of health, I started to buy organic and "free & clear" varieties that cost me twice as much (approximately $12 per month). I finally decided to switch to a menstrual cup and though it cost me $30 upfront, it was clearly my most affordable option.  It took a few months to adjust and become comfortable with it, but I don't believe I will be going back anytime soon.  I also felt much better about the zero-waste aspect – bonus!
Average Monthly Savings: $9
Total Monthly Savings: $106
These changes didn't happen all in one month, rather it was a gradual process. I would pick something new every couple weeks after noticing a spending trend, and make a switch or do some research to find alternatives. Seeing the savings week by week was a great reward and motivation to continue to make changes and find new solutions. I definitely had to set aside more time each week towards prep, but it was well worth the savings. I am consistently spending about $100 less each month because of these changes. I have started using some of that savings towards buying higher-quality produce and products, so the savings aren't as much now as they were initially, but I feel good about feeding my family healthier foods.
My main goal was to cut back on my spending, but the visible reduction in waste was a positive effect of the changes. I have been using reusable bags for years now and switched to reusable produce bags last fall, but this is another step in "cleaning up" my impact on the environment. After implementing some changes for only a couple of weeks, I noticed a significant reduction in our trash/recycling output. I didn't even need to put the bins out each week for collection! Not only was I saving some money that we could build up our savings with, but I was reducing our environmental footprint.  
Image via Pexels
Like this story? Follow The Financial Diet on Facebook, Instagram, and Twitter for daily tips and inspiration, and sign up for our email newsletter here.