5 Awesome Ways To Get In Shape Without Stepping Foot In A Gym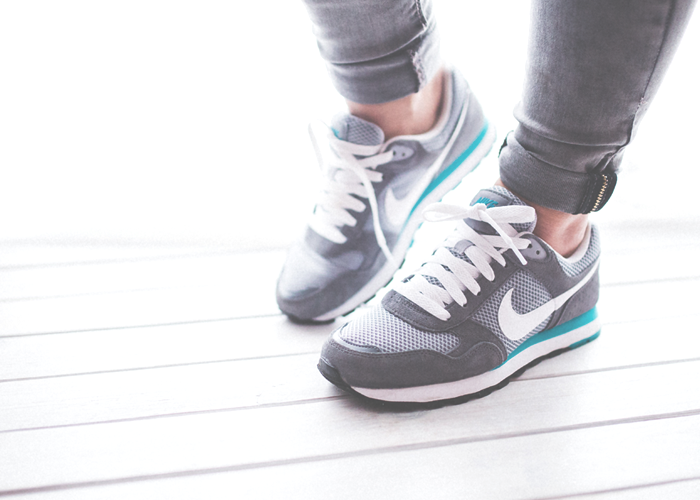 Whether we have it in us to admit or not, the summer is rapidly coming to an end.
Typically, the fall season is the time I ready myself for winter hibernation, developing a protective and nourishing layer of pumpkin flavoured scone residue and maple syrup coating in preparation for the unforgiving Ontario winter.
And that's my reaction to a regular September.
This year's going to be anything but ordinary, to say the least — I'll be returning to my Masters program after a long summer hiatus, working full-time, and growing my freelance side hustle.
I know my unpredictable schedule means that I have to make sacrifices — and in times of stress, my exercise routine typically pays the price.
As someone who only ever brought participation ribbons home, skipping a workout is something I'm all too eager to do. In spite of my tendency towards self-sabotage, I've worked hard over these warmer months to stay active, eat better, and loosen the symbolic tether between me and my computer to do the unthinkable — actually go outside.
In my previous post, I chronicled how my need for status overshadowed my drive to save, and how a pricey gym membership (which I failed to make the most out of) played right into this hand. I stopped working out only to see my health decline and my bank account dwindle, despite subscribing to a service I felt on some level was "mandatory."
Don't worry — this isn't a piece about abandoning your fitness pursuits in order to pad your bank account. It's about understanding your schedule, being realistic about your time commitments, and finding creative ways to stay active well into the cold months — all without breaking a hip on an icy sidewalk.
So how do you stay on track, break up with the gym, and keep your bank account in the black? Here are four ways I hope to stay active long after the summer months, without stepping foot inside of a gym.
Find an accountibili-buddy
Procrastination is the name of my game. While I'm a busy pseudo grown-up that certainly has better things to do, I'm powerless against the enchanting seductress that is Netflix. I know that when left to my own devices, I'll gleefully contemplate whether Rachel and Ross were really on a break as I marathon Friends episodes I've already seen, in lieu of taking my bike out.
Cue the accountibili-buddy.
Most of the time, having someone who I'm accountable to motivates me to stay on track. Last year, a friend and I added quick discussions regarding our fitness goals, accomplishments, and set-backs into our weekly phone calls.
Though this tactic probably seems like a no-brainer for many of you, having a friend who had similar goals, knew how to encourage and support me, and was looking for similar motivation made a world of difference. I was excited to share the number of times I'd made it to a drop-in class that week, or how many steps my FitBit had recorded. Knowing that someone was with me as I fumbled my way through my new lifestyle got me off my ass way faster than I could have ever done on my own.
It's beyond simple to create this dynamic with a friend: send an email outlining how many times you're going to work out per week, grab a coffee and go for a walk instead of sitting through another movie neither of you like, or carpool to that community yoga class you've been meaning to hit up.
Whatever the shared goals you and your accountibili-buddy may have, remember to keep it positive and supportive. Choose a buddy that will build you up and make you realize how far you've come, even if you can't see it yourself.
Utilize the classifieds
No longer just a dumping ground for soiled futons and missed connections, Craigslist and Kijiji are a hotbed of activity when it comes to finding qualified and dedicated fitness professionals striking out on their own.
Because their overhead costs are so much lower, working with an independent trainer can be both cost-effective and rewarding. Many pros choose to work out of their home gyms, host group pay-what-you-can exercise sessions in public parks, or offer to work with you at your place. No matter how busy your schedule, there's a trainer out there who is willing to meet with you at the crack of dawn to make you run laps in your backyard.
As with any internet-based service, there's a stranger danger factor here that you obviously need to keep in mind. So, do your homework, and meet multiple fitness pros. Learn about their training methods. Research their credentials. Ask for customer testimonials. And remember, any trainer worth their salt will book a complimentary consultation with you prior to your first training session, to ensure that your goals mesh and that their training style is compatible with your personality.
Keep an eye on Groupon 
From 2-for-1 grass-fed steaks to 70% off on laser hair removal treatments, falling down the Groupon rabbit hole is one of my favourite internet hobbies.
After I tore myself away from researching the odd-ball activities the site had to offer, I was pleasantly surprised by the variety of specialty fitness centres offering deep discounts for their services. A quick search showed more than 15 active fitness-related offers in my mid-size city, including salsa classes, judo, and rock-climbing, and were all available at a variety of price points.
While not a sustainable long-term solution, Groupon does provide a great way to try multiple fitness options without locking yourself down before you're ready to commit.
Groupon deals like the ones I mentioned above usually offer professionals who guide you through the experience. So, you may need to be ready to deflect their up-sell tactics if you take a few introductory classes and decide krav maga just isn't your thing.
Make some friends, meet some hotties, get your sweat on, and try something new. You're only limited by your own budget and sense of adventure.
Find your YouTube guru
I've discovered a lot of things on YouTube: proper parallel parking techniques, how to trim my bangs (not my most successful venture), and most recently, my new internet best friend Neghar Fooni. If you're looking for quick but effective full-body workouts, Neg is for you.  She's a body-positive pro that posts weekly follow-along videos that offer modifications for most fitness levels. Most of the time, all you need to work out by her side is a kettlebell and 20 minutes.
If lifting isn't your thing, there's no shortage of tutorials on the web that might as well have been custom-made for you. You can't throw a stone without finding suggested workouts that are appropriate to your level.
YouTube provides endless opportunities to stripersize, zumba, or get your pump on without fear of judgement at the gym. You can make mistakes and work at your own pace without the pressure of keeping up. You are free to look as sexy or as stupid as your heart desires.
If you don't know how to properly swing a kettlebell or you're thinking about getting a weight rack as per the counsel of your new e-trainer crush, consider consulting a professional. At the very least, have a friend who can help evaluate your form and give you pointers so you don't inadvertently slip a disk.
Have you tried any of these strategies? How do you stay fit while maintaining your budget? Leave your thoughts in the comment section below!
Kayla Snyder is a social media pro, habitual student, and friend to the oxford comma. You can follow her on Twitter.