5 Pre-Packaged Foods I'll Never Again Buy From The Store (& How To Make Them Instead)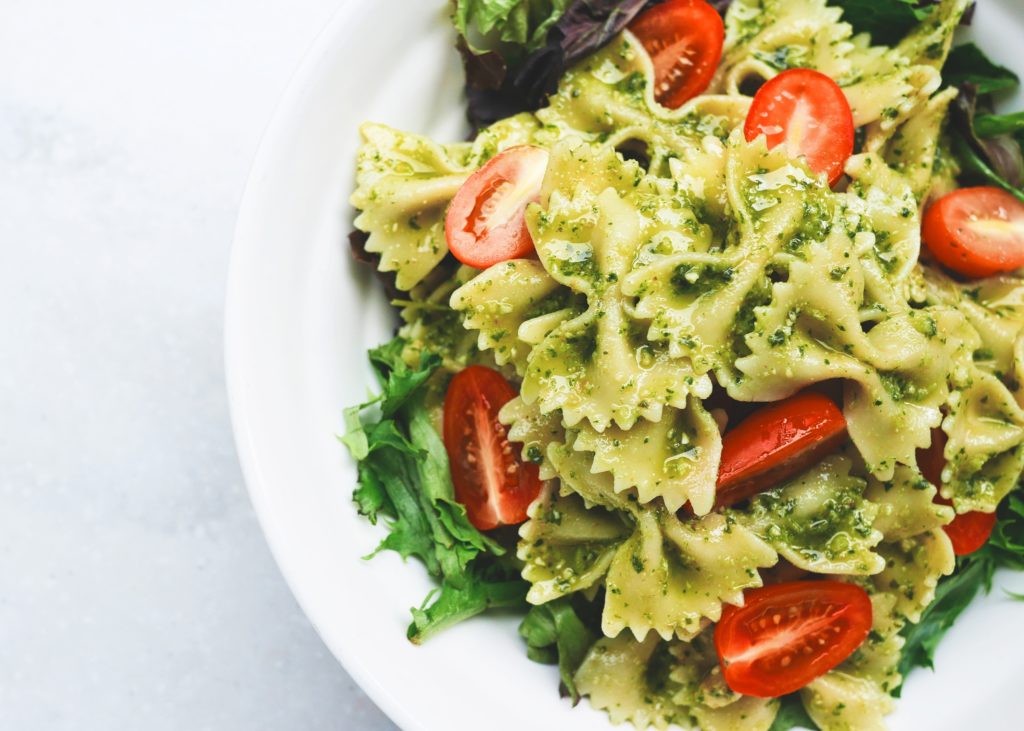 It's happened to the best of us: we walk away from the checkout line stumped as to how a grocery list that was supposed to cost $50 magically doubled, or even tripled, in cost. Seemingly innocent and convenient pre-packaged items hide their steep and sometimes ridiculous price tags. Convenience foods, oftentimes, can be quite costly, and not as great in flavor as homemade versions. 
Companies make a lot of money on our necessity for fast, quick meals — we all know that. When I am making my shopping list for the week, I evaluate if the pre-made item can be made easily at home, and also whether it is more cost-effective to do so. 
Here are 5 items that I never buy pre-packaged anymore, and how to easily make them yourself:
1. Pesto 
Traditional pesto is an expensive sauce because it is made of some relatively pricey ingredients and has a short shelf life. You could purchase bottled pesto, but it is of a lesser quality than fresh pesto, in my opinion. Fresh pesto at my supermarket costs around $7 for an 8 oz package. But keep in mind that many of the pre-packaged pestos don't use pine nuts or parmesan. When I make pesto at home, it costs around $7.50 for 8 ounces, which does include the cheese and nuts.
Traditional pesto has only a few ingredients — garlic, pine nuts, olive oil, basil, and parmesan cheese (and sometimes lemon). Purchase the pine nuts in bulk and a small wedge of parmesan, and look for the freshest looking basil. In a food processor, it takes less than a minute to make, and it keeps it in the fridge for up to 5 days. Pesto goes with many dishes, including pasta, pizza, fish, roasted vegetables, and an assortment of meats. Are you vegan? Well, eliminate the cheese and add a little red pepper — you'd be surprised how much you don't miss it, and you will save a little money. You could also swap out the basil for mint and cilantro, or use almonds instead of pine nuts. Pesto is a sauce that is really difficult to mess up, and because you are making at home, it will taste even fresher and more delicious in your meals.
Here is a recipe for a fast vegan pesto that comes together in minutes:
A handful of Mint Leaves and Cilantro (about 2/3 cup each)

1 Serrano Chile or 1 Jalapeño

¼ cup of Walnuts

¼ tsp of kosher salt

2 cloves of garlic

¼ cup of olive or avocado oil

2 tbsp of lemon juice

pepper to taste
Place salt, walnuts, cilantro, mint, garlic, Serrano, and lemon juice into the food processor. Pulse mixture about 12 times, then add in oil. Do not over-mix — you are trying to still have some texture. Taste the pesto, see if you need more oil. Season with pepper and more salt if needed. Pesto keeps in the fridge for 3-5 days.
2. Spice Mixes 
Spice mixes average in cost from $1 for a single-serve taco mix to $6 for a madras curry powder, but I always find they end up expiring before I use them. Not having control of the ratios of spice to one another when cooking is also a common annoyance. For example, taco seasoning usually doesn't have enough chili flavor and too much salt and cumin for my tastes. I started to make my own taco seasoning, and it costs about $0.40 per meal. 
My suggestion is to keep a small batch of various spices in your arsenal that you will use often. Then, you can customize a spice mix to your own palate. Confused about what spices to buy? Look at the types of cuisines you like to consume most often. There are many spices that appear in many different regional cuisines. For instance, cumin is used in typical Mexican dishes, but also in many Indian regional cuisines. Thyme can be found in a French herbes de Provence blend, but is also used in some regional Middle Eastern dishes. Sesame seeds are found in Japanese spice mixes, but also in some North African meals. Store your spices in an airtight container so they don't spoil early, and try to use before the expiration date for the best flavor.
3. Bottled Asian Sauces 
Bottled sauces like peanut satay sauce or Thai green curry sauce, in my experience, never taste as good as the restaurant or homemade versions. This is because these sauces rely heavily on fresh ingredients that really cannot be transferred into a bottled form. The ingredients to make these sauces are readily available not only at your local Asian market, but at nationwide chains like Whole Foods and Sprouts. I have even seen lemongrass at my small local grocery store, and kaffir lime leaves in the frozen section of my Asian supermarket. Can't find an item for your recipe? Be creative. For instance, swap out the tamarind for lemon juice (you'll get the needed acidity). 
Homemade curries are also not difficult to make, and so versatile in meals! A jar of curry paste can cost up to $10, and that is often only for 6.5 ounces.You could instead make the same amount of homemade curry paste, and control the spice for $5.50 — almost half the cost of the pre-made variety.
4. Cold Brew 
One of the most expensive beverages at the grocery store (besides alcohol) is pre-made coffee. An 8oz serving of cold brew averages about $4. Instead of shelling that out for a single serving, make your own concentrate at home to mix with water for your own cold brew. Go to the coffee section, get your favorite coffee beans, and finely grind them. At home, measure out 2 liters (about 8 cups) of filtered water and add in 2 cups of ground coffee. Mix the coffee grounds and water well. Put into the fridge and stir whenever you remember over the next 24-48 hours. I usually brew it for 48 hours — that way, I end up with a stronger concentrate. Lastly, filter the concentrate with a cold brew filter. The cold brew will only cost about 50 cents per cup and won't have the same acidity as some of the store-bought brands, especially if you buy organic beans.
5. Prepackaged Fruit
I hate paying upwards of $5 for pre-packaged fruit only to toss half of it because it wasn't ripe enough, or because it was soggy. A packaged, cut up, 16oz container of watermelon is around $6 where I live, so you could purchase a small whole watermelon for about $3.50 — cut it up yourself, and have almost twice as much fruit. 
Your best bet is to buy fruit in season and just cut it up yourself. Growing up, we didn't have a lot of money, but my Mom and I would go to the local farmstand and get fresh fruit and vegetables at a fraction of the cost of the grocery store produce. Farmers' markets are also a great option for you to load up on fresh fruit and just cut it up at home. You could also get produce for a fraction of the cost at your local ethnic market. When buying whole fruit and cutting up your own, you're not only saving money, but also reducing all the waste from single-use packaging.
Onisha Paulos is the creator of the food blog www.frenchbutterknife.com. When not perfecting her croissant recipe, she likes to take dance classes and travel to learn about foreign cuisines. 
Like this story? Follow The Financial Diet on Facebook, Instagram, and Twitter for daily tips and inspiration, and sign up for our email newsletter here.