5 Less-Expensive Dupes For The Tech Products You Really Want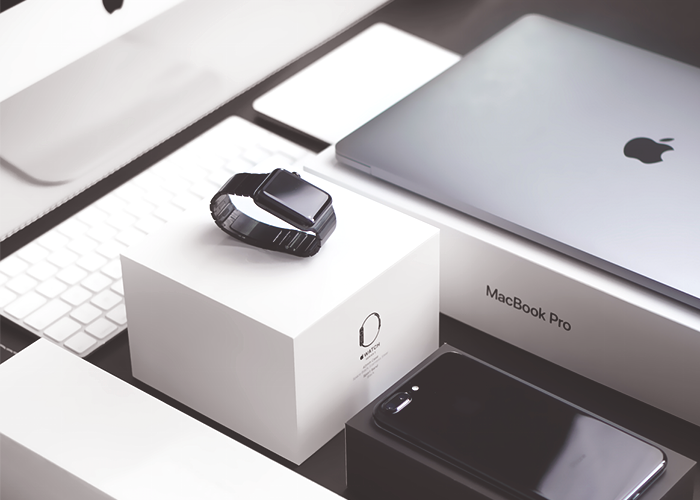 In 2017, it seems impossible to live out our lives without spending lots of money on everything, eating away at our potential savings. As a result, we're all reverting to our hunter-gatherer instincts — only now, what we're hunting for is more likely to be a good TJ Maxx bargain or a sale at WholeFoods. And while there are plenty of resources on how to spend less money on makeup and we could all do with moving to a more affordable area, let's cut to the chase: What are we generally spending the most money on in one single purchase? Technology.
It has become almost a necessity to be able to control your sound system in another room, from the app on your stylish phone, while your watch tells you how many calories you've burnt that morning. So, I've compiled a list of cheaper alternatives to some of the pricier, more lusted-after products that will leave more money in your pocket for the other things in life.
1. The Product You Want: Macbook Air
Let's be honest, you want it, I want it, we all want a Macbook of some kind. Perhaps it is the chic array of metallics they come in, the perfect balance between extravagant and neutral enough to compliment any home office. Your iTunes, iCloud, iPhone all synced so perfectly that you become an iPerson living your best iLife. The problem? It costs a lot of money. And that is money I'd rather spend on a holiday!
What To Buy Instead: ASUS ZenBook
Okay, if you need to save money, you can stop being a baby and let go of the idea that you need to have the Apple brand. Your horizons will open hugely. Both of these laptops have 8GB of RAM, but the Zenbook's is faster at 1,866MHz, it has a higher resolution with 1,920 x 1,080 pixels, and comes with 256GB storage as standard. Need I mention it is also a tidy $300 cheaper? Think of how many happy hour drinks that is! You'll catch me at my nearest bar with my Zenbook.
2. The Product You Want: Bose SoundLink Bluetooth Speaker
A portable Bluetooth speaker (finally a use for Bluetooth!) is a must have for me. Whether I'm at home working, getting ready to go out, on a road trip, or on holiday, it is always nice to have music in the background, and controlling it from my phone makes it a lot more convenient. I totally understand the reason for wanting the Bose SoundLink; you get the brand name, it is super portable, and it comes in that divine pearl color. But why buy that when you could have…
What To Buy Instead: Anker SoundCore Bluetooth Speaker
This one might be the biggest no-brainer on the list. The Anker SoundCore is portable, has reduced harmonic distortion and bass that you seldom find on speakers that are double the price. It also has three colors to choose from and has 24 hours playback time. Can you even comprehend that much music for a one-time charge? Oh! It is also a sixth of the price of the Bose SoundLink, and a best-seller on Amazon.
3. The Product You Want: Beats Studio Wireless Headphone
Ahh Beats headphones — the minimalist design, the range of colors and superior noise-cancelling ability. Need I mention the fact that these ones are wireless, so you legit will never be trapped in the octopus-like tangle of headphone cables ever again? However, at the cost of at least three fancy meals out, I think I'll pass.
What To Buy Instead: AKG Y50 Headphones
These headphones come with a decent build quality, so certainly don't feel cheap and with sound quality that isn't far off the Beats Solo 2, but with added bass, you are getting Beats quality for an absolute bargain *takes sip from cocktail bought with headphone savings*.
4. The Product You Want: Garmin Portable Bluetooth GPS
GPS does far more than just get you from the ol' A to B these days. Traffic updates, voice recognition, and lifetime map updates make this gadget a must-have for anyone who drives a lot. This Garmin one is definitely the best one on the market at the moment, and probably sets the bar for GPS standards. However, if you're more about the destination than the journey may I suggest…
What To Buy Instead: TomTom Bluetooth GPS Navigator
This TomTom has the same screen size, voice recognition and traffic and map updates. Remind me again why I should buy anything else?
5. The Product You Want: Fitbit Smart Fitness Watch
The Fitbit. Fitbit is to wearable fitness technology what the iPod is to portable music. I needn't bore you with everything this thing can do — because it seems to be able to do everything but the actual exercise for me.
What To Buy Instead: Misfit Shine 2 Fitness Tracker & Sleep Monitor
At under $50, this is easily the better option for a budget. It monitors steps and your quality of sleep and just. Look. How. Good. It. Looks. Disclaimer: Its range of colors was a big factor in this whole product comparison for me. But, as a much cheaper starter option before you're ready to commit to a Fitbit, I would definitely recommend it.
*****
Whatever technology you're lusting after, there is no need to open a separate savings account for one purchase. This is by no means a definitive guide, and I'm sure there are many other great alternatives. But remember to always shop around, and never accept one price as the final price to pay for your gadgets. Never sacrifice an emergency fund for something that can be bought cheaper elsewhere.
Declan is a millennial living in London, wondering what his next career move will be in between yoga and playing badminton.
Image via Unsplash