5 Holiday Gifting Hacks That Are Getting Me Through The Season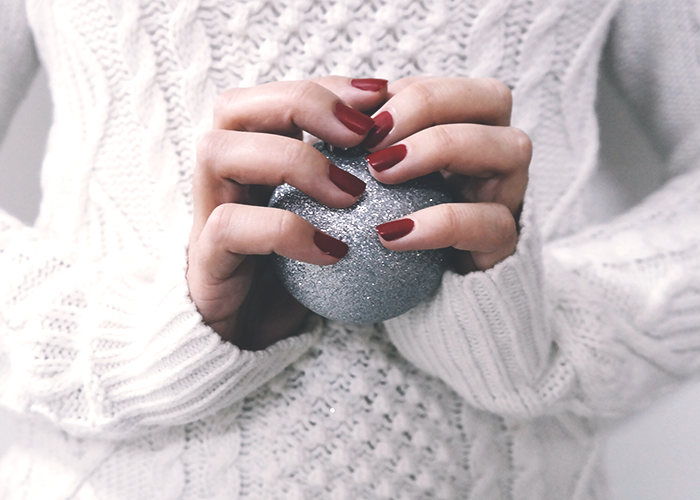 'Tis the season to spend way too much money on unnecessary things, amirite?
Full disclosure: I went to the mall yesterday. And I was pretty sure it was going to be really was rough, because the mall is an objectively horrifying place to be this time of year. Pair that with the fact that I was bedridden with a 102 fever for most of the weekend, and you've got a true Christmas Nightmare.
But I desperately needed a haircut, (please spare me the "mall haircuts are not good" lecture – they are $20 and that's the best price I've ever found for a women's haircut) so I bounced over there in the morning to get that out of the way, and decided to do a tiny bit of holiday gift shopping after I was done.
And something magical happened – for the first time in pretty much my entire life, my Christmas shopping adventure was super quick, successful, and satisfying. I didn't overspend, or overbuy. I wasn't confused or stressed or grabbing random things. I got things I knew people in my life would love, spent very little on the ones I paid for, and even got some for the extremely low price of $0.
I had some help though – you see, most of my holiday gifts weren't found in a mall this year. Most of them were created elsewhere, and just rounded out by throwing a few cute things I grabbed at the store into the mix to make them a little more exciting.
This year, I've changed up my gift-giving philosophy a bit. While no one in my life has exactly come on board with the "no-gift" Christmas idea, we've agreed that blowing money we don't have on buying each other useless, needless crap is not going to be the way to go in 2k16.
I've had a few shopping tips, saving tips, gift-idea tips, and spending tips helping me out this season. These five are the ones that have helped me the most, and made this the most painless Christmas season I've ever had.
1. Use stockpiled rewards points to buy gifts for #free.
I talk about how obsessed I am with my credit card rewards points all the time, but I truly love them. I've done the bulk of my Christmas shopping for actual freaking FREE so far by using the rewards points I hoarded all year. Also, Drew and I decided to gift each other "buying nice stuff for our home" for Christmas, and we're doing it almost exclusively with gift cards he was able to redeem with his credit card rewards.
2. Do the same with unused gift cards.
Using old, unused gift cards to buy people presents (or giving the gift card itself as a present) is one of my favorite free-as-heck holiday gift ideas. I may or may not be using a bunch of gifted Sephora cards I've received in the past year or so to buy makeup-related gifts for all of the ladies in my life, because if you've read anything beauty-related that I've posted, you know that my most recent makeup routine is fairly simple and drugstore-based, so I definitely would prefer to stay away from Sephora so I don't accidentally get hooked on a $40 concealer again. (That was a dark time in my life.)
I'll even admit here that I've also been known to save coffee shop gift cards and totally re-gift them by putting them in a cute bag with a ribbon or a nicely decorated envelope. There are no rules during the holiday season, especially if you're riding the struggle bus all the way to the north pole like I am. Re-gifting is kind of tacky, but to be honest, who really cares?
3. Try a half-DIY.
I'm not necessarily crafty enough to make gifts from scratch most of the time, but if you give me a cute basket, some ribbon, and a few inexpensive cute items, I can definitely assemble a slightly-DIY holiday gift. I love these, because they're inexpensive, fun, and easily customizable. I'd recommend theming them depending on who you're gifting them to. Something wine-and-cheese-y can be cute for a more sophisticated pal, and a couple of cute mugs, a bag of marshmallows, and a jar of DIY hot cocoa mix is perfect for a family with children.
4. Get a Groupon-experience gift.
I've had the overwhelming response of "I truly don't need anything" from nearly every single person I've asked about Christmas gifts. No one seems to want or need anything in my life at the moment, which has left me kind of clueless when it comes to gift ideas. Since everyone seems pretty much set on stuff right now, I've decided to go outside the box with more experiential gift ideas. My favorite way to do this is looking for gift certificates and vouchers for fun things on Groupon, where I can usually get a good discount on the deal. Buying a $50 restaurant gift card for $25 is the most satisfying moment of any gift-giving holiday, tbh.
5. Make gifts "worth it" by not going too holiday-themed.
Although I definitely appreciate a good Santa mug or Christmas sweater, buying someone a Christmas gift that is Christmas-themed sort of sucks, because they basically can't use it for the next 11 months. If you want your gift-ee to get your money's worth out of the gift you get them, try to get something a little less cute and holiday themed, so they can use it all year round. This tip hurts my soul, because obviously I feel like everyone in my life needs pajama bottoms that have a penguin wearing a scarf on them. But they likely won't be putting those suckers on in April, so I'll try my hardest to pass.
That being said, a year-round gift paired with an inexpensive holiday-themed one is the best of both worlds. So, spring for that penguin-wearing-a-scarf PJ set, and give them a solid-colored pair to go with it. (Or you can get them something else practical and useful. I don't know why the holidays make me feel like everyone needs new pajamas.)
Mary writes every day for TFD, and tweets every day for her own personal fulfillment. Talk to her about money and life at mary@thefinancialdiet.com!
Image via Pexels