5 September Shopping Hacks To Make The Holidays Less Of A Sh*t Show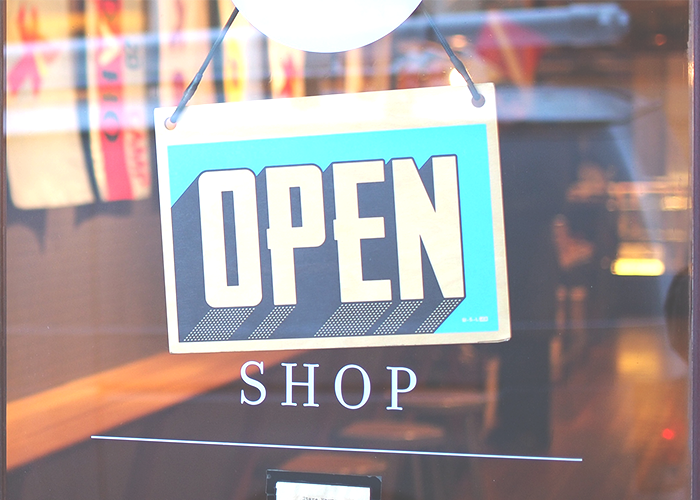 It's no secret that the holiday season can add stress to your wallet. While seeing the holiday decorations already making their debut on the shelves of most stores is a little off-putting in, umm, September — I also dislike seeing Santa decorations when I'm still wearing shorts, trust me — we do need to be prepared for what's just around the corner. If you embrace the approaching holidays and get to work, your wallet will thank you in the long run. Your sanity will also thank you when you're not braving the madness that is Black Friday and last-minute holiday sales.
One of my best friends recently posted on Facebook that 90% of her Christmas shopping is done, complete with a photo of her beautifully wrapped gifts. I couldn't help but be envious, not only of her ~impeccable~ wrapping skills, but also her incentive to get everything done so early. Of course, plenty of people voiced their concerns for her sanity in the comments. She very eloquently put these critics in their place, with the following:
"I buy stuff throughout the year when it is on sale. That way I am done early and save money. I also am not pinched for money around the holidays so I can be more giving to people in need."
What. A. Rockstar. Now, I know that not everyone is that organized, but this was a huge light bulb moment for me. I'm also not suggesting that everyone immediately rush out and do all their shopping. However, if you want to try and save a little during the holidays this year, it's definitely not too late to start!
The first step is making sure you know what you can spend and knowing who you're buying gifts for. This may require some honest, open communication with family and friends. It's important to set limits for your budget. Every year, my family sits down to talk about how many gifts we're going to give. It's all about finding a balance that works for everyone!
Here are 5 ideas for pre-planning your giving to give yourself a little more financial wiggle room this holiday season.
1. Shop Sales Year Round
There are plenty of big sales year-round, and they generally start in January, right after the holidays are over. The one catch with buying gifts you're not going to give for months: they have to last. That means clothing items and anything with an expiration date is out of the question. Stick to items that the recipient wouldn't buy for themselves. Candles, notebooks, photo frames, and stationary are all safe buy-ahead items.
When you have your shopping done months before candle lights magically start appearing in every window, it opens a little space in your budget for holiday giving, not gifting. That could be donating to a local organization or a needy family or buying a coffee for the person behind you; if you're not strapped for cash, you can be a little more generous around the holidays, if you choose to be.
2. Buy Gift Cards
Starting in January, buy one $25 gift card each month or on payday. By November, you will have 11 gift cards worth $275. They're simple presents for you to give, or you can use them as your holiday allowance and only buy presents using your gift cards. Either way, you'll have 11 gift cards for giving or $275 to spend on gifts!
If you're just starting to save this September, don't panic: following this rule will still give you $75 worth of gift card spending for the holidays, which will be a major leg up come December.
3. Use Credit Card Points
When I signed up for my first credit card, I could choose between receiving points for my purchases or cash back. I chose points, and as soon as I walked out the door of the bank, I completely forgot about them. I recently found out that those points can be redeemed for gift cards — a great way to give yourself a budget for holiday spending without dipping into your savings.
4. Make Lists And Keep Track Of Purchased Items
I'm guilty of shopping aimlessly for gifts. Last year, I thought I had done a really great job shopping for everyone on my list. When I took inventory, I realized I had almost 10 gifts for my dad and barely anything for anyone else. Oops.
Make a list and tackle it early. That way, when you're in stores making last-minute purchases, you have a plan of attack ready. If you have to brave the stores after Black Friday, you know exactly who you're shopping for and what you want to get them rather than wandering around bumping into the rest of the dazed holiday shoppers. And don't forget to keep track of what you've already bought so you don't overbuy for one person or completely forget another. When you're spending strategically, you are less likely to make impulse buys days before the holidays when the prices are high.
5. Plan DIY Gifts
Don't be afraid of Do-It-Yourself gifts. There are many ways to give thoughtful, beautiful gifts without spending a ton of money. If you have a group of people you'd like to gift to, but don't have much money, consider an inexpensive DIY project!
Keep the recipient in mind, and gift from the heart. My mom asked for a letter a few years ago — literally just a hand written letter that she could read whenever she wanted. I elaborated and wrote her a series of letters to open throughout the entire year. I used cards I already had, and wrote quotes and funny stories and filled them with old pictures. It cost me $0, and she still says it's the best gift she's ever received.
The holiday season is about much more than spending money on gifts. I admittedly am not the biggest fan of receiving gifts, but I absolutely love giving them to my loved ones. But however much I wish I could spend on those I love, my budget does have limits. Taking a few extra months to plan will allow me to stretch my budget in a way that will allow me to give meaningful presents and still stay on track with my personal financial goals — and not spend the months after the holidays paying off credit cards.
Samantha is a legal secretary in Vermont trying to put her English degree to good use. She is always writing, reading or rescuing animals (the most recent rescue is a high-fiving Chihuahua named Hambone).
Image via Unsplash