5 Truths I've Learned About Planning A Wedding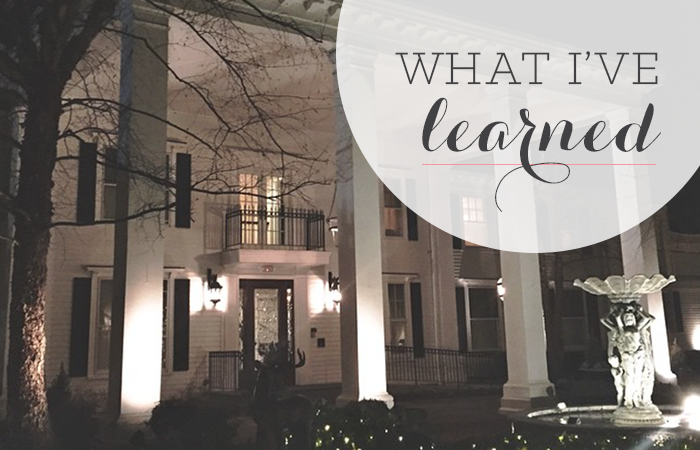 Over the last five months, I've come to understand that planning a wedding, despite being a romantic undertaking, has its ups and downs. The process can sometimes jump back and forth between ecstatic joy and sobering financial reality. And although we've experienced sticker shock at times, overall, the process has been exciting. We've been presented with the creative challenge of swapping out the things we want, with things we can comfortably afford. Below are five truths I've come to know throughout the course of our engagement, as I learn the ropes of what it means to be a 'bride-to-be.'
1. Be realistic about what you can afford, and stick with things that really matter.
There were a lot of add-ons that we initially considered/wanted at our wedding, but we quickly discovered that they were slightly (or more than slightly) out of our price range. For example, the wildly popular photo booth machine can cost hundreds of dollars, and we decided that our money would be better spent elsewhere. A smart swap that we've thought about implementing, would be to set up a table filled with Polaroid cameras and extra film for guests to take photos of themselves, which they can then pin up to a cork board for all to see. It's important to build out your wedding "wish-list" with selected items that matter the most, and pinpoint the areas from which you can cut corners to make them a reality.
2. Planning is as complicated as you make it.
One of the first things I realized when planning our wedding was that it wasn't nearly as stressful or time-consuming as I thought it would be. I had always imagined there would be an endless list of decisions to obsess over like colors to coordinate, lighting to choose, chairs to cover, etc. I've found that this isn't the case. Up until recently, a majority of my wedding planning reference points consisted of women who spent exorbitant amounts of time carefully selecting each minute detail of their special day — an activity that took up a majority of their time at work. I realize that my preoccupation (or lack thereof) with wedding planning cannot be considered baseline, as I'm pretty laid back, but I've found the aspect of it all to be enjoyable and smooth. So far, the elements of the wedding that have been crucial to us have been ensuring that everyone eats well, good dance music is played, and an officiant is present to actually perform the marriage — all fairly manageable decisions. Other than that, come what may! Honestly, I'm just pumped to celebrate with loved ones and drink champers.
3. Female relationships matter SO much.
When I first got engaged, I knew that planning a wedding with my mom by my side would be fun, but I underestimated how special it would feel to bond with her throughout the process. The female relationships I have in my life: with my sister, my best friend, mother-in-law to-be, sister-in-laws, and my girlfriends, have made me realize how tight-knit and meaningful that circle of support is to me.
4. Favors are fu*king expensive.
$4.50 for a gourmet chocolate bar, times X number of guests, adds up fast. We want to give each guest a small token to show our love and appreciation before the thank-yous go out, but specialty favors add hundreds of dollars to the cost of the wedding that we didn't account for. We're now exploring DIY favors such as small bottles of homemade beer and wine and other items that are meaningful, but won't set us back financially.
5. Tune out the noise.
Both my fiancé and I come from traditional families who view weddings as #Events. Sometimes it can feel difficult to decipher whether the pressure to have a big wedding comes from outside influence or from inside myself. When everyone around you is planning large-scale pricey weddings, it can feel difficult to deviate from that. My fiancé and I were both raised in a small town where we grew up seeing the same people for holidays, birthdays, BBQs, parties, etc. While that has resulted in us having an incredibly rich support system filled with people who love us, it's also created a sizable wedding guest list. For example, our engagement party ballooned to 95 guests because of how many people we know and wanted/needed to invite. It ended up being pricier than what I, myself, would advocate someone to spend. Fortunately, we are in a position where we do not have to bear the sole financial burden, because our parents are able to help us (and want to). I realize this is not a position in which every couple finds themselves, but it is something that our families prepared for, and looked forward to helping us celebrate for a long time. However, receiving financial assistance doesn't mean trading away the right to keep the wedding authentic. While we hate to let people down by opting out of things like a church service or limos, it's important to create a wedding that feels like "us" — one that hasn't been laden down by the pressures of too much tradition. I've learned that it's important that we do our best to tune out the noise of the Wedding Industrial Complex — of what Pinterest tells us how our weddings should look, or what Say Yes To The Dress demands our wedding dress cost. We have to be the masters of our own finances, and we can't submit to the pressure that society can place on us to do things the #right way.
The most important takeaway from this experience has been the understanding that being engaged spans a very limited period of my life, and I should enjoy it as much as I'm able. I've learned to feel more comfortable removing the barriers that prevent me from doing so, whether it means whittling down the size of the bridal party, or saying "no" to children attending the reception. After all, this is only the initial foray into what will be a lifetime spent with my significant other. It should be thoroughly enjoyed as the gift it is and not wasted away stressing over decisions that are meaningless in the grand scheme of life.