5 Unbelievably Easy-To-Make Meals That Use 5 Ingredients Or Less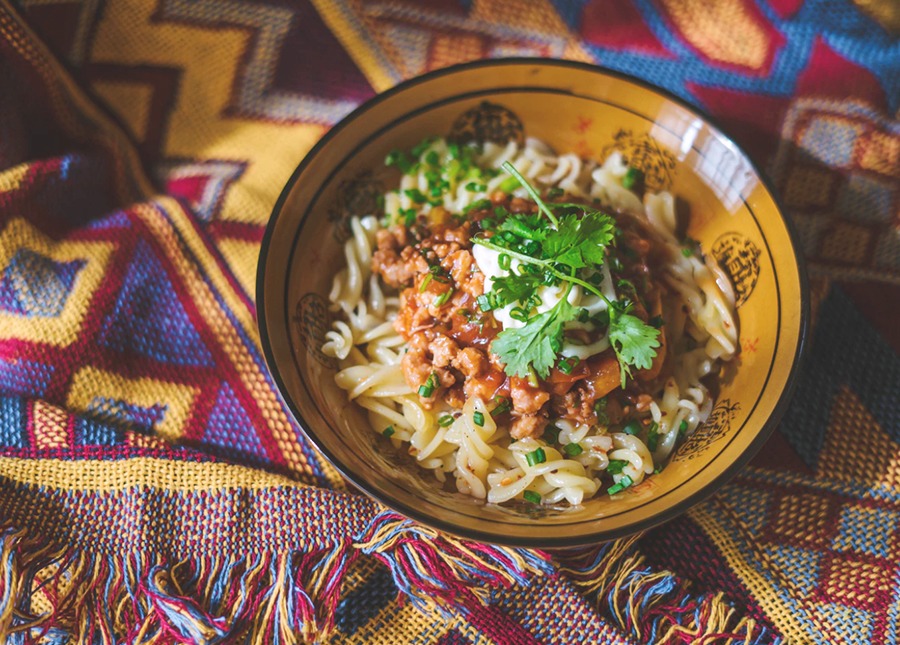 Learning to cook is probably one of the ultimate challenges of growing up. And it's this vicious cycle because unlike some other life admin tasks, like paying bills or updating a résumé, it never goes away. Once you're done eating a meal, you have to start thinking about the next one. Disclaimer: I'm by no means a chef or some food blogger extraordinaire. There are many, many places on the internet to find delicious recipes. My favorite places to find recipes are as follows:
2. Pinch of Yum (Lindsay is my favorite food blogger of all time)
3. Buzzfeed Tasty (I live for their Instagram)
4. FoodNetwork.com (their shows have been my obsession since I was 10 years old)
Below are some easy recipes (and links to recipes) that I use to cook with minimal ingredients. They are simple, easy, and quick, but are still quite impressive over the typical baked pasta dish (although there's nothing wrong with that!). Before we start, please note that some basics are not accounted for in these recipes. This includes salt, pepper, cooking oil, butter, garlic, and onions. I feel like these are staples in any kitchen.
1. Quiche
Ingredients: Eggs, Pre-made Puff Pastry, Milk (I use Almond), Cheese, Bacon, Ham, and Vegetables
Quiches are great because they look impressive but are essentially the egg version of a stir-fry — you basically put any leftover vegetables in a quiche and eat it. I no longer follow a recipe for quiches because they are, like I said, usually filled with whatever I have leftover from the week. But my basic strategy is below. Pro Tip: Everything looks so much more impressive in a skillet!
1. Unthaw the puff pastry and roll it out. If you're like me and are forgetful about thawing it a few hours before, I find adding lots of flour and using the warmth of my hands helps it thaw quicker. Preheat the oven to about 350 or 375. Check the instructions on your skillet. I know have a cast iron skillet that can be heated to 375 but my previous TFAL skillet only went up to 350.
2. Cook up whatever you would like in the quiche. I start with onions and personally always have bacon in my fridge and frozen spinach in my freezer, but I will also occasionally have leftover meat or ham.
3. While the filling is cooking, grate some cheese and prepare the eggs. The ratio is really just how runny you like your quiche, but my go-to is about a cup of milk for 4 eggs.
4. Put it all together: lay out the puff pastry (make sure to stick some fork marks in it to let the steam out), put in the cooking filling, and then very slowly put the egg mixture in. Pro tip: Save some of that extra egg mixture to use as an egg wash. Brush it over (or if like me you don't have a brush, spoon it over) the extra crust and that will help it brown.
5. Stick in the oven for 20-25 minutes, and voilà! An impressive Sunday Brunch quiche (with all the week's leftovers).
2. Baked Salmon In Aluminum Foil Packs
Ingredients: Salmon Fillet, Lemon, Mayo, Asparagus, Rice/Potatoes
This is like the easiest full meal to make. And it's also no mess. Here's a link to the Salmon Recipe I originally used but I have since modified it to my liking.
1. Preheat the oven to 350. If you want to eat it with a starch, put boil some water for rice or potatoes as well.
2. Prep the salmon filets: remove any skins and bones if needed or you can buy them skinless and boneless for a bit more.
3. Slice half a lemon. Use two to slices to put on the salmon and use the remaining juice to squeeze on to the salmon. Season with salt and pepper.
4. Trim the ends of the asparagus, then wash them and cover them in olive oil and salt and pepper (use garlic salt if you're feeling fancy).
5. Cut a piece of aluminum foil for the salmon packets and lay it on a bigger sheet of aluminum foil with the asparagus.
6. Bake for 20-25 mins or until the asparagus is tender. At this time the rice or potatoes should also be ready. Done!
3. Beef Soup 
Ingredients: Beef (fillets, chunks, or ground beef), Tomato Sauce, Carrots, Celery, Stock
I have an instant pot for this but it can easily be done without one, you just have to adjust the size of the beef accordingly. Because I have an instant pot that can pressure cook it quickly, I use cubes of beef chunks (they can be very inexpensive at the grocery store). My favorite stock to use is actually this chicken bouillon that you can keep in the fridge. (For Canadians: Amazon.ca sells it in Canada for $30 CAD but that's outrageous, just go to Superstore/Save Ons and it's like $10 CAD). As a side, I love to take a salad (in a bag because ain't nobody got time to shred vegetables into tiny strips) and stuff it into some pita!
1. Dice onions, carrots, and celery up and saute in a pot (or instant pot) with oil on medium heat.
2. Season the beef with salt and pepper and coat it with flour (this helps create a breading).
3. Saute everything together until the beef is browned and cooked.
4. Pour in a can of tomato sauce and some stock. I like to use concentrated stock instead of constantly using cans.
5. Cook it until the flavor develops as preferred and at desired consistency! I like my soups semi-dense, so I cook it down a bit. The great thing about soup is it tastes better the longer it is cooked. Serve with salad, garlic bread, or by itself — it's loaded with veggies already!
4. Tortilla Pizzas With Either Smoked Salmon, Caprese, or Avocado
Ingredients for Salmon Option: Tortilla, Smoked Salmon, Cream Cheese (herb if preferred) Cucumbers
Ingredients for Caprese Option: Tortilla, Basil, Tomatoes, Mozzarella
Ingredients for Avocado Option: Tortilla, Avocado, Mayo, Egg
This is a favorite of mine because it's a no-cook option. It's great for the days when I'm lazy and just need food in my belly as soon as possible. The only part that requires some cooking is toasting the tortilla.
1. Toast tortilla in a toaster oven or on the stove until slightly crispy. I use spinach tortillas because I try to get in vegetables anywhere possible.
2. For the Smoked Salmon Option: Cut up a cucumber into circular slices. Spread cream cheese (or herbed cream cheese) when it has slightly cooled. Take some slices of smoked salmon and arrange on top. Drizzle some olive oil and salt/pepper on top, and then you're ready to eat!
3. For the Caprese Option: Slice up a tomato and some mozzarella or bocconcini cheese and heat it in the toaster oven until it has melted. Then add some fresh basil and pop it in the oven until it has also warmed up (but not yet dried). Time to eat!
4. For the Avocado Option: Mash up a ripe avocado with some garlic, mayo and salt/pepper. Spread it over the tortilla and fry up some eggs (with a runny center). Bon appetit!
5. Shrimp Linguine With Lemon Oil
Ingredients:  Shrimp, Linguine, Lemon, Frozen Spinach
This one is the only one that I use mostly by the recipe. It's Giada De Laurentiis recipe and can be found the original can be found here. She uses more ingredients but I keep it pretty basic.
1. Peel the skin of a lemon and soak it in a small bowl of about a ¾ cups of olive oil.
2. Meanwhile, boil a pot of water and cook the linguine as directed.
3. In a separate pan, saute frozen shrimp and frozen shrimp in with some garlic.
4. Drain the pasta, mix in the lemon oil (removing the peel), and toss in the spinach and shrimp. Ready to serve!
*****
Hope you all enjoyed those recipes! These are seriously my go-to favorites, especially the tortilla pizzas. They are healthy and quick! Please let me know if you make any of these recipes by tagging me on Twitter or Instagram. Don't forget to also pin it for later! Happy eating!
Kimberly is the writer behind www.millenniallifeadmin.com. MLA is a blog that helps break down the everyday adulthood tasks of growing up; one unavoidable responsibility at a time. You can also find her scrolling through memes and sassy posts on Instagram.
Image via Unsplash