5 Ways A Makeup Junkie Kicked Her Expensive Beauty Habits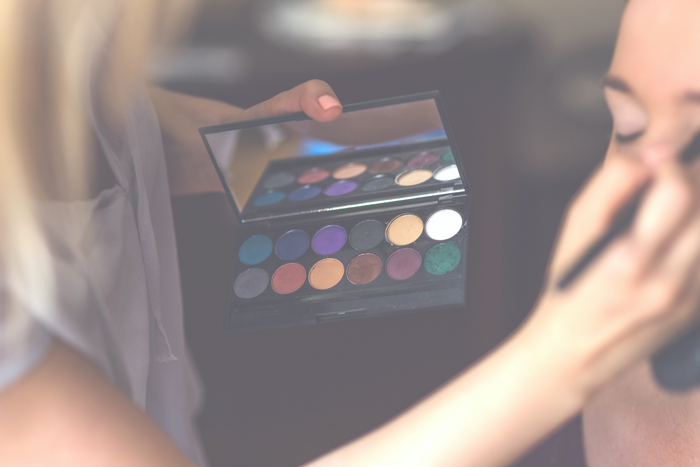 I'm a bonafide, self-diagnosed, completely insatiable beauty addict. I've been spotted ashamedly fleeing Target with nothing but hair products in my shopping bags, and I google lipstick swatches more often than I care to admit. I'm a recent graduate, and just starting to feel like a young professional, which sometimes makes me feel like I need the perfect #look (complete with the right blush, lipstick, etc.). As I'm trying to save for a new-to-me (read: very used) car and paying back student loans, I looked at my budget, and realized I needed to ditch my makeup binge-buying habits. Here's how I kicked my erratic beauty spending to the curb, while still satisfying my love of experimenting and products.
1. Extend the life of your products. Learn all the ways you can store your purchases to keep them fresh and get every penny's worth out of them. Mascara drying out? Add a few drops of saline solution to loosen up the formula. Keeping nail polish in the fridge prolongs its shelf life and prevents separation. If your lipstick breaks, use a lighter and meld it back together (while using extreme caution). The more knowledgeable I got about my cosmetics, the better I was able to care for them. Don't let yourself fish for an excuse to buy a new lipstick because yours broke. Instead, revive your products, so you're not throwing your money away.
2. Consider a monthly beauty box, or sample one. If you're an admitted impulse buyer in the makeup aisles (I'm raising my hand too, no judgment), this is worth considering. Birchbox and Ipsy are $10/month, but if it keeps you away from the makeup aisle at the pharmacy, or a high-end makeup store, then it could save you quite a bit.
If you have a specific taste, you can find other options here. Some beauty boxes specialize in green products, while others focus on nothing but polishes for mani/pedi fans. When you find yourself in the tempting corners of the store surrounded by full-size, full-price products you may not like or use, you can remind yourself you've already spent $10 on samples coming to you soon. And beyond using it as an excuse to not go to the store, and quelling impulse buying, many services offer points for your reviews and purchases, so you can get even nicer products for free over time. Getting a subscription is a good way of making sure you don't deprive yourself, but still guarantee that you are regimenting your beauty spending. Keep in mind that a lot of these boxes offer a free trial, which is also a nice way to get free products. If you sign up for the trial, be aware of your credit card information, and be sure they don't charge you after your free trial runs out.
3. Sign up for pharmacy reward cards. If I need makeup, I'm going to CVS. Swiping my ExtraCare card when I pick up some ibuprofen or my monthly prescription usually results in at least three or four coupons for my next visit, and they're tailored to my purchase history. It's not uncommon to get $3 off of $12 of Almay products, or 50% off a Revlon eye product. If drugstore products are your go-to and you find yourself making frequent pharmacy stops, signing up for the free card is an easy way to save on your beauty routine.
4. Find multiple uses for what you already have. In the age of convergence, we're used to one product being able to do it all. Stains are gaining popularity because they're easy to use on lips, cheeks or eyes and come in liquid, cream and stick formulas. Lip liner is cream eyeshadow waiting to happen, with the right brush and blending technique. An eyeshadow trio with a champagne shadow included in the palette means you have a built in highlighter powder for your whole face. Buying one quality product that has multiple uses is preferable to buying eight crappy products to achieve many different things.
5. Learn more about the products you splurge on and try to make them yourself. There's rarely a need to spend what I do on beauty products when I could make them with ingredients in my pantry. Frank Body Original Coffee Scrub is taking Instagram by storm right now, but rather than dropping $14.95 on an envelope of coffee grounds and assorted oils, mix your own. Use coffee grounds, brown sugar and olive oil to make five or six times the amount in Frank's jar at a lower price point. I replaced every lotion in my life with coconut oil, and one $10 jar has lasted me six months, with no end in sight. And if a DIY beauty recipe is what you desire, the almighty Pinterest will provide. Besides, making makeup and beauty products yourself is actually really fun and allows you to fully customize the outcome. It feels just as luxurious as buying the premade stuff, but with the added bonus of money saved and no buyer's remorse to be found.
Katie is the associate editor for a lifestyle magazine in Florida. You can find her reading furniture catalogs and eating cheese plates in bed. You can also find her on Instagram and at katiemcphersonwrites.com.
Image via Pexels