6 Anti-Valentine Ways To Enjoy Your Solo V-Day (& Avoid Self-Loathing)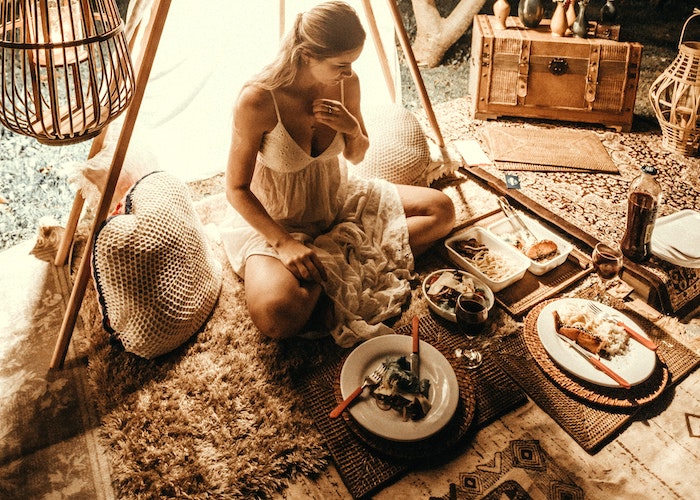 Just a few days away from that time of the year again. Valentine's Day. Sound the tiny trumpets and string the teeny violins.
To be fair, I'm actually a hopeful romantic, so I'm not anti-love at all. As a matter of fact, I actually enjoy my alone time as much as my time spent in good company (and I stress the "good" part because you should never settle for being in bad company, as a means of avoiding being alone.)
However, on the 14th, no matter how much you love yourself, value your me-time, or are happier in a relationship with yourself than when you were in a bad romance, the odds are greater that you'll be reminded of your single status more on the 14th of this month. And while that is perfectly okay, you deserve the right to feel just as good about that day as any other day.
So here are some helpful ways to help you embrace and enjoy your Me-Day!
1. Tender, Love & Self-Care.
Go ahead. You know you want to… get a massage
While it's no secret that we're a year into a pandemic and small luxuries (such as eating out at restaurants, social gatherings and so forth), are discouraged, that doesn't mean they are banned. While we'd never encourage anyone to risk it all for a 60-minute Swedish massage, the reality is, it's okay to take a calculated risk in the name of self-care. After all, getting a one-on-one massage is no more dangerous than making a run to Target s or Trader Joe's.
These days, most professional establishments, beauty parlors included, are following COVID guidelines, including checking temperatures at the door and only allowing a certain number of people in at a time. However, pre-pandemic, massage parlors were always the safer socially-distanced beauty ritual since, most times, only one client and one masseuse are allotted to a room, at any given time. Plus the employees always change the sheets between clients and are obviously continuing to do so (with added disinfecting measures) to this day. A nice 60 to 90-minute massage to rub out any knots, kinks and stress from your back is just what the doctor ordered.
2. Ahh… An At-Home Spa
Now, if you're not too keen to the massage life, indulge in an at-home, DIY spa experience. This may include giving yourself a mani and pedi, but also a facial and other skincare treatments. For the pedicure, I highly recommend either getting a jet bath or medium-sized basin and filling it with hot water and Epsom salt. If you want a bit of scent, add therapeutic bath beads or other essential oils to the water. Give your feet a good soak while reading a book, and then proceed to scrub and slough off any dry skin with the help of a Ped-egg or any other callus remover. Some people also like to use Baby Foot, foot peel, but beware- your skin will be peeling for days to come!
For your facial, consider buying any one (of many) individual sheet masks, sold practically at every drug store or supermarket. And for a body scrub, we highly recommend exfoliation gloves and a sea salt scrub to really exfoliate your entire body (Bacne is real, ya'll!) If your skin is super sensitive, consider using a gentler body scrub, such as a coffee bean body scrub, with less abrasive ingredients. Just beware- the coffee grounds can make a mess! However, your skin will be beautiful and super glowy in the end!
3. Indulge In Fancy Takeout
Just because it's a party of one, doesn't mean you can't have fun.
Now, while I'm not saying you should drown your sorrows in a pint of Eddy's, I will admit that if there ever was a day to ignore caloric rules, V-day would be thee day! But this is bigger than just stuffing your face with sweets. I'm actually suggesting a full-blown splurge on a fancy meal, delivered to your doorstep. You deserve surf and turf. Crab Legs? Yes please. And make sure they don't forget the garlic butter on the side. Wine bottle delivered to the door? Sounds good! Dumplings, sushi and ribbon noodles? Hmmm. Give yourself the dinner that you'd want someone else to give to you. Make it special by pairing it with your favorite adult-beverage and have your favorite movie in the cue, too!
Bonus: If you really want to treat yourself, order off the dessert menu too. You're already ordering $40+ worth of food, may as well have your steak (with cake) and eat it too!
4. Galentine's Day Festivities
Where two or more singles are gathered on Valentine's Day, is a Galentine's Day!
If you're totally comfortable and confident in your singlehood but would prefer not to be alone on the 14th, we don't blame you. Instead of opting for a day of solo activities, consider a "Galentine's Day" where you and your fellow friends get together and have fun. This can include everything from watching rom-coms, playing drinking games and talking sh*t about exes, to an actual evening out for dinner, drinks and catching up. Either way, call up your girlfriends and have a Girlfriends moment. It's not always a "misery loves company" thing. As the saying goes – the more, the merrier!
5. Anti-Vday Watch Party
If you're still interested in doing a group activity while social distancing, I've got you covered. Or rather, technology has got you covered.
These days, popular streaming services, such as Hulu, now offer you the option of having a "Watch Party." This means, no matter where you and your friends are, you can all tune in from your streaming app of choice, and watch the same movie or show, in sync and at the same time. So if you're a hopeless romantic (and/or emotional sadist), tune into something sweet, like The Notebook. If you're in a tire slashing mood, watch Waiting To Exhale. If you want a good comedy, watch Bridesmaids, Good Girls or Woking Moms. If you have a dark sense of humor and love watching women more foolish than you take back exes more toxic than yours, watch Sex And The City the movie.
Whatever you watch, you don't need to watch it alone.
6. Decluttering + Deep Cleaning + Decompressing
I love decluttering. I find it relaxing. It's a pain to get started, and it's an even bigger pain to keep going, but nothing compares to the feeling of a home that has recently been decluttered, dusted and deep cleaned to perfection. Cleaning is no fun, I get it. But it's distracting and it makes time go by really fast. So if you're trying to fast forward through the 14th, I highly recommend spending your morning and afternoon cleaning your place. If it's already clean, organize it. If it's both, reorganize it, feng shui it, get fresh flowers and sage your space.
By the time the night falls, you'll be too tired to even realize you're single or to even care to self-loath. Plus, you'll feel a sense of accomplishment. And when one feels accomplished, they deserve a reward. This is where decompressing comes in. Treat yourself to doing absolutely nothing after a day of doing everything around your home. Be aloof on your couch, relax, watch that show you haven't watched on Netflix yet, read that book you've been meaning to read. Either way, it's your day, girl. You've earned it, and you deserve it.
Things To Avoid:
Remember, whatever you do on the 14th, is your choice. Don't overthink it and by all means, don't stress it. To be honest, riding solo as a single person is better than riding shotgun to a bad driver in a bad car (the metaphor being that your ex was the driver and the car was your past relationship).
However, what you do decide to do or not do, here are some things to steer clear of:
Avoid doom scrolling on Instagram
Remember, social media is often for "show." That's not to say that people do not live the lives they appear to live, but people only show you what they want you to see. You may see a lot of seemingly happy couples on your feed, and it may put you down to view.
Avoid pseudo-stalking your ex (and/or their new partner) on social media
Like seriously. Don't do it to yourself. Especially if your ex is a narcissist and you've actually managed to break away from a bad relationship. They'll probably go out of their way to make sure to post something, that hurts your feelings. Screw them.
Do not text your ex while you're in your feelings.
Listen. Some of us end relationships amicably. Rare but not unheard of. However, do yourself a favor, if the last time you and your ex spoke (be it on a bad note or a good one), and it was made clear that you two really are nothing more than just friends, do not send a text reminiscing on the good ol' days, or the shoulda, coulda, woulda's. Just know that it didn't! There are 364 other dears of the year to send a friendly check-in text, the 14th doesn't have to be one of them.
Image via Unsplash