4 Important Money Lessons I Learned Only After Re-Watching Girlfriends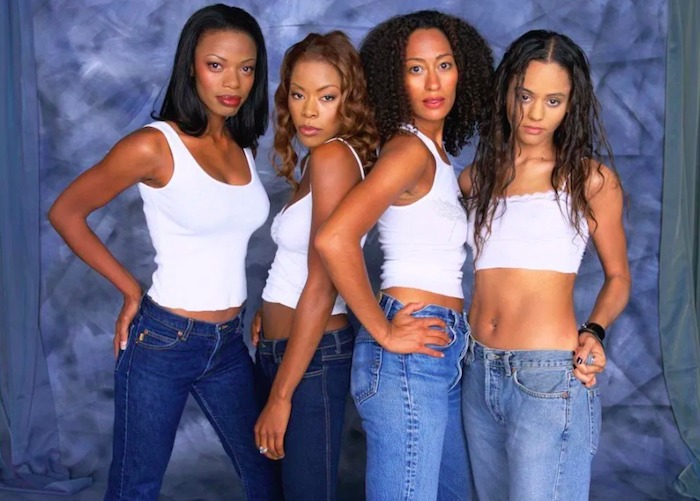 Growing up, I always looked forward to watching primetime television with my family. It was a nightly ritual we partook in every night, starting at 8 PM, without fail. During my childhood and teenage years in the 90s to 00s, it was a treat watching the many Black sitcoms on my TV.  From Family Matters to Living Single to Girlfriends, I enjoyed seeing other Black people on my screen, going through relatable tribulations with school, friendships, and within their own fictional family.
Girlfriends was one of my favorite shows. The popular early 2000s show followed the lives of four Black women navigating life, love, and work in Los Angeles. Through the eyes of Joan, Toni, Lynn, and Maya, I saw different ways of what it meant to be a Black woman in America, and ultimately got a glimpse into what my own adulthood could look like. Though I admired each character, given my young age at the time, I couldn't fully understand the issues they dealt with — particularly as it pertained to money and their finances.
Now that the show has finally hit Netflix, I recently had a chance to binge the semi-vintage series all over again. After re-watching the show as an adult (and considering I'm now closer in age to the main characters), I was surprised at how much I was able to apply the episodic lessons to my actual life.
Here are four key takeaways I learned about managing my money and finances after watching Girlfriends — 12 years later.
1. Don't Make Your Partner Your Primary Financial Plan
Throughout the series, Toni, a real estate agent and the main character, Joan's, childhood friend, repeatedly mentions her desire to be with a wealthy partner. Toni often comments if a guy makes enough money for her, if they wear designer clothes and frequently scans happy hours for high-level power executives. While Toni made a great income as a real estate agent, she wanted a partner that could afford to take her on yachts and luxurious vacations.
In watching Toni date these men, I learned what not to do within my own relationship with my finances. Her strong stance reminded me of my younger self and the more financially strapped times when I daydreamed about someone taking care of everything. As I've gotten older, I care less about someone footing every bill and more about my partner and I aligning on how we spend, save, and discuss money. And if my partner chose to pay more often, it would be a bonus, not a requirement. 
"As I've gotten older, I care less about someone footing every bill, and more about my partner and I aligning on how we spend, save & discuss money."
2. Live Below – Or Within – Your Means
The series highlights the way both Joan and Maya (Joan's assistant and friend) both live within or below their financial means. For Joan, this means that, although is a high-paid attorney, she drives an older model Camry. For Maya, that meant, at one point, staying on Joan's coach rent-free while she figured out her work and life situation. Seeing each of them find ways to make their current financial situation work for them inspired me. I've worked hard throughout my 20s and early 30s to live within or below my means, whether that was living with multiple roommates in San Francisco or choosing to live in the Maryland suburbs while commuting to work in DC for cheaper rent. So I can relate to both ladies in this sense.
3. Maintain Multiple Side Hustles
Maya, both a young wife and mother, starts out as Joan's assistant, and in the early seasons, consistently gets involved in various money-making ventures. While we see Maya working as Joan's PA, we also witness her involvement in the 'Circle of Gold,'  a seemingly sketchy business venture that Maya proclaims is a promising opportunity to turn $100 into thousands. While Joan warns Maya that the business is clearly an MLM or pyramid scheme, but it is one of many examples of Maya's ambitious attempts to have multiple streams of income.
Maya's hustle on the show inspires me to expand on my money-making opportunities as well. Whether through selling items on Facebook Marketplace or selling used clothes at Crossroads, I'm determined to emulate her hustle.
4. Consider If Grad School Is Worth The Investment
Growing up, Lynn, the free spirit of the fabulous four that comprise Girlfriends, was always my favorite. Her carefree nature and bohemian outfits captivated me as a teenager and now as an adult. Back then, I also related so much to Lynn because she had so many interests and couldn't figure out which one to pursue. She even took her passion – and indecision – a step further and pursued five post-graduate degrees.
Her choice to obtain many degrees and go into thousands of dollars worth of debt, despite ultimately not choosing any for a final career, really sat with me. I'm also someone who has many interests, from psychology to Spanish literature to international relations. Even though I've considered pursuing each degree on the graduate level, I ultimately decided to work various jobs to explore my interests. In trying multiple jobs related to my interests, I found the one graduate degree I'd actually like to pursue — a master's of social work. Unlike Lynn, I didn't need to go into debt with multiple graduate degrees I later wouldn't use. I thank her for opening my eyes to that.
"Unlike Lynn, I didn't need to go into debt with multiple graduate degrees I later wouldn't use. I thank her for opening my eyes to that."
Twenty years after Girlfriends' debut, I have come to appreciate the series even more now than ever.  Beyond what it taught me about finances, I also love how Girlfriends embraced the vulnerability, resilience, and complexity of the Black womanhood experience, and how its legacy paved the way for shows like Insecure, and inspired a whole new audience on Netflix.
Hope Lewis is a freelance writer and author of "A Student's Guide to Being Happy in Argentina" who can often be found reading a new Black romance novel or meditating before her morning chai latte. You can connect with her on Instagram.
Image via UPN/The CW
Like this story? Follow The Financial Diet on Facebook, Instagram, and Twitter for daily tips and inspiration, and sign up for our email newsletter here.