6 Bite-Sized Shows To Watch On Quibi, The New Streaming Service Perfect For Work Breaks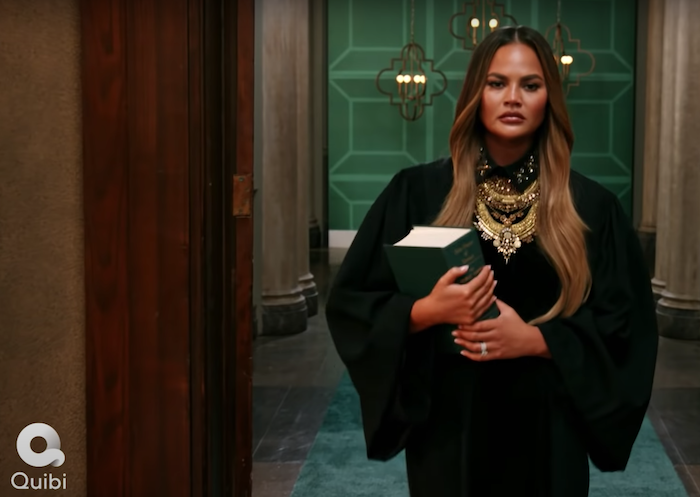 With so many of us working from home, the Instagram scrolls and TikTok breaks have become a bit more frequent (at least in my case). However, one new app is trying to change the way we approach these quick breaks in our day. This short-form mobile platform, called Quibi, pitches itself to users as, "quick bites of captivating entertainment, created for mobile by the best talent, designed to fit perfectly into any moment of your day." 
Over the last week, I tested Quibi throughout my day. I played these quick 5-10 minute shows while brushing my teeth, in between writing tasks, and even as I planked during my morning workout. One of my favorite features of the app is that the shows perfectly fit your phone screen, making use of all of the screen space vertically available. After binging many of Quibi's shows, I've decided that Quibi very well may replace the classic Instagram scroll in my own life. The content itself is engaging, with strong plots, star casts, and high-quality cinematography. However, it does require a bit of suspension of disbelief, as shows simply don't have as much time to explore the backstory that a typical TV show might.
Quibi offers a free 90-day trial, and after that, plans start at $4.99. If you end up testing it out, here's what I recommend checking out during that time! 
I'm a sucker for motivational content, so this show is a perfect fit for me. Rachel Hollis, the author behind books like Girl, Wash Your Face walks viewers through quick tips for self-improvement. She then showcases herself acting on such tips, often in adorable and hilarious ways.
Calling all Chrissy Tiegen fans–this comedy is a mix on the classic court reality shows that many of us grew up watching. Chrissy weighs in with a verdict on small court cases, providing witty banter and honesty. While the show notes state that each episode's verdict is legally binding (thanks arbitration!), know that the rulings are lighthearted. 
Your favorite middle-school MTV show is back! Chance the Rapper hosts and brings unbelievable pranks to the small screen in especially quick 5-6 minute episodes. Celebrity guests appeal to wide audiences and include Liza Koshy, Meg The Stallion and Lil Nas X. 
We're used to news stories being shared quickly over broadcast, so watching The Report by NBC on Quibi felt the most familiar and natural to me out of all of their content. Each episode focuses on one particular issue, with recent episodes focusing on COVID-19 related news, including unemployment rates and antibody tests.
I was skeptical of a Hunger Games-esque premise, but the first episode had me hooked. If you like dramatic thrillers, this tense, action-packed show is for you. Liam Hemsworth stars a desperate and down on his luck husband, offered a chance to play a shocking game for money.
If you're craving a juicy documentary after binging Tiger King, this show is for you. It covers the story of the youngest mayor of Massachusetts as he struggles with reelection and criminal charges. Jasiel Correia says his days of playing SimCity prepared him for office in this can't-miss and unbelievable story.  
If you find yourself looking to fill a few minutes with content, try swapping your typical Instagram or TikTok scroll with Quibi. In a strange way, it made me feel more productive because I was able to engage with new content and follow a plot. In light of many of us social distancing due to COVID-19, trying something new from the safety of your own home can feel especially nice. 
Time will tell as far as if I'll renew my subscription when my free trial ends, but for now, I'm grateful for exciting, digestible content at my fingertips. 
Simplicity Bryan is deeply entrenched in the worlds of self-help, gratitude, personal finance, and organization. She's happiest paddleboarding with her pup and storytelling with a purpose. You can follow her here.
Image via YouTube
Like this story? Follow The Financial Diet on Facebook, Instagram, and Twitter for daily tips and inspiration, and sign up for our email newsletter here.