6 Drugstore Makeup Swaps That Are Just As Good As The Expensive Versions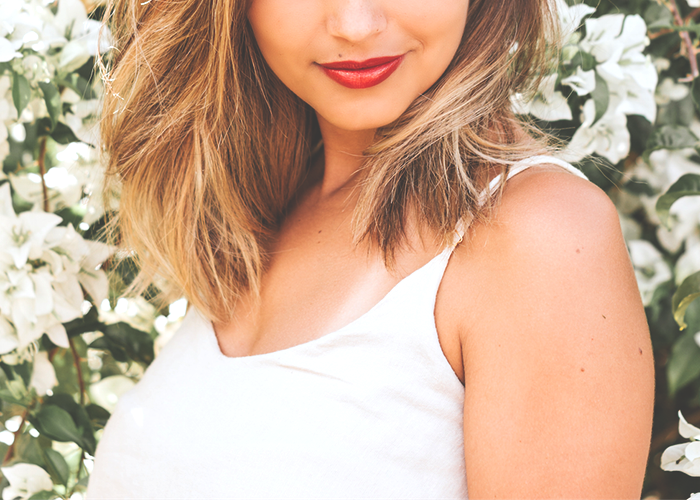 As I've mentioned on TFD before, I really love makeup. I don't think anyone needs to wear it, but I personally feel more put-together and confident when I swipe on some mascara. Also, it's just fun. You can change up your look dramatically by just applying some red lipstick and winged liner. I think makeup is a fantastic way to express yourself and, no, I don't think it's #vain to take the time to put it on.
However, despite my true love for makeup, shit is expensive. Or, at least it can be. The past month, I've started swapping out some of my high-end products for drugstore or lower-priced options that cost a quarter of the price. Below, I've rounded up some of these finds and can honestly say these cheaper swaps work just as well as their pricier counterparts.
1. Mascara: L'Oreal Lash Paradise Instead Of Too Faced Better Than Sex
Not only does the packaging pretty much look exactly the same, the payoff is equal, too. L'Oreal's L'Oreal Lash Paradise
thickens and lengthens beautifully, and it wears just as well as Too Faced's version. One problem I've found with drugstore mascaras is that some of the ones I have tried tend to run and give you that raccoon eye look after only a few hours of wear. This one doesn't, and it's not even waterproof! Love it. And, it's only $9.99 instead of $23.00!
2. Foundation: Maybelline Fit Me! Instead Of Smashbox Studio Skin
Maybelline's Fit Me! line has a huge color selection and comes in two formulations: "Matte + Poreless
" and  "Dewy + Smooth
." Not only can you definitely find a shade and formula that works for you, it applies like a dream and makes your skin look flawless. And it's only $5.99 if you buy it at Target.
For a while, I was using Smashbox's Studio Skin, and while I loved it, $42 a bottle is effing steep. While Smashbox does wear a little better than the Maybelline foundation, saving over $35 a month is worth taking the time to reapply.
3. Eyeshadow Primer: NYX PROOF IT! Instead Of Urban Decay Primer Potion
After discovering the miracle that is eyeshadow primer when I was 19 and working at Sephora, I started religiously buying Urban Decay's Primer Potion. At the time, there wasn't really any drugstore options for eyeshadow primer, and I got an employee discount, so I thought "Why not?"
However, now I am 25, not working at Sephora, and there are plenty of awesome eyeshadow primer choices you can find for a hell of a lot less money. I started using NYX's PROOF IT!
and I truly don't notice a difference at all.
4. Contour Palette: Wet n Wild MegaGlo
Instead Of Kat Von D Shade & Light
Yes, the packaging for Kat Von D's palette is gorgeous, but the Wet n Wild swap is just as pigmented and applies just as beautifully. While there are more highlighter options in the Kat Von D Palette, the Wet N Wild contour palette comes in two different shade combinations, so you should be able to find a color selection that works for you.

5. Highlighter: Essence Pure NUDE Highlighter instead of Laura Mercier Matte Radiance
Oh my God. This drugstore-priced highlighter (you can find it at Ulta), gives you the most natural glow. The reason I loved the Laura Mercier highlighter so much was because it didn't posses that chunky glitter that some highlighters have. It's silky to apply and looks incredibly natural. I found the Essence highlighter gives me this exact same result, only it's $4.49 instead of $42.
6. Eyeliner: L'Oreal Lineur Intense Instead Of Stila Stay All Day Waterproof Liquid Liner
I adore the Stila Stay All Day eyeliner. It's easy to use because it's a felt tipped pen. I used to have tons of trouble with liquid liner because it can be so difficult to apply and there's little room for error, but this one makes application quick and easy. It literally does stay all day (and all night). There have been times I have slept in it (oops) and woke up the next morning and it was still on. I was obsessed.
However, it runs at $22.00, which is pretty expensive. I always convinced myself it was worth the price tag because of how well it performed, but I also realized that there is definitely a possibility that there are less expensive versions that work just as well. This past month, I took a stab at trying L'Oreal's Lineur Intense Liquid Liner
. It's also felt-tipped and applies just as easily. Also, the color payoff is just as intense and deep. While the wear isn't *quite* as wonderful, I think that's okay. For $9.99 a tube, that's worth it to me to take the time to reapply.
Molly is an assistant digital strategist by day and a writer by night. She drinks way too much coffee and can be found on Twitter here.
Image via Unsplash