6 Food Staples That Are Way Cheaper To Make Yourself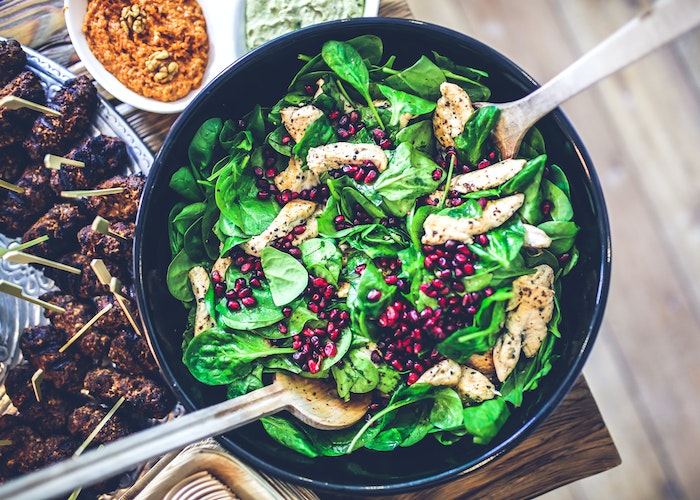 It's no secret that being at home has inspired some people to cook and bake more. Beyond making bread and trying new elaborate recipes, there's something to be said for the budget-friendly aspect of spending more time in the kitchen. Some staple meals are undeniably cheaper when made from scratch than when purchased in store. Plus, swapping store-bought meals for homemade ones is typically healthier too.
Here are some examples of easy to make homemade food staples – and their cost – compared to that of their in-store counterparts.
Oat Milk
Cost: $2 per half-gallon vs. $5 per half-gallon
Touted for its creamy texture and sweet taste, oat milk is the trendy plant milk on everyone's radar this year. Not only is oat milk dairy and nut-free, and therefore an accessible drink for those with common food allergies, it's also great for the environment; oat milk has a lower environmental footprint than regular dairy milk, almond or soy milk.
With good reason, oat milk is becoming a more common household staple. It's great in coffee, smoothies and cereal, just to name a few examples. But it isn't cheap — on average, this creamy milk substitute will run you about $5 for a half-gallon carton, when purchased in stores.
That's where homemade oat milk comes in. You only need a few basic ingredients, most of which at little to cost.
You'll Need:
1 cup of rolled oats (buy in bulk to save even more!)
4 cups of water
A high-power blender
Cheesecloth (a t-shirt or fine mesh strainer will also work)
A pinch of salt
Tips & Tricks:
To prevent sliminess, don't soak your oats beforehand. And try to not overblend — 30 seconds should do the trick!
Try adding some vanilla for an additional flavor
Ready to make it? Check out this step-by-step guide.
Hummus:
Cost: $2 per batch vs. $4-$5 per batch
A protein-packed spread that's super versatile, hummus is a great budget-friendly item to keep in your fridge. You can pair it with practically any food vessel – like crackers, toast, and veggies – or simply throw it on a salad for some filling flavor. Plus, hummus is pretty customizable, making it easy to tailor to your taste buds, and difficult to get bored of.
This quintessential Middle-Eastern dip is a breeze to prepare at home with just a few, key ingredients. While a store-bought hummus will run you upwards of $5 at the grocery store, the homemade version will only cost you a couple of bucks.
You'll Need:
A can of chickpeas
Tahini
Olive Oil
Lemon
Garlic
Salt
Ideally a food processor, or strong blender
Tips & Tricks:
While you can customize hummus' flavor with an intentional recipe (here are some budget options I suggest), you can also try using any herb or spice of your liking. Since hummus is super thrifty to make, you may as well experiment a little.
Salad Dressings
Cost: <$1 per serving vs. $3
While fresh ingredients definitely matter, what really pulls a salad together is the dressing. A great sauce goes a long way in making vegetables flavorful, and creating your own at home gives you ample options to spice up your greens. Plus, skipping pricey bottled dressings will save you money in the long run. While the initial stock-up on some of these items can be an investment, many go-to salad dressing ingredients can already be found in your kitchen. The result? Cleaner ingredients and fresher tasting salads!
You'll Need:
Olive oil
Balsamic vinegar
Dijon mustard
Lemons
Limes
Honey
Apple cider vinegar
Dried herbs, like oregano and basil
Garlic
Ginger
Tips & Tricks:
Mason jars are great for shaking up dressing, and you can store the remainder of the dressing, if there are leftovers.
Taste as you go! If you don't like the combo you've tried, it'll be easy to save by adding a few more ingredients.
Feeling inspired? Check out this blog for a variety of recipe ideas.
Breakfast In A Cup
Cost: $1 – $3 per serving vs. $5 – $10
Cutesy breakfast cups in cafe display cases are an enticing option for the mornings you're stuck without a thing to eat. From chia pudding to smoothie bowls, these healthy breakfasts are not only yummy to taste, but good for you as well. Unfortunately, cafes and juice bars tend to mark up these fashionable treats – and you can make them at home for a lot less. Here are some ideas:
Chia Pudding
Cost: $1.50 per cup vs. $4
You'll Need:
You can make a chia cup with as little as three ingredients:
Chia seeds
Milk of choice
Sweetener **Optional**
Tips & Tricks:
Chia pudding can be customized easily with fruit and different kinds of toppings! Plus chia seeds are naturally energizing and rich with antioxidants.
Overnight Oats
Cost: $1> per serving vs. $5
As we've already covered, oats are super cheap, and since they're your main ingredient for this dish, you can easily customize the recipe based on what you have at home.
You'll Need:
Old-fashioned oats
Chia seeds
Nut butter
Milk of choice
Fruit
Sweetener  **Optional**
Here's a great simple recipe to get you started!
Smoothie Bowls:
Cost: $3 per serving vs. $10
As someone who makes a smoothie each morning, I'm always looking for ways to switch up this staple. Smoothie bowls only take about 5 minutes to make and are ultimately just a smoothie poured into a bowl, with extra toppings sprinkled on top. Just be sure to blend your smoothie on a low setting if possible, to ensure a thicker consistency.
You'll Need (depending on flavor goals):
Any kind of berry or other frozen fruit
Bananas
Avocado
Yogurt
Milk of choice
Nuts, seeds, dried fruit of your choice for the toppings
Ready to make one of your own? This article is sure to help!
Ashley is a freelance writer and on-going contributor at TFD based in Toronto. An avid traveler, she recently returned home to Canada after two years living abroad in Vietnam and Japan. She loves to read, try new things in the kitchen and get outside. You can learn more about her work here and can follow her adventures on Instagram @ashley_corb. 
Image via Pexels
Like this story? Follow The Financial Diet on Facebook, Instagram, and Twitter for da=ily tips and inspiration, and sign up for our email newsletter here.