The 6 Best Hacks To Keep Your Body & Wallet Fit, According To A Personal Trainer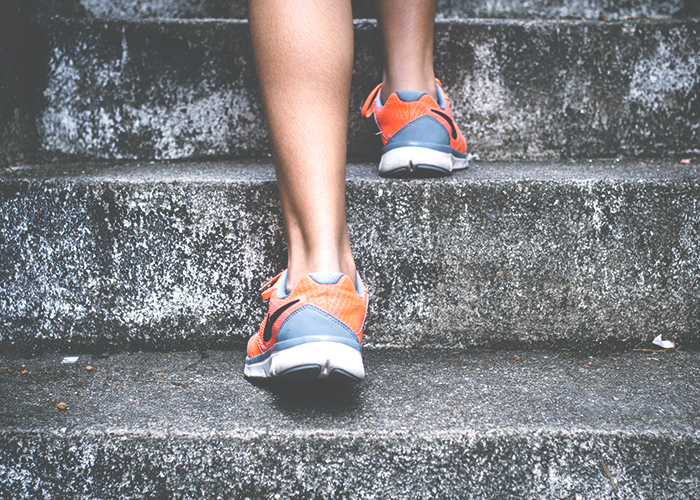 Staying fit is expensive, right? With all the healthy food, memberships and athletic clothing? Well, it doesn't necessarily have to be. While some may choose to spend a large sum of money each month on these things, you don't have to.
As a personal trainer, I'm always looking for ways to stay healthy on the cheap so I can help myself and my clients save as much money as possible. Here are some of my top tips for staying fit — without draining your savings.
1. Get a Gait Analysis
Not only is a gait analysis usually free if you buy a new pair of shoes (offered mostly at specialty running shoe stores), but it provides invaluable insight into how your body works. This is especially important if you're a runner, because finding the right shoes for your body's mechanics and footfall could be the one thing keeping you safe from injuries (which costs a lot more than a new pair of shoes
):
"The running shoe serves as a structural and functional extension of the foot. Chosen correctly, it can improve your running. Chosen improperly, it can amplify biomechanical and functional flaws, thereby increasing your risk of injury," explain experts at Fit2Run, a Florida running store that offers in-person and online gait analyses.
Not only is an injury costly, but it can also keep you from being able to train. Use this free consultation opportunity as a way to prevent spending money in the long run.
2. Choose Low-Cost Proteins
An integral part of staying fit is eating the right foods. Proteins are especially important for muscle repair, which leads to muscle growth. Meat is one of the best ways to get your muscle-powering protein, because it's complete — which most plant products are not.
The problem is that meat is expensive, especially if you purchase organic (which I always do). Luckily, when choosing meats, it's best to go with lean meats, like chicken and turkey, and these just happen to be the least expensive options, anyway.
A recent turkey pricing analysis found that turkey is the cheapest per pound out of four popular meats:
Turkey: $1.62
Chicken breast: $3.12
Ground beef: $3.66
Pork chops: $3.76
The best part about turkey is how versatile it is. You can make burgers, soup, meatballs and sandwiches, or make your own turkey salad, or simply top a green salad with a few pieces.
With one whole turkey, you can have lunch and dinner for almost an entire week. After getting all the meat off, take the carcass and make turkey stock that you can use for soup or rice.
3. Ride the "Free for Seven Days" Circuit
If you live in a large metropolitan area, there are likely a seemingly infinite number of yoga studios, gyms, and boutique fitness studios (pilates, barre, kickboxing, etc.). Instead of becoming a member at just one, spend a few months bouncing from place to place with their seven-day free trial — which most gyms and studios offer.
You may eventually want to settle down at one studio, so use these tips to save on your membership:
Get a friend or two on board, choose a studio together, and see if you can get "family pricing" as 2 or 3 people, rather than just one.
Ask to have the initiation fee waived — this is especially valuable if you end up at a large gym, where they usually only do it if you ask.
See if you can get a discount for doing auto-debit or paperless billing.
Consider how much you'll actually use the gym, and then buy your membership accordingly. For example, I easily save at least $60 by paying $120 for 10 yoga classes — I know I'll only go once a week, so this ends up costing about $60/month, as opposed to the $90+ it would be for a monthly unlimited membership. Sometimes the "most popular" package isn't the best one for you.
4. Rely on Free Home Workout Videos
When I say workout video, I don't mean the old school aerobics videos, complete with shiny leotards and neon slouch socks (though, hey, whatever works for you!). There are a number of fitness professionals that provide high-quality workout videos, for free, on YouTube or their website.
My all-time favorite for at-home workout videos is FitnessBlender.com — I tell everyone I can about this website because it's so good. Not only does the website look nice, but you can access hundreds of free workout videos, ranging from 10-minute yoga to 45-minute HIIT. Each exercise is rated by level, so newbies can start slow, while experienced exercisers can go right for the hard stuff.
Other top websites like DailyBurn offer a fee-based solution, and at $15/month, it's a lot cheaper than a gym.
5. Join MeetUp Groups
MeetUp is filled with fitness groups that cost little-to-nothing to be a part of. Most of them are run by personal trainers who are trying to market themselves with these workouts, making it a perfect opportunity for you to get the one-on-one experience of working with a trainer, without paying for it.
The best part: you get to meet new people and train in different environments. Here in San Diego, many of the workouts are held outside at Mission Bay, with gorgeous views all around.
You can find a group for almost any fitness preference, including running, walking, HIIT, cardio, and strength training, depending on your location. Just sign up and search for what you want.
6. Try Online Personal Training
With fitness becoming more and more popular, personal trainers are starting to offer online personal training. Not only is this more convenient for busy people (you can do the workouts when and where you want), it's also much cheaper, because you aren't spending any time in-person with the trainer.
The experience, however, is very similar: the trainer does an assessment of what you need and want in a program, and they put it together for you, complete with videos and images of each exercise. You execute on your own time, and in most cases, the trainer is available via email at all times. They may even offer weekly check-ins to see if the program needs modifying, or if you have any questions.
Staying fit on the cheap is possible if you know where to look. Take advantage of seven-day free trials, do your workouts at home, or consider online personal training. Either way, don't drain your savings to stay fit — as a personal trainer, I can tell you it's just not necessary.
This post was originally published on January 6, 2017, and has since been updated.
Jessica has been writing for more than ten years and is currently a full-time blogger. She is also an ACE Certified Personal Trainer, NASM Certified Fitness Nutrition specialist, and the owner of her own personal training business, Honest Body Fitness in San Diego. She's written for Shape, MyFitness Pal, Reader's Digest, AARP, SnapFitness, 24 Hour Fitness and more. Follow her on Twitter, Facebook and Instagram for health articles, workouts tips and more.
Image via Unsplash