The One Travel-Related Purchase I'll Never Again Skimp On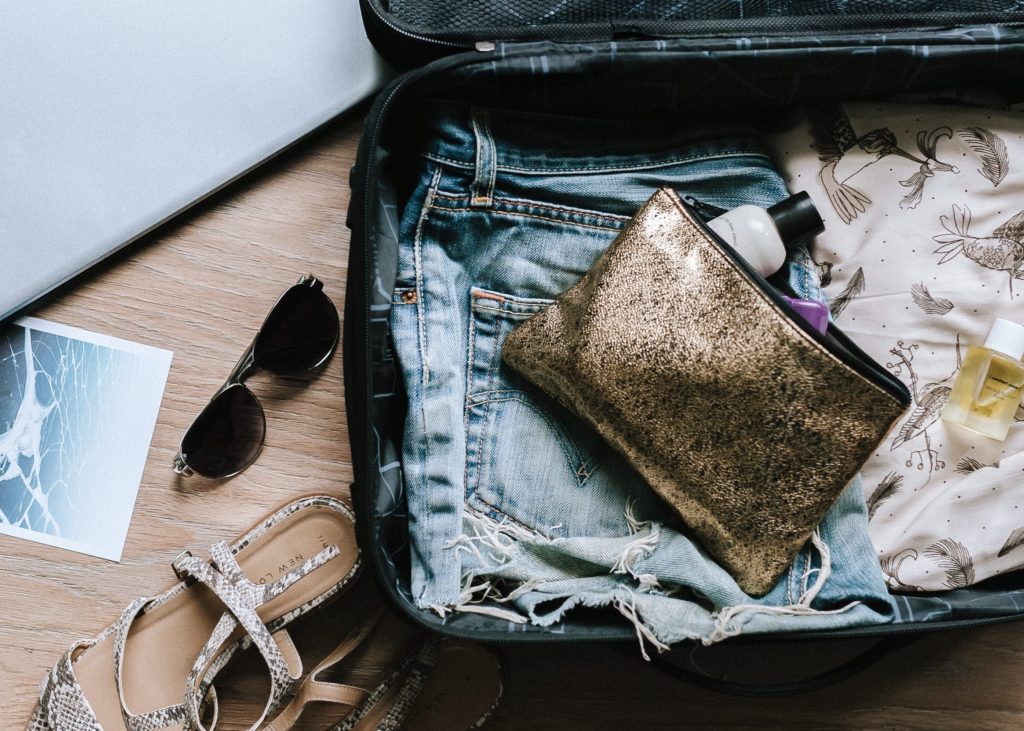 When I was planning my first international trip to Italy, style was everything to me. I didn't want to look like an American tourist — I wanted to blend in. I watched Italian YouTubers and read Italian style blogs to figure out how best to mimic the fashion trends that would allow me to look like a native. In the few months leading up to my trip, my mentality was firmly in the mode of Fashion, not Function.
Unfortunately, this meant that when buying my luggage, my only criteria was "stylish." I wanted something unique and different from the solid-color industrial-looking things that kept popping up on Amazon. This desire pushed me to buy an extra-large 32" cherry-red suitcase covered in little x's and o's. It was…distinct. Which, at the time, is what I was going for. (I can't even pretend it was the slightest bit "Italian-looking," though…) 
It was also an enormous representation of almost every mistake I ever made when buying luggage.
My first mistake:
It was too damn big
.
In my defense, it was my first trip, and I was going away for three months. Nevertheless, large bags encourage overpacking and are an easy way to acquire overweight luggage fees at the airport. I was shocked to find my bag clocking in at well over 50 lbs. once we did the final weigh-in. (Well…not "shocked," per se. I knew that thing was heavy.) Thankfully, my parents were willing to spot me the $80 fee right there at check-in, but that would have otherwise made a sizable dent in my travel cash.
Second mistake:
It wasn't secure enough.
My prettily-patterned suitcase had no safety features whatsoever. No cut-proof material, no TSA locks, and many of the compartments didn't even have a double zipper that I could use to put an additional lock on it. Speaking from experience, you only have to be robbed in a foreign city once to stop taking theft-proof features for granted. (Thanks for that, Milan.)
Third mistake:
It wasn't easy enough to maneuver
. 
Like many suitcases, my red giant had two back wheels and was intended to be pulled from behind at an angle. While this was definitely the best arm workout I got during the whole trip, I didn't appreciate that in the airport, on the trains, or walking through the streets under the hot Italian sun. As I will remind you…over 50 lbs. Yet the constant reminder of how much I was carrying around did absolutely nothing to deter me from stocking up on souvenirs. At the end of the summer, I found that I had exceeded the maximum capacity of the big red monster. I needed yet another suitcase.
This led me to mistake number four:
It was cheap
. 
The first extra bag I bought cost around 25€ (less than $30). I filled it with my souvenirs, and not even a day later, one of the wheels broke, followed by the side handle after I attempted to just carry the damn thing. Need I say more?
So, what did I learn?
Well, not to make those four mistakes again, obviously.
Nowadays, I have two main suitcases that I use for almost everything. The first is my Carpisa, which is a beautiful 24-inch hard-shell spinner with a built-in TSA lock. I purchased it in Italy mere hours after the cheap bag broke. It cost me about 150€ (roughly $167). Far from the world's most expensive suitcase, but for those who have seen the 3-piece luggage sets Amazon advertises for under $150, it may seem steep for just one medium-sized case. For me, it was worth every cent, especially on long trips. This bag has powered through busy European airports, winding cobblestone streets, and miles of steep hills without a hint of struggle. I wouldn't trade it for anything. 
My second and newer luggage purchase is a smaller 20-inch carry-on. I bought it for a one-week trip to London where I was determined to live the #TeamCarryon lifestyle for once and not check any bags. Like my Carpisa, it's a hard shell with a built-in TSA-lock. And also like my Carpisa, its four-wheel 360° maneuverability is a godsend after a long flight, ride, and subsequent walk to my stay. There's nothing like lightly pushing your suitcase along as it glides next to you, not having to pull a single pound. This one I purchased state-side for about $120. 
To some, these may not seem expensive in the slightest. Hell, there are $500+ suitcases out there that make these sound downright cheap. I am by no means attempting to convince anyone that the most expensive suitcases are always the best ones. But to anyone who is preparing for a major trip and hasn't given any thought to their luggage, consider these factors. Reliable and functional will always serve you better than cute or stylish. If it's not something you can imagine yourself handling for 30 minutes while you're misreading directions in an unfamiliar place, it's probably not the right case for you. 
My current cases have gotten me through three years of international travel with no signs of slowing down. Compared to my terrible decisions of the past, I have definitely learned that luggage, especially for a frequent flyer, is worth the investment. Never again will I live the life of busted wheels and broken handles, carrying pounds upon pounds of bulky weight in my arms for miles. These rules definitely don't apply to everything, but I always walk away from a $30 suitcase.
Casira is an avid traveler who is always saving up for her next trip. When she's not writing, she's working on her goal of becoming a polyglot. Follow her on Instagram @cejayce.
Image via Unsplash
Like this story? Follow The Financial Diet on Facebook, Instagram, and Twitter for daily tips and inspiration, and sign up for our email newsletter here.