Style & Decor
6 Small Home Updates That Will Dramatically Change Your Space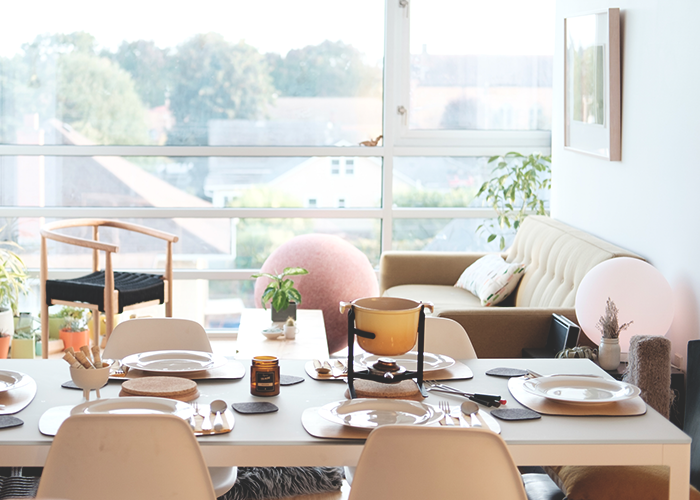 1. Colored light bulbs.
This is one of my favorite things, and while the upfront cost of these bulbs may be a lot more than a regular light bulb, the possibilities are endless, and it dramatically changes the look of any space with minimal effort. If you're the type of person that likes to switch things up without a lot of fuss, these
are for you. These color-change light bulbs offer regular white light, or over 16 million (is that literally even possible???) color options that you can change wirelessly on an app.
It is definitely one of those things you have to really be into to spend that much money on light bulbs, but considering the fact that you will be able to change the colors whenever you want with seemingly endless options, you're basically spending the money on a decor item that will change with your mood and your style over the years without you having to purchase any new throw pillows or knick knacks along the way. Also, how freaking Smart House is it that you can say "Alexa, make my room purple pls" and she'll actually do it. So awesome.
2. Mirrors. Lots of mirrors.
If you have a narrow hallway or room that makes you claustrophobic, big mirrors are a simple fix. My bedroom at my parents' house had a wall that was basically entirely mirrored, and although it seemed tacky at first (probably because it was paired with the Pepto-Bismol-pink
paint that was on the walls when we moved in), I grew to absolutely adore those mirrors, and still think they are the perfect way to open up a room and make a small apartment look spacious. Line up a set of three framed mirrors
on the wall like art pieces, or create a mirror gallery wall
if you're feeling fancy. They make your rooms look brighter and miles longer, which is great if you're living small-apartment life with gigantic-mansion taste.
3. Matching/attractive bathroom-gear.
Obviously, decorative soap dispensers are a thing — and a lot of people use them (myself included). However, when I took a look in my shower and wondered why it looked so blah, I realized that the mismatched, random-AF bottles of body wash, shampoo, and conditioner were throwing me off. Use these dispensers for your hair care and body care products in the shower the same way you would use a nice soap dispenser for your liquid hand soap. Awesome bonus: your shampoo/conditioner dispensers now have a pump, making your shower that much easier and more enjoyable. I love these mason jar ones
, especially because you can see through them and tell which product you're using. (But TBH, if you're a functioning adult, you should be able to put matching dispensers next to each other and remember which product is in which bottle, if you prefer more opaque ones.)
4. Shelf décor.
I am into the gallery wall thing if it is done right (Chelsea tends to be really good at this), but personally, I'm never quite able to achieve what I want in terms of matching artwork/photographs and proper frame placement. Gallery walls just aren't my jam, and I think that is totally okay — especially because I found a replacement I really like. Instead of just hanging picture frames haphazardly, I like to hang up shelves and arrange the frames on them leaning up against the wall — kind of like this, but with a lot fewer pictures. Maybe more like this. It is a different ~lewk~, so it just depends on personal preference, but I think it is cute as heck (and also makes it really easy to swap out the décor if my style changes, or if I get a new picture frame that I like better).
5. Window treatments (or lack thereof).
My apartment has huge, sprawling windows all over it. The only room without windows is the kitchen, but each other room has many that stretch nearly floor-to-ceiling. An important decor decision Drew and I have had to make has been how to address the windows in each room. The living room, which has one full wall of windows, but also faces a shit-ton of trees, is one that warrants lighter window treatments that cozy up the room and offer us the privacy we'll want when the trees shed their leaves in the winter. The bedroom windows are beautiful and let in tons of light, but it also happens to be the room we get dressed/undressed in, so it requires full blinds and blackout curtains
(for days when Drew works the night shift).
However, when it came to the office and dining room, we've made the conscious decor decision to leave them bare. Those rooms don't warrant a ton of privacy, and the natural light they let in is incredible (and especially awesome considering the fact that our office — which is entirely lined on every wall with tons of windows — has no actual lighting except for a single lamp in the corner by my desk). Window treatments seem like an obvious step when decorating your home, but sometimes, choosing to straight-up ignore that step is the decision that makes your room look extra ~chic~.
6. Dress your table. 
Having a dining table with a table runner or a centerpiece of flowers is sweet, but having one that is fully set up with placemats
or chargers
and a cute set of dishes
makes it look like one of those lush tables from a Food Network set that is ready for a gaggle of hungry dinner guests to show up and be impressed by it. Bonus: it frees up storage space in your kitchen cabinets, because the dishes are already laid out.
Mary writes every day for TFD, and tweets every day for her own personal fulfillment. Talk to her about money and life at mary@thefinancialdiet.com!
Image via Unsplash