6 Super Easy, Cheap, & Delicious Slow-Cooker Recipes To Get You Amped For Fall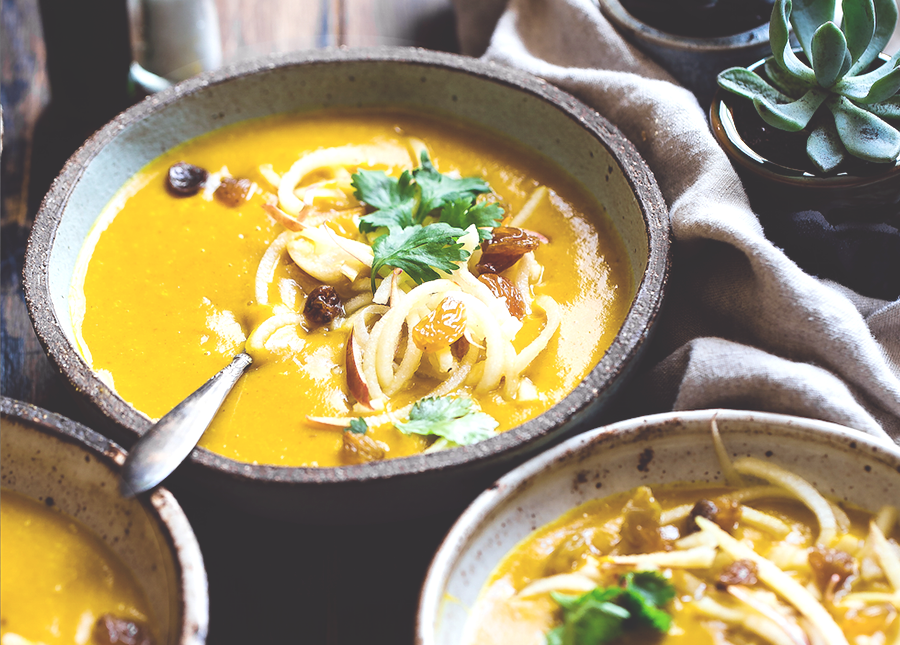 One of my favorite things (if not my absolute #1 favorite thing) about my boyfriend is that he cooks a mean crockpot
buffalo chicken. It isn't my favorite food ever, but it makes our whole apartment (and the whole hallway in our building) smell warm and spicy and delicious. Every time he cooks it, I smell it the second I walk in the door, and I'm immediately filled with warmth and happiness.
I've only more recently gotten into crockpot cooking
myself, but when I lived home with my family, my mom definitely knew her way around a slow cooker. And while you can make such a wide variety of delicious meals (and snacks, and even drinks!) that are suitable for any time of year in a slow cooker, in my humble opinion, the best time to take advantage of the wondrous crockpot is during the fall/winter months.
It is easy to start feeling a bit lazier about cooking dinner when the colder months roll around — I get exceptionally lazy and lethargic in the evenings when it starts getting dark early. (Dark outside = no cooking is getting done whatsoever.)
But the great thing about these slow-cooker recipes is that you'll get all the delicious richness and warmth of flavorful autumn meals without putting in the effort — just a little morning prep, and these will cook themselves for you while you're at work (or wherever you go all day).
In case you're not sure where to start, I've rounded up six of my favorite and most festive fall slow-cooker dishes that you can make this week (it is supposed to be a little colder on Thursday — rejoice!) to get you in the fall spirit.
A hearty, meaty stew is a classic fall dish (or year-round dish, IMO). My mom cooks a freaking amazing one, but this one looks like it could rival it (and possibly beat it, because beer). This is a great meal to make on a day when you want to wear a cozy flannel
and chop some wood and come in for a hot meal after, kind of like Paul Bunyan.
2. Hot, delicious homemade Apple Cider.
This isn't a meal, but damn, it is good. One of the best parts of fall is drinking apple cider, but if you choose to make it at home in your slow cooker, you get the added bonus of having your entire home smell like sweet, tart, cinnamon-y goodness all day. Slow cooking apple cider is like having a delicious autumn-scented candle that you get to drink after. It is so easy to make and tastes much better than the store-bought kind.
3. Seasonal Butternut Squash Soup.
#Soup #Weather is upon us (soon, hopefully — I'm 100% over these hot, sticky days we for some reason keep having here in New England). Soup — especially slow cooker soup — is amazing because it doesn't take too much effort to get a giant, hot, comforting pot of food. Of all the best fall soups (and there are many), butternut squash is one of my favorites. My mom always makes an amazing recipe, but it requires roasting the squash in the oven first, then blending it in the pot with liquid after, which is a little too time-consuming for my taste. This recipe rules, because you basically just toss all of the ingredients uncooked in and let the slow cooker do the work all day, then toss in the liquid and blend it at the very end — and just like that, it's ready to eat! This recipe in particular also happens to be vegan and gluten-free, if you're into that.
4. Pumpkin Pie Slow-Cooker Oatmeal
My favorite breakfast in the world is oatmeal — I love every flavor, every type, served with every topping. When I saw this recipe for pumpkin pie slow-cooker oatmeal and nearly lost my shit — I haven't made it yet, but I'm planning to this weekend (I'll be spending Friday and Saturday alone, and those are prime recipe-testing days).
I love this recipe without even trying it because instead of being called "Pumpkin" but only having spices in it and no actual pumpkin, it has a whole damn can of pumpkin puree in it (which is one of my favorite things to cook and bake with).
Also, that picture of it on Pinterest? OMG.
5. Nutty, spicy Cashew Chicken.
When it gets cold and dark outside, I crave nothing more than the ease of my favorite takeout comfort foods. Specifically, I'm talking about any and all types of Asian food. It is a (not at all guilty) pleasure of mine to get a huge order of cashew chicken and white rice delivered and eat it on the couch in my sweatpants. Super ~Fall Chic~ right? This recipe is honestly just as delicious (maybe better?) than the takeout I usually order, and it is double-awesome because it cooks all day in the crockpot. This recipe does require browning the chicken in a skillet before tossing it in the slow cooker, which does add an extra layer of work (sigh), but I guess a lot of recipes do. It is worth it either way. Sooo yummy.
6. Sweet Potato & Turkey Chili.
My family and I have a thing for putting sweet potatoes in our meals, and one of the best sweet potato meals I've ever cooked and eaten is chili. Sweet potato is often used as a replacement for meat in vegetarian versions of chili, but I just like to add it to the meat for extra flavor and heartiness. I prefer most beef-based meals to be replaced with turkey (just a flavor preference for me), so this turkey chili doesn't at all disappoint. Only recommendation: double the spice. There are too many weak-ass chili recipes on the internet. If you want spicy, you pretty much have to take the recipe's recommendation and double it. (Even better: my mom always adds a few chipotle peppers into the pot to make it extra smoky and spicy. Gahhh. I want it in my belly now.)
Mary writes every day for TFD, and tweets every day for her own personal fulfillment. Talk to her about money and life at mary@thefinancialdiet.com
Image via Unsplash