How Whole Foods Online Grocery Delivery Actually Saves Me Money (+Receipts)

I never considered making "Whole Paycheck" my primary grocery store, but it turns out ordering Whole Foods is affordable.
There was a time — the "before" times— when I built my entire Saturday morning routine around getting to Trader Joe's, widely considered to be among the cheapest grocery options in NYC, before 10:15 am. I would wake up around 8, chug some coffee with a splash of 2% milk, head to my favorite workout class (strategically selected for its proximity to TJ's) at 9, sweat my ass off through 55 minutes of dance cardio, then walk the few blocks to the store, stopping at Juice Press along the way pick up a vanilla protein shake with a shot of cold brew. All of this to ensure I arrived at Trader Joe's energized, before the line got too long or my favorite items were sold out, and with a belly full enough to avoid shopping while hangry.
But alas, just as Covid-19 flipped the world on its head, so has it completely revolutionized the way I shop for groceries. Needless to say, the sweaty, dance cardio class where participants stood only an arms length apart is out of the question. I try my best to avoid indoor exposure as much as possible, and the grocery store is no exception.
While pre-Covid I had never even considered making "Whole Paycheck" my primary grocery store, it turns out that ordering Whole Foods delivery through Amazon Prime is actually an affordable and Covid-safe way to stock my fridge and pantry on a weekly basis.
Here's 6 ways that shoppinh Whole Foods online for grocery delivery actually saves me money.
1. Easily Filter For Deals
The one downside of shopping at Whole Foods online is that you miss out on in-store sales, for which Prime members get an extra 10% off. However, with the click of a single button (aptly named "deals") I can quickly navigate to items that are on sale that week and build my meal plan around those items. This is especially helpful with pricer buys, such as proteins. This week, I noticed that boneless, skinless chicken thighs were on sale, so I planned to make some of my favorite recipes that called for those. Another thing I love to snatch up while they're on sale are pantry staples and perishable goods with a long shelf life. A few weeks back, I scooped up about a dozen of my favorite Icelandic yogurts that were almost 50% off and they don't expire for almost another month. By purchasing high quality items on sale, I can get some serious bang for my buck.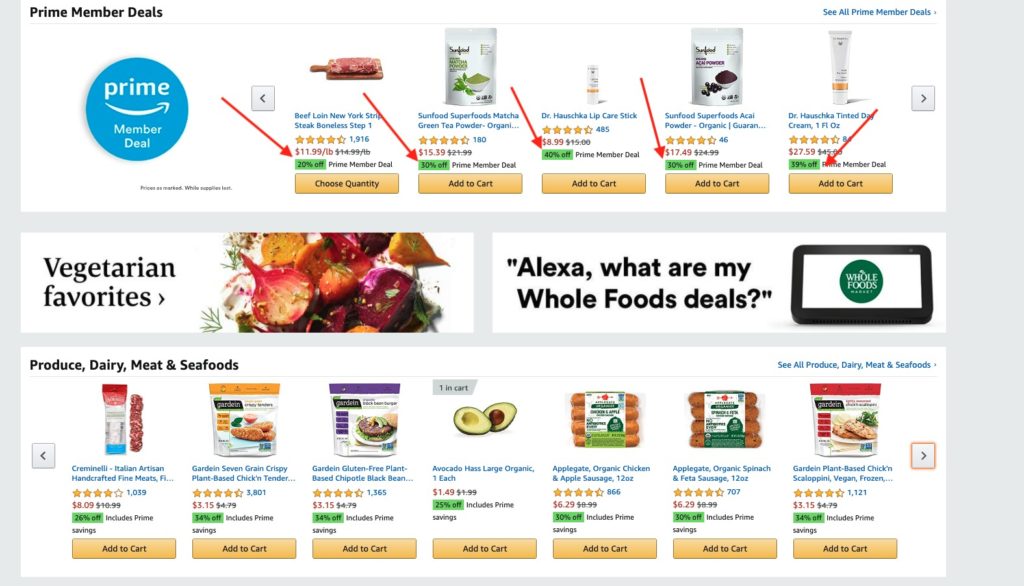 2. Makes Meal Planning a Breeze and Avoids Duplicate Purchases
It's no secret that one of the keys to saving money on food is to plan ahead, and online grocery shopping makes this a breeze. Throughout the week, I can browse recipes and immediately add the necessary items to my cart. Not only that, but I can quickly check what I already have in my fridge, freezer and pantry to avoid duplicate purchases. Nothing makes me angrier than spending money on something I already have — I'm still not over the time I bought a $6 jar of organic dried oregano, only to come home to find that I had a nearly full jar in the back of my spice cabinet. It's been almost a year and my roommate and I have managed to use up less than half of the original jar. The duplicate jar sits unopened, still sealed in its original packaging, haunting me each time I open the cabinet.
3. See The Total Adding Up As I Shop
My goal each week is to stick to a grocery budget of roughly $50. While that may seem like a lot for just one person, this typically covers 6-7 breakfasts, 5-6 lunches, at least 4 dinners (depending on my plans that week), plus a steady supply of work from home snacks to keep me going throughout the week. If I see my total creeping above my $50 cap, I can easily play "cart tetris" and re-tool my purchases until I settle back down at or below my budget. Do I really need both string cheese ($3.99) and shredded cheese ($4.99), or could I buy a block of cheddar ($4.29) for both snacking and shredding?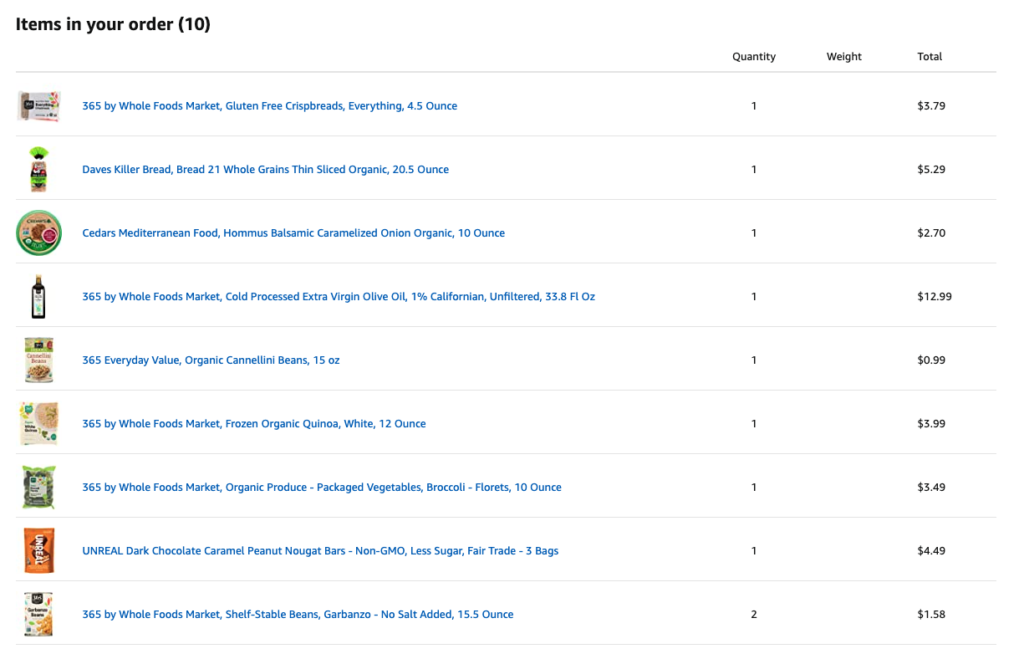 4. Absolutely No Impulse Buys
Shopping online for groceries completely eliminates the impulse buys that come from wandering the aisles of a brick-and-mortar store. No longer am I tempted by the random goodies strategically positioned on the shelf to catch my eye and drain my bank account. If you think about it, online grocery shopping flips the traditional shopping dichotomy on its head. Grocery stores are intentionally designed to make you go to the item you're seeking, with the hopes that you will stumble upon something else that you didn't intend to buy on your way. However, when you shop for groceries online, you have to intentionally search for the items on your list. When you walk though the physical store, you pretty much see every product on the shelf. This is especially true for NYC grocery stores whose tiny square footage necessitates a maze-like setup. On the other hand, when you online grocery shop it is unlikely that you will encounter any item by chance.
5. Competitive Prices, Especially For NYC
I am slightly embarrassed to admit that in the "before times" I once paid nearly $8 for a box of Grape Nuts cereal at a D'agostino a few blocks away from my apartment, only to see it at Whole Foods a few days later for less than half of that. Even compared to Trader Joe's, the prices of Whole Foods' 365 private label are comparable, and sometimes even cheaper. I also find that many of the 365 brand items (especially produce!) are significantly higher quality than Trader Joe's. For example, a can of chickpeas at both Whole Foods and Trader Joe's costs 79 cents. Not to put Joe on blast, but their canned chickpeas are garbage — tiny and crunchy, they are of significantly lower quality than the plump 365 chickpeas. A bag of organic baby spinach costs $2.29 at Trader Joe's and $1.99 at Whole Foods, except the 365 brand is rarely slimy and rotten within a day or two like its counterpart from Trader Joe's.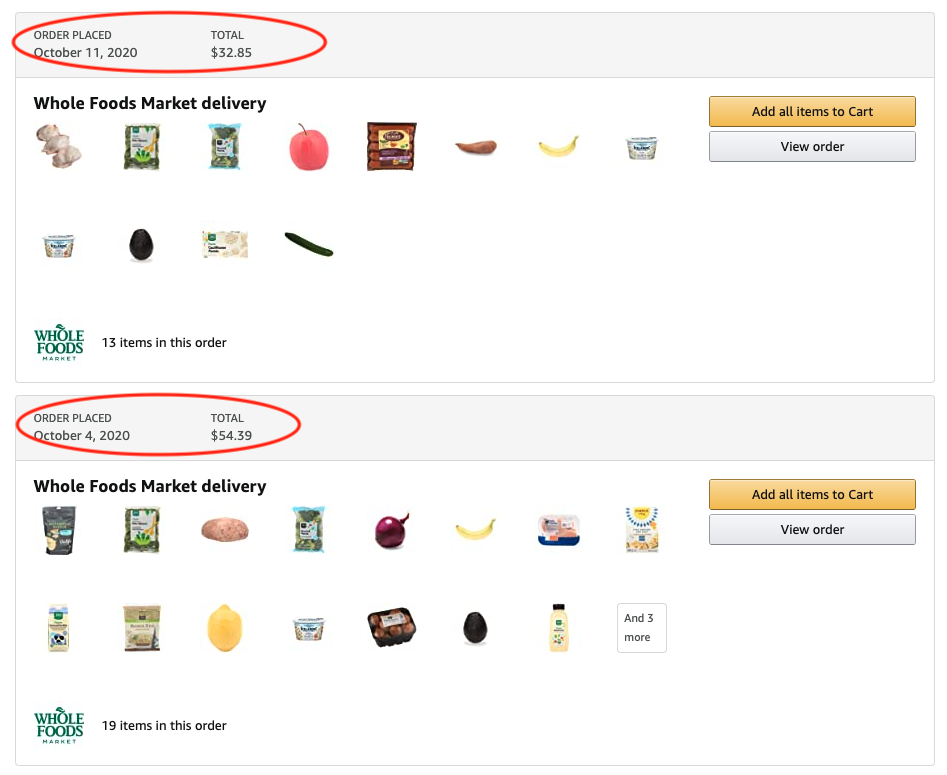 6. Super Convenient With Minimal Extra Costs
Remember that pre-shopping smoothie I mentioned I always got to avoid being shopping while hungry? That alone used to add upwards of $11 to my grocery bill. And what if I forgot my folding shopping cart (a must for any New Yorker trying to transport more than 2 bags of groceries more than a couple of blocks) or it started to rain and I had to hop in a cab to get the groceries home? Add another $10+ right there. While those costs were not entirely necessary, it still often added to the overall cost of getting groceries for the week. Even with the $5 tip that I give to the delivery person (which my roommate and I split), shopping from my apartment helps me avoid additional expenses and put that money towards actual groceries.
Additionally, no longer does grocery shopping take up precious hours of my weekends. Now, grocery shopping can happen any day of the week. In fact, a lot of times the recipe browsing and "cart tetris" occurs while I'm doing my desk job — if I'm going to be stuck in front of a screen all day anyway, might as well make it worth my time! Plus, let's not forget that all of this can be done in pajamas from the comfort of my own home.
***
Whole Foods online grocery delivery through Amazon Prime has completely shifted the way I grocery shop in NYC. In fact, I've grown to love it so much that I cannot imagine going back to lugging my groceries 15 blocks ever again, even when Covid-19 is a distant memory. This is not to say that it's without flaws — the substitutions can sometimes be rather questionable (I'm thinking of one instance when the white miso paste I ordered was substituted with frozen cauliflower florets) and every once and awhile I will get a bruised piece of produce that I would not have picked out myself. Nevertheless, the pro's definitely outweigh the con's.
Annie is a native Philadelphian living in New York City after spending her college years in the Midwest, London and Copenhagen. When she's not working at her 9 to 5, she loves to work out, cook, try new restaurants and travel. Her current life goal is to find the best slice of pizza in NYC. 
Images via Annie & Unsplash