How My Landlord's Screw Up Is Costing Me $2000 (& Counting)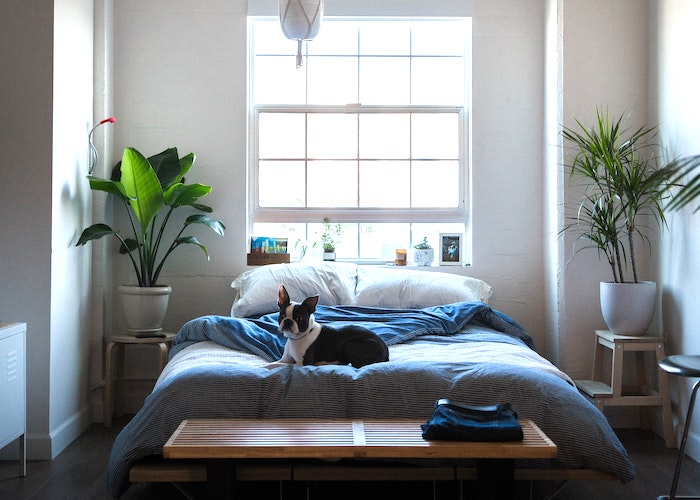 Most of us have had a bumpy start to 2021. Unlike previous years where a new year signaled new starts, 2021 feels more like a continuation of last year. Especially in my case.
I began January stuck in a legal dispute with my landlady, forced to evict my apartment due to uninhabitable repairs, and I've been apartment hunting on top of my already busy life.
Here's the story. Just a few days after Christmas, my landlady informed me that my roommate and I would be losing access to our kitchen for 6-7 weeks, given mandatory repair to the pipes in the building. Not only would we not have running water in our kitchen (meaning we couldn't use our sink), but the rest of our kitchen would also be sealed off for construction workers, meaning we couldn't cook. This is already an uncomfortable situation, but add to that working from home 24/7 and the consistent COVID risk posed by multiple construction workers who were working in many different units in the building daily, and needless to say, my roommate and I wanted out. 
Our lease, however, didn't truly allow for us to break it and leave, though. My landlady was opposed to the plans we presented as possible solutions to the problem (like rent forgiveness during the period of the construction and providing a credit for food/laundry expenses during this time) and she wound up hiring a lawyer to settle the dispute, instead.
 As such, I've also been forced to hire a lawyer myself—an unexpected and expensive cost to the start of the year—and I've additionally spent more than I anticipated on a rushed move, a security deposit on a new place (even when I wasn't if I'd ever receive my previous security deposit), and a huge amount of stress. 
Needless to say, this is drastically affecting my budget this year. I also began a new job just a few weeks ago,  and took a massive pay cut when I did, due to the benefits it posed to my mental health, as well as overall career trajectory. But, these expenses were not part of the plan. In moments like these, I'm glad to have emergency savings, though I plan to come down hard on my budget for the next few months to recuperate some of these losses. 
Fortunately, I did manage to save a bit of money through a lawyer referral. Typically, lawyers in the Bay Area (of California) charge anywhere from $350-500 an hour. Even though my dispute with my landlady shouldn't take more than a few hours to resolve, that still put me solidly at an additional $1,000- 2,000 of expenses. A friend was able to provide a referral, though, and upon speaking to the partner at the firm, they agreed to charge just $300, opposed to their typical $500. What's more, the referral meant I didn't need to put down a retainer. When you hire a lawyer, you typically pay for a few hours of work upfront to retain them. Either your job gets completed within that time frame or, when half of that allotted money has been used, they'll have you send over the amount owed for a few more hours of work. In this way, you pay the lawyer before they've fully completed the work you hope for them to do. 
In my case, I still haven't spent any money on my lawyer., yet. On the one hand, this means I have no idea how pricey this process could end up becoming. On the other, though, I get to retain my money until the services have been rendered, which is unusual in this practice. As such, if you ever find yourself in need of a lawyer, I'd recommend finding a reputable referral. The law firm I was referred to had lawyers covering a wide range of issues, meaning that if I found myself in a different dilemma needing a lawyer, I could likely continue to use them, along with my discounted rate. 
Finally, if you find yourself needing a lawyer, I recommend being prepared for every conversation. In other words, know exactly what you want to discuss, don't waste time on the phone looking for documents or brainstorming questions, and just be ready to make the most of your time since you're literally being charged by the minute. In my case, I've been preparing a file thirty minutes ahead of scheduled calls with my list of questions for my attorney, alongside any additional information I need to convey to her or information I need her to obtain from my landlady's attorney. This way, I'm able to keep my conversations with her to 15 minutes, max, and have the majority of the time she uses to work, be spent on negotiating on my behalf. 
I also chose to settle earlier than anticipated. At the end of the day, once you've hired a lawyer, you're spending money on multiple fronts: on the lawyer's fees, on the final settlement since both parties aren't likely to compromise unless they both receive some amount of remuneration from each other, and you're spending on your peace of mind/mental sanity. Prolonging negotiations only renders your attorney fees higher, especially at a moment when it's difficult to know how much you'll ultimately receive from your settlement. For me, it made the most sense to cut short negotiations once I had reached the minimum I hoped to receive and work towards a final agreement instead so that I could reduce my attorney's fees. 
Overall, I've already learned a lot in 2021. However,  I hope for weeks filled with quiet and boredom to come, given that I've had enough excitement to last me the next 365 days.
Keertana Anandraj is a recent college grad living in San Francisco. When she isn't conducting international macroeconomic research at her day job, you can find her in the spin room or planning her next adventure.
Image via Unsplash