7 Financial Podcasts That Are Actually Helpful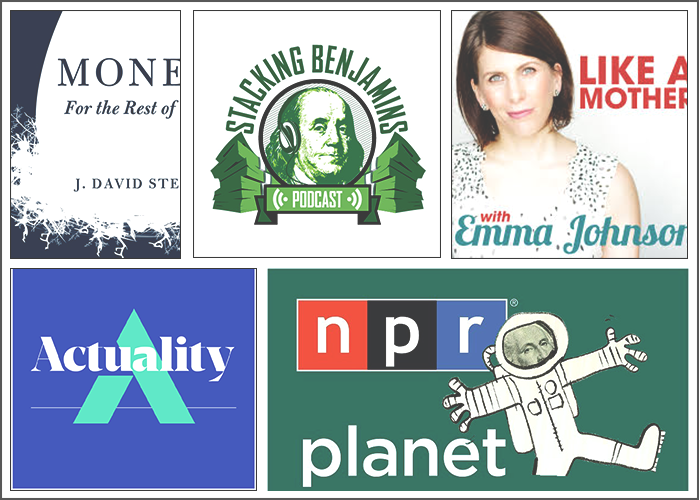 My parents taught me a lot about money. As far back as I can remember, my siblings and I were required to put half of whatever money we earned or received as a gift into our savings accounts. I remember unloading the dishwasher, making my parent's bed and dusting the house for months as I saved every nickel and dime I earned to buy the first big purchase of my life: an American Girl doll.
But, recently, I realized it was time to take over the management of my finances, and about five minutes later, I realized how much more I needed to learn to be able to do that successfully. I grew up hearing the words "mutual funds" and "IRA," but couldn't tell you what either of them meant. So, I turned to the medium I already used to learn about design, science and current events: podcasts.
I do still use the occasional subway ride to catch up on whatever novel I'm working my way through, but my weekday 110-minute commute has largely turned into my individualized personal finance class with the help of these seven finance podcasts. While a lot of financial advice is usually boring to listen to, these podcasts will make you actually want to tune in to learn about how you can best take control of your finances.
Planet Money
This smart podcast from NPR tells quirky, yet educational stories about international finance. After a highly successful episode of This American Life about the subprime mortgage crisis, (the episode is called "Giant Pool of Money," and I feel like I almost understand how we ended up where we were in 2008 after listening to this episode) the program was spun-off into its own twice-weekly 15-minute  show.
Two of my episodes from the show are "Inside Washington's Money Machine" about campaign finance and lobbying (an essential listen with the 2016 election approaching) and their "Planet Money Makes a T-Shirt" series that investigates the world of clothing manufacturing through following the creation of a t-shirt from cotton to wearer.
You Need a Budget
You Need a Budget operates on four simple rules: give every dollar a job, save for a rainy day, roll with the punches and live on last month's income. The podcast, along with the app, website and companion software, is everything you need to know about how to create and stick to a budget and pay off debt. Even if you're lucky enough to not have large amounts of debt keeping you up at night, YNAB offers some great tips on how to approach budgeting in general and how to start saving more from your paycheck. Each episode is usually under five minutes long, so you can get a financial tip in the time it takes to walk to the corner bodega.
Listen Money Matters
This is the podcast your cool older brother and his friends would make if your cool older brother and his friends were experts in personal finance. In the hour-long show released weekly, hosts Andrew Fiebert and Thomas Frank break down topics such as creating an investment portfolio, (think REITs, Vanguard funds and IRAs) taxes and reigning in out of control spending in a way that sounds like you're sharing a beer with your friends while they happen to be giving you financial advice. This is the podcast to learn about how to generate money in the long-term.
Actuality
I have high hopes for this relatively new podcast about global business news from Quartz and Marketplace. Coming from two of my favorite names in business news, Actuality features twice-monthly stories and discussions about international business that won't put you to sleep.  The latest episode on Cuba offers some interesting insights into how the re-opening of foreign relations could affect the future of the country on both the large and small scales.
Money for the Rest of Us
When I listen to this podcast, I feel like I'm back in a college lecture hall, in the best way possible. Host of Money for the Rest of Us David Stern answers basic financial questions such as what causes inflation and deflation and how to start investing in the patient, explanatory way that the best teachers always can. The episode entitled "How to Live Like You're Already Retired" made me rethink how to spend my free time now. Each episode is around 30 minutes, which is shorter than that freshman lecture class you used to sleep through anyway.
Stacking Benjamins
If you could combine a morning radio show with personal finance, it would be Stacking Benjamins (but with fewer sound effects). The three-times-a-week show touches on a little bit of everything in terms of personal finance: headlines in financial news, questions from listeners, guests from the financial industry, in a more laid-back and entertaining approach. There are some episodes that detail more basic financial information, but generally, the podcast expects you to already have some financial literacy (like knowing the difference between a Roth IRA and a 401K). Keep this podcast in mind when you're ready to graduate to the sophomore year of your financial education.
Like a Mother
Lifestyle blogger Emma Johnson has created a forum where single mothers can learn from each other to better balance work, family and money, but her no-nonsense financial advice is applicable to anyone with or without kids, single or in a committed relationship. In her radio show, available as a podcast, Johnson selects a theme for the episode, such as the culture of financial entitlement, discusses her experience with the idea and then dishes out tough love to callers who need advice in the area. While she discusses the specific details of each caller's problems, the lessons are general ones every listener can incorporate into his or her lifestyle. After all, mothers do know best.
Emily Becker is a freelance writer and editor in New York. You can find her on Twitter and Instagram.