8 Basic Pieces For An Under-$300 Mix-And-Match Summer Wardrobe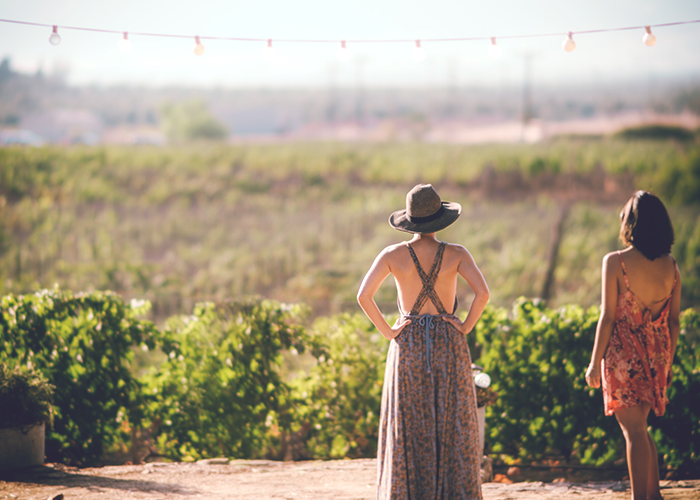 We all know I'm the certified Queen of Extra, but even I see the benefits of having a simple capsule wardrobe in the summer. Summer is so hot and sticky and unbearably uncomfortable that getting dressed in the morning feels tricky. You never know if your apartment is more or less muggy than outdoors, and you never know if the places you'll find yourself during the day will have enough A/C pumping to make you feel like it is November.
I am one who certainly likes a lot of variety in my wardrobe, and that is no exception in the summer. But this season, I decided to collect my eight summer basics — the pieces that I know I'll reach for every day (even the hot, sticky days when I wish I could basically wear a bathing suit and call it a day) — and put them on a clothing rack in my spare bedroom. That way, I still have my whole wardrobe accessible in my bedroom closet, but I also have a foolproof collection of everyday summer pieces to grab off the rack to make my getting-ready routine easier than ever.
Here are the eight basic pieces you need to create a simple, comfortable, and under $TK mix-and-max summer wardrobe — even if you're on a budget, like yours truly.
1. A gray maxi dress
. 
I live for the classic black maxi dress, but this summer, I was hellbent on finding a gray one. I ended up finding it secondhand at Goodwill for about $3 (holy yasss), but it looks a lot like this. Maxi dresses are a summer favorite of mine, because they're so easy to toss on, they feel appropriate and comfortable (so I'm not worried about them flying up and exposing my cheeks every second like a tiny sundress), and they're nice and breezy, so I keep cool even though I'm mostly covered.
2. Denim cutoffs
.
If you don't own a pair of jorts, you're doing summer wrong. Plain and simple. They are comfortable, classic, and will go with every top you own. I love the way they look with tanks and tees, but they're unexpectedly cute with long-sleeve blouses and button-downs too. (Pro-tip: do a little front-tuck with your shirt if you want to look cool-as-hell.)
3. Lightweight trousers
.
Jorts aren't exactly going to be appropriate bottoms for every summer-event, and full-length jeans feel sticky and uncomfortable. A pair of lightweight, breathable  trousers are perfect for all of those in-between occasions (like a long work day in a muggy office) where you need to look more put-together, but can't deal with your regular staples. 
4. A simple tank or cami
.
If there's one top that I can always guarantee matches with literally any bottom I might put on, it is my favorite black cami. It is simple, comfortable, breezy, and cute. You can get a simple, flowy cami in basically any color (I have a variety, and they all get tons of wear) but a basic black one is perfect for dressing up with a nice pair of pants (see item #3) or a skirt, or dressing down with your denim cutoffs or a pair of jeans for a night out. 
5. A military jacket or vest
.
Summer is always tricky for layering. It is hot as balls outside, but might be freezing the second you step indoors somewhere. I like to keep a lightweight layer with me at all times — usually in my car — just in case I have to go somewhere that has kept the A/C pumping all day. 
As far as "light layers" go, I've always been partial to the leather jacket over anything else. But this summer, I'm going with a military jacket.
Military-style jackets have been ~in~ for a while, and I think they're especially awesome when in vest-form. Whether or not you want one with sleeves, it is the perfect neutral, lightweight staple to keep in your summer rotation for chilly moments where you need a simple, light layer atop your Hot-AF-Weather outfit.
6. A floral tea dress
.
For slightly-nicer events, I like having one good, floaty, floral wrap-style dress. A breathable material means you won't overheat in it, and a tie around the waist makes it so flattering and perfect for any occasion. Rather then buying one at a Forever 21-like place where the material will be cheap and essentially transparent, go for high-quality here. Wrap dresses are tricky, because if the material isn't thick and the tie/wrap portion isn't of good quality, you'll basically end up exposing yourself. If you find one that is not see-through and fits you well, it is basically the sexiest, most flattering and updated addition to your slinky sundress collection.
7. Black leather (or faux-leather) sandals
.
Sandals are an obvious summer staple, especially if you live somewhere that gets hot as hell (which is pretty much everywhere in the U.S.) I love the simplicity of flip flops, but I stopped finding them acceptable as an everyday shoe once I reached adulthood — I think they are better suited for running to your mailbox or bringing your dog outside quickly, as they don't really offer your foot any support whatsoever. I got a simple pair of black faux-leather criss-cross slip-on sandals last summer, and they match with every outfit I own. In fact, when I went on a trip to North Carolina a few weeks ago, they are the only shoes I brought with me and they went with every outfit for every occasion every single day. Pair these with anything in this roundup, and they will look perfect and intentional. 
8. White flats.
In my opinion, the perfect summer shoe is a pair of white, pointed-toe flats
. Mine have a pretty laser-cut pattern and are from Old Navy, (purchased for absolute free with rewards points from my credit card), but these
ones are similar, and damn cute too. Paired with a pretty blouse, they can dress up your cutoffs and make them into more of an ~outfit~, or be worn as the perfect partner to your maxi or wrap dress.
Mary writes every day for TFD, and tweets every day for her own personal fulfillment. Talk to her about money and life at mary@thefinancialdiet.com!
Image via Unsplash