8 Cruelty-Free Beauty Products I Currently Use, & Whether Each Was Worth The Money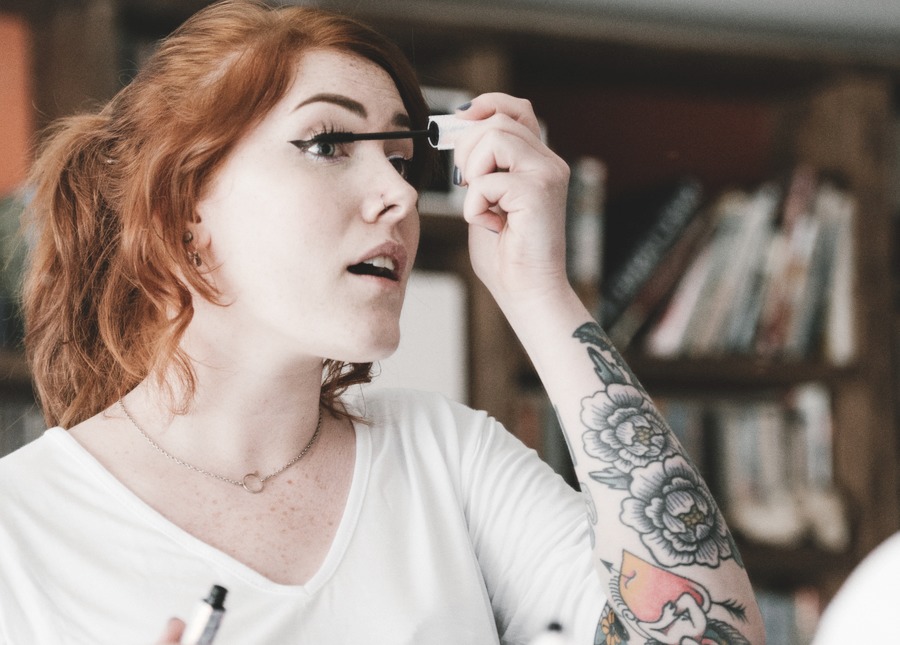 In 2015, I decided to begin transitioning to a cruelty-free lifestyle as much as possible. I began with my skincare and beauty routine. I have very sensitive skin — I'm talking allergic-to-most-sunscreens ( looking at you, titanium dioxide) -and-foundations sensitive. Over the years I've been able to pinpoint some of the ingredients which tend to irritate my skin and that alone has limited the number of products I have been able to use. When I decided to go cruelty-free, I did it for ethical reasons but also because I wanted to be more mindful of the products I put on my body as a result of my sensitive skin.
I have since experimented with quite a bit of cruelty-free makeup and have pared down my everyday routine. It may be important to note that I work in a pretty relaxed and business-casual environment, and I prefer a makeup look that is glowy and minimal and showcases my many freckles. This may not be your preferred look. I know that many of these products seem like a splurge, but it can be difficult for me to find products that work with my finicky skin. Below are the products that are currently in my makeup bag and my thoughts on each.
1. Milk Makeup Sunshine Skin Tint SPF 30 – $42
I've purchased two of these in the last year and love how easy it is to apply with the glass rollerball. For everyday life, I have a more slapdash approach to makeup, especially with any base. Some days, if my skin is especially luminous, I'll forgo this and just dab concealer where needed. I find it doesn't always last all day depending on the weather, and I'm on the fence on if I may stray to another tinted moisturizer-like product with a smaller price tag.
2. Glossier Stretch Concealer in Medium – $18
I absolutely love this concealer as it is creamy in texture and goes on so well when applying with fingers. If I'm doing a more clean-and-precise look, I'll use some Glossier Wowder ($22) to set, but I can't say I reach for Wowder every day like I do everything else. As previously mentioned, sometimes I skip a base and go directly for concealer, and I find that this does a pretty good job of staying put most of the workday.
3. Glossier Lidstar Duo (Cub and Fawn) – $30
I can safely say I'm meh about products that they don't really have any staying power. I won't repurchase this product, but I will continue to use it until I've finished it. I think I'd prefer something with a little more staying power and more bang for its buck.
4. E.L.F. Shadow Lock Eyelid Primer – $2
A cheap and cruelty-free staple. It dries down quickly and holds shadows in place. I have not noticed too much creasing with this product and is a steal for the price.
5. Glossier Boy Brow and Haloscope Duo – $30
I'll be honest — you're seeing a lot of Glossier products because I went on a Glossier shopping spree after a recent career shift and bump in salary. I was also woefully low on everyday essentials. It also helped that I was able to utilize 15% at the time of purchase. Boy brow is lovely and not too overpowering or fake-looking on my already thick brows. Haloscope is another lovely addition I intend to keep in my rotation, as it's dewy and hydrating but subtle.
6. Milk Lip + Cheek Stain in Werk – $24
What I was really looking for in this product was a product with multiple uses and that didn't have any shimmer as I personally don't feel comfortable wearing it to work. I use this as a blush, lip balm, and eyeshadow for a monochromatic and quick look. It is very hydrating and I've found some cheek stains irritate my sensitive skin while I've had no problem with this product.
7. Glossier Lash Slick Mascara – $16
My personal holy grail mascara!! I have stick straight lashes that have difficulty holding a curl. This beauty keeps my lashes curled and I notice I no longer suffer from panda eyes after a long day.
8. Pixi Endless Brow Gel Pen – $11
When I want a bolder brow, I reach for this product. Its gel consistency is great for my sometimes-unruly brows and the color match for the medium shade works really well with me.
Total Cost: $173 
When I think about how often I utilize my makeup products and the rate in which they tend to last me, it still feels like a lot of money. Aside from my foundation and mascara, I have yet to replace any of my existing products in the last seven months. As advised by the makeup gods, I do try to replace my mascara every three months. I'm still trying to find some more cost-effective and sensitive-skin friendly options. I have to say that I do enjoy having the peace of mind of knowing I can complete my makeup for work in record time and that it's curated to meet my needs.
Adelaide writes under a pen name and resides in Chicago, IL with her dog Lucy. When she's not writing or working as a Social Worker she enjoys cooking/baking, yoga and hunting down local coffee shops that can make a great Cafe con Leche. She can be found daydreaming of music, traveling and eventually learning how to properly dance Salsa and Merengue.
Image via Unsplash
Like this story? Follow The Financial Diet on Facebook, Instagram, and Twitter for daily tips and inspiration, and sign up for our email newsletter here.