8 Delicious Vegetarian Recipe Ideas That Will Help You Save Hundreds Per Year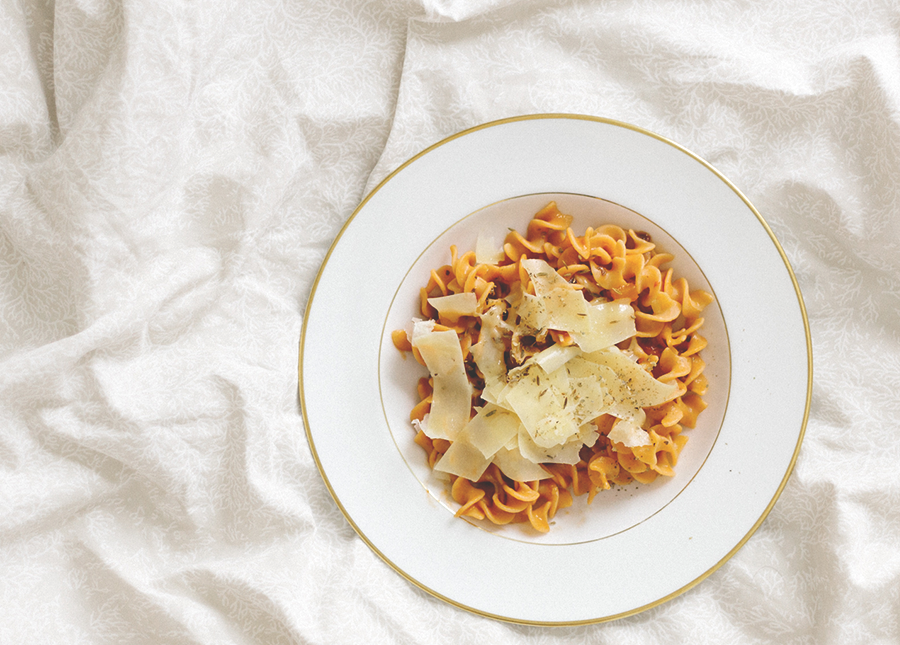 Lower cholesterol, better for the planet, lower risk of heart disease…I could go on and on, about the benefits of a meatless lifestyle. I've personally experienced them myself, as a vegetarian for the last 15 years. I've found that it is indeed cheaper to be vegetarian, at least where I live.
But if you're anything like my spend-conscious husband (who still enjoys meat when we eat out at restaurants), you'll just want to hear this: We're saving money — a lot of money — by not adding meat to our weekly grocery bill.
Vegetarians can save $750 more than meat eaters each year (hey, that's a plane ticket to Europe, just sayin'). Even if you don't want to go completely veg, you can still benefit financially by cutting back on meat consumption. You don't have to give up your favorite pork carnitas or grandmother's meatballs to get in on saving some serious dough. Instead, just plan to give up meat once or twice a week. That doesn't sound so bad, does it?
Meatless Mondays are practically part of our culture nowadays (at least according to the 700K+ #meatlessmonday posts on Instagram). You'll not only score a health boost by not eating meat one day a week, but also cut down on a huge expense.
Is a vegetarian diet actually cheaper?
Think about it this way: The average cost of ground beef in the U.S. is now $3.75 a pound, and continues to rise. Everyone loves bacon, but it's $6.20 a pound on average! Meat is even pricier if you live in an outrageously expensive city, like I do. Luckily, the average price of a can of chickpeas is holding steady at $1-$1.29, and you can use the leftover liquid to make meringues for dessert.
Of course, eating a healthy vegetarian diet can be pricey, too. To cut down on costs and make it actually cheaper to be vegetarian, avoid expensive meat substitutes. Stick to whole food choices like fruits and vegetables whenever possible, and buy items like dried fruit and nuts in the bulk bin when you can.
If you love the idea of Meatless Monday, I say go crazy and have black bean taco Tuesday, or veggie stir-fry Saturday, too. Get ready to start saving with these delicious recipe ideas, like sweet potato nachos and vegan sloppy joes. I promise you won't miss the meat — or the cost.
Forget everything you know about nachos. This meatless version from Apples for CJ is made from sweet potato chips topped with Monterey jack cheese, hot sauce, black beans and cilantro. Pro tip: If you don't have a mandolin, just use a knife to slice the potatoes as thinly as you can. They'll still crisp up nicely.
Ready to stop ordering pricey takeout that often ends up being super oily, anyway? Make this protein-packed bowl of tofu and broccoli from Delish Knowledge instead. Yes, it's full of healthy ingredients, but once you top them with the crunchy peanut butter sauce (made from ingredients you probably already have in the pantry), it actually tastes like a treat.
Tacos are the ultimate crowd-pleaser. They'll feed everyone in your household, and won't break the bank. If you're looking to mix up your usual rotation, try this creative alternative from Half Baked Harvest. The flavor from the cauliflower topped with pineapple sauce is poppin'. PS: If you have leftover toppings, you can use them over rice for an awesome stir-fry the next day.
Sloppy Joes were probably one of your favorite dinners as a kid. They're saucy and messy, so what's not to love? And if you thought they were great out of a mix or can back in the day, wait until you try this grown-up recipe from Minimalist Baker. They're made from protein-packed lentils, but still have the same tomato sauce you used to love.
If you love pizza as much as I do, you'll dig right into this roasted vegetable version from Olive Tomato. Using store-bought pitas instead of dough makes it simple and fast. This would be a perfect recipe for a busy weeknight meal with your family or a weekend treat.
If you need to convince a meat eater to try some veggie-loaded entrees, this Bolognese sauce from Healing Tomato you cook up in your crock-pot is the ideal gateway dish. It's got the meaty texture they're used to, and can be served up over any pasta or zucchini noodles.
If you have leftover brown or jasmine rice, turn it into tasty and flavorful Thai fried rice from Cookie and Kate. To cut the cost, substitute in canned pineapple for fresh, and look for cashews in the bulk aisle.
If you're a spinach artichoke dip fan, you'll really enjoy this creamy soup from Hello Little Home. It's hearty and uses pre-made tortellini, so it comes together in no time. It's perfect for busy winter days when you need to warm up fast.
Jane is a freelance writer based in San Francisco. She's usually saving up for her next international trip or hanging out at home with her chihuahua, Cesar. Follow her adventures on Instagram @janechertoff.
This post was originally published on September 25, 2017, and has since been updated.
Image via Unsplash
Like this story? Follow The Financial Diet on Facebook, Instagram, and Twitter for daily tips and inspiration, and sign up for our email newsletter here.