8 Genius Little Ways To Make Your Office A Healthier, More Inviting Place To Be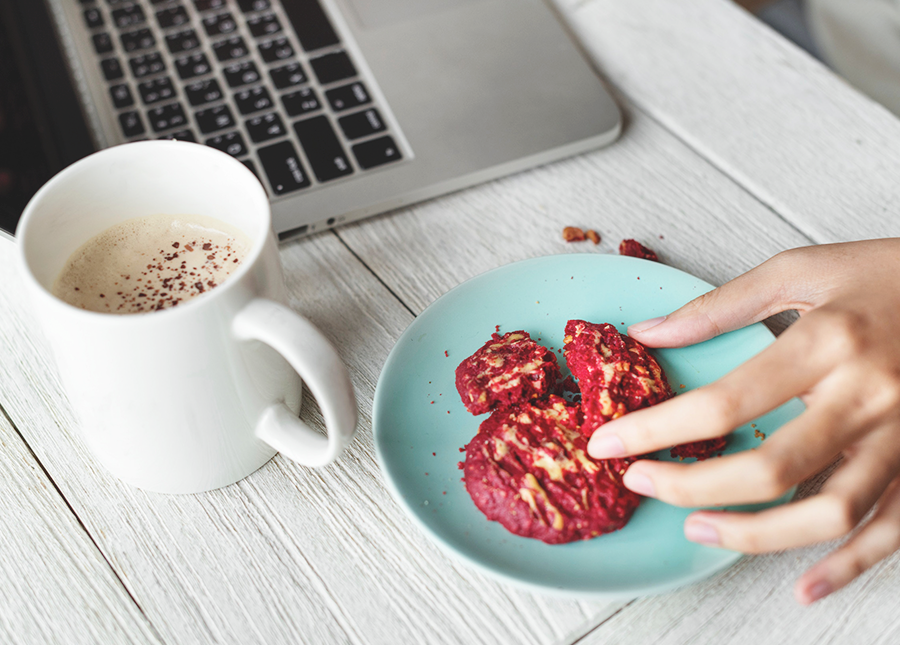 When scrolling through social media, there is never a shortage of articles and videos highlighting many aspects of wellness — you can find different "self-care" methods and self-improvement tips peeking around every digital corner. And I think the trendiness of wellness is a good thing, especially in the effort to overcome the stigma of mental illnesses. For too long, society (especially in the corporate world) has maintained a hushed mindset of such topics. For many work environments, talking about wellness was taboo, and many workers would hide their struggles out of fear of being judged.
However, the tides seem to have changed, and there seems to be more transparency and open dialogue. Employers are more encouraging than ever when it comes to implementing workplace wellness programs — especially because they contribute to healthier, happier employees. But we all have a part we can play in the continued push for wellness. Whether you are an employer or an employee, there are several steps we can all take to improve wellness and mental health in the workplace. As a young working professional, I have always sought to be a champion of wellness at work. If you want to implement more wellness initiatives at work, the first and hardest step is usually just asking. Your company may be more receptive to your ideas than you think! From my firsthand experience, here are eight different (and easier to implement than you think) ways to improve wellness in the workplace and help contribute to a better office culture all around.
1. Create a Designated Wellness Room
We all need to take the occasional break, and having a designated space for staff to go to ensures there is a safe and comfortable space during times of stress. A wellness room can be any space that is ideally closed off from the rest of the office. It doesn't have to be elaborate — you can set it up by simply repurposing an underused room. It can be decorated to create a warm and relaxing ambiance and feature comfortable furniture, insightful books, and other features that help create a calming atmosphere.
2. Lead a Wellness Committee
Many workplaces have subcommittees to address office needs — why not start a mental wellness committee? In every environment I've worked in, I've either joined a pre-existing wellness committee or helped to create one.  In addition to meeting core work objectives, being part of and helping to lead an external committee of any sort shows initiative and reflects well on one's career development.
3. Organize a Wellness Speaker
Whether your office allows for the creation of a wellness committee or not, you can still take initiative and try to organize wellness events on your own. For example, try to secure a wellness expert for a speaking engagement. If your office doesn't have the funds to compensate speakers, there are still many individuals willing to volunteer their time for such events. Research local mental health organizations in your area and reach out to them personally to inquire about speaking arrangements, or reach out to professors from psychology departments in local colleges or health care professionals in the area.
4. Offer Development Opportunities and Celebrate Employees
For employers, it's always a good idea to offer employees development opportunities — tasks and projects outside of their substantive role. One way to ensure mental resilience is to seek new and challenging endeavours, and by taking on new opportunities in the work place, employees will feel more engaged at work. Moreover, employees should be celebrated with some form of a recognition program. Whether it's a simple acknowledgment of hard work or a formal ceremony of awards, recognizing employee merits signals to them that they are valued at the workplace and increases a more positive work environment.
5. Create a Corporate Wellness Program
This is a more formal approach to wellness. A lot of employers in both the private and public sector offer corporate wellness programs. In addition to covering insurance and health care benefits, they sometimes include on-site gyms, on-site meals, employee assistance programs, and more. Of course, this will depend on your specific employer (and their budget) — and if it's not a possibility at your current workplace, it's definitely a perk to consider the next time you're looking for a job.
6. Organize a Weekly Walk
Taking a walk has its obvious health benefits, but why not make it a social affair? Another idea for a wellness event would be to organize an office wellness walk. Pick a time during the week and invite your coworkers to take a walk, and make it a staple in your office schedule. You could even pick a designated day like Wednesday — and call it a nifty "Wellness Wednesday Walk" for extra brownie points.
7. Organize a Field Trip (Formal or Otherwise)
Remember when you were a kid and you would get excited to go on school field trips? Why not replicate that in the workplace? Organize an excursion with co-workers to encourage team camaraderie. Find adventurous things to do off-site after work or when you have a corporate-sanctioned half day. Some good group activities include hiking, a cooking class, trampoline parks and more.
8. Have Fun Wellness Events
A large part of promoting wellness at work is creating a work environment everyone can enjoy. An easy way to ensure an enjoyable work experience is to do have events and activities that are fun in nature. Ideas can include organizing smoothie days in the summer, themed costume days during particular holidays, or hosting a yoga or meditation session. Having even occasional fun activities promotes workplace satisfaction and in turns increases productivity – a double win for everyone!
Aman is an IR/Econ alum of UBC, Fitzgerald lover & marathon runner. You can find her drinking too much coffee in the rainy city of Vancouver. She writes for online publications including Thought Catalog, Elite Daily  and Her Agenda. Follow her blog or Twitter for more updates. 
Image via Unsplash