5 Rules For Creating A Grown-Up Bar Cart For Under $100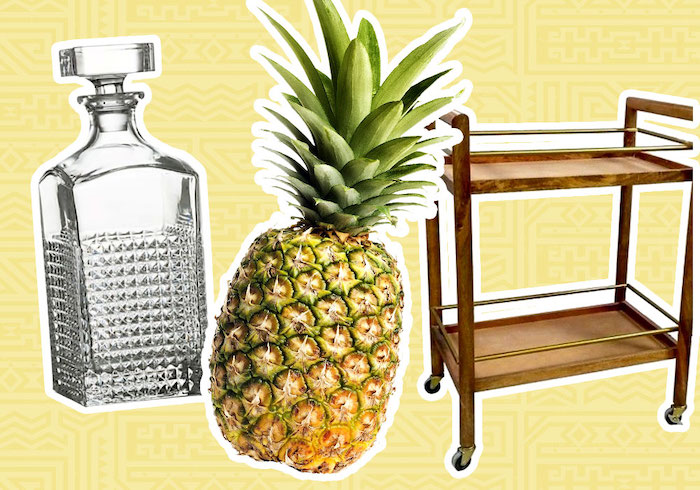 The other day I was grocery shopping, doing my best like everyone else to be mindful of what I touched and keep a good six-feet-minimum distance from the other shoppers. Then from somewhere in the aisles, I heard a familiar squeal and the sound of flip-flops slapping against the linoleum racing towards me.
Ah yes, I thought as I turned around to see a mess of blonde heads while three titillated gals bee-lined it for me, my 20-something regulars have discovered me out in the wild. 
It has been almost two months since the bars in Minnesota locked their doors to the public in response to the COVID-19 pandemic, and clearly we are feeling it. As the group of girls gathered around me (at a respectable social distance) and filled me in on the gossip that I normally would receive from the other side of the bar on weekend nights, the conversation quickly turned to how these ladies were keeping themselves libated at home. I listened intently and fielded questions on how to make "that one drink you made me that one time that was pink or maybe orange and was really strong but didn't taste like alcohol" and couldn't help but feel relieved that even though it feels like the world is on lockdown – the party hasn't stopped.
While I didn't escort my regulars to the liquor store to help them pick their poisons for the weekend, I did send them on their way with a couple of helpful hints that every amateur, at-home bartender should have up their sleeves if they are looking to get the biggest bang for their buck stocking their personal bar.
1. Know your liquor.
One of the easiest and most important rules of stocking your home bar – and I cannot stress this enough – is knowing your liquor.  There was a time and a place for the adventure of buying the bottom shelf, but I'm here to tell you that those days  – and the accompanying horrendous hangovers – are behind you.
You also don't need to go for the very top shelf, either. There is no need to drop major bills on Grey Goose when Skyy Vodka is just as smooth and significantly cheaper. Do your research on what the good middle of the road liquors are (here's an excellent guide to specific brands), but the gist of it is: You should never have to spend more than $18 for a quality bottle of booze. Choose 3-4 essentials based on your preferences, but the following liquors are pretty versatile and will allow you to make a wide variety of drinks: gin or vodka, tequila, rum, and whiskey.
My rule of thumb is that when you go to the liquor store you shop from your waist and chest. Anything below the knees is bad news, and anything above your shoulders is simply unnecessary. 
2. Skip the flavors.
This is a really quick tip, but it's crucial if you're trying to stick to a budget: don't bother with the flavored alcohol. 
It may seem like a fun idea to have Fruit Loop-flavored rum or vodka that tastes like whipped cream and chocolate ice cream, but the truth is you will only use it for one or two drinks and then forget it like a bad fad as it collects dust in the back of your liquor cabinet. It's just simply not worth it.
If you really want to splurge on something with more flavor, I suggest picking up only one or two 750ml schnapps. If you go with the Pucker or DeKuyper brands, it will only cost you about $10 and be more than enough to last you forever. Stick with a basic flavor such as peach or watermelon that will mix well across the board with a variety of alcohols and juices.
3. Find universal mixers.
This part can get a little tricky because it really all depends on what you like to drink with your alcohol. If you are someone who likes whiskey water, then you're pretty much golden when it comes to saving money on mixers. 
For the most part, when it comes to shopping on a budget for your at-home bar it is important to find mixers that can be used in a variety of recipes with any type of liquor. Whenever someone is at my bar and doesn't know what they would like to drink, I always suggest something with pineapple juice. In the world of booze, pineapple is the great neutralizer and can be paired with almost anything – whether it be other juices, cream-based, or even tequila. If you buy it in a can and store it correctly, it also can be one of the cheapest mixers you can pick up. Other mixers you might want to consider: lemonade, soda water, and ginger beer. Again, there's a wide array of cocktail recipes that these ingredients can be incorporated into, so you'll be able to experiment.
A major rule of thumb that must be adhered to at all times is to never buy your mixers at the liquor store – the prices will always be jacked up. It will be worth the extra trip into a grocery store to save a considerable amount of money (often by as much as 50%). 
4. Use what you already have.
To all my new, makeshift bartenders out there, be aware of what you already have in your pantries and refrigerators. 
You don't need to pick up the cute little margarita salting kits that help you make that perfect salt rim on your special cups – they simply cost money and you can make do with what you have at home. Instead, get the rim of your glass a little wet and rim it with your basic cooking salt, the results will taste exactly the same.
One also doesn't need to buy all the top fixings for a Bloody Mary, when chances are you already have everything you need. Like it spicy? Grab that hot sauce in the door of your fridge. Like it tangy? Pour in some of the pickle juice from those baby dills you love. The only thing you may need to grab for this cocktail favorite for weekend mornings is some tomato juice, but you can get pretty boujee with it by adding what you already own. 
Fun little side tip: if you want to add some extra sweetness to your beverages you can make simple syrup right at home! All you need is one cup of white sugar and one cup of water. Yup, that's it. Combine the two in a saucepan and bring to a boil, stirring constantly until the sugar is dissolved. This super easy and practically free ingredient will have you feeling and drinking like a pro in 30 minutes or less, and you can keep it in the refrigerator until it's gone.
5. Skip the fruit.
My last tip is going to be short and sweet: don't bother with fruit, ESPECIALLY citrus. Lemons and limes are not only expensive, but they have a terrible shelf life. The moment you cut into one, you will need to use it within the next two days or it will straight-up go bad. My suggestion is that unless you plan on using the entire fruit that day or night, forgo it altogether and save yourself the money and the headache.
If you follow these simple rules, stocking up any at-home bar – man-cave, she-shed, brunch nook, garage pub, and otherwise – will be both easy and affordable. As always: Be responsible with your drinking, don't text your ex, and when you finally return to your favorite bar be sure to tip the staff well. We miss you just as much as you miss us.
Annie Granlund is an award-winning journalist based out of Minnesota who has been bartending as a side hustle for the last 10 years. When she isn't breaking news or slinging drinks, Annie enjoys recording music with her husband, getting lost in books, and having deep philosophical conversations with her cats. You can follow her life as a journalist on Twitter at @OPPAnnie or keep up to date on her latest reads on Instagram at @coffee_cats_books.
Like this story? Follow The Financial Diet on Facebook, Instagram, and Twitter for daily tips and inspiration, and sign up for our email newsletter here.