Every Single Purchase That Has Made Me Happier During The Last 6 Months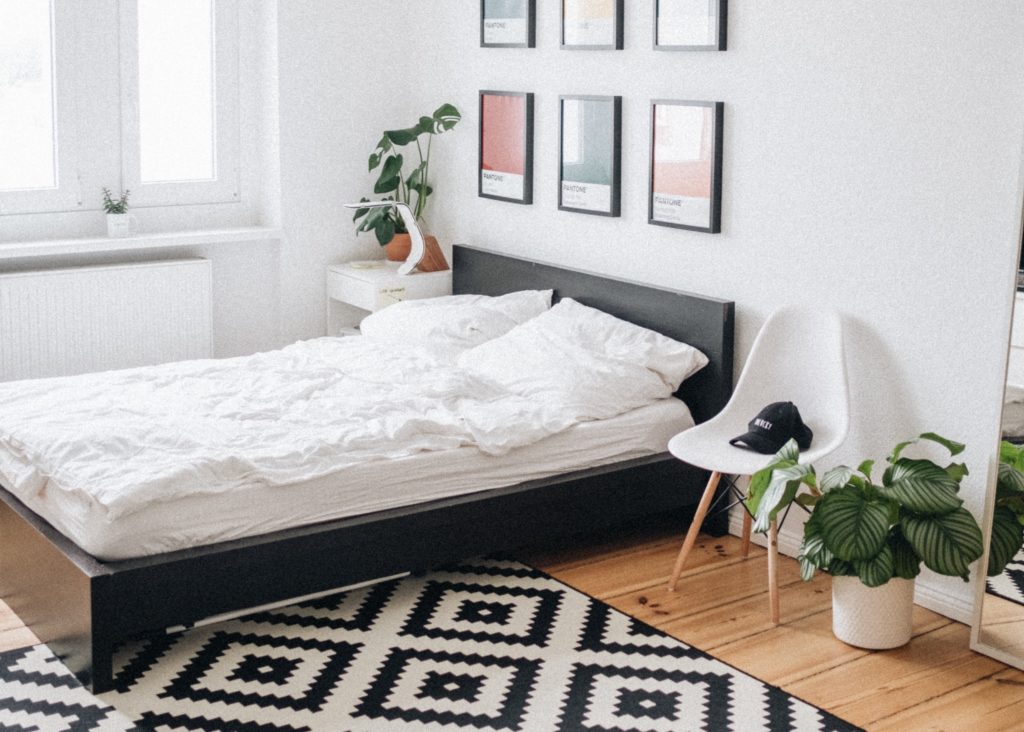 While most of us have been saving considerable amounts of money in the pandemic, mainly from the lack of boozy brunch or concert tickets, this time period has also highlighted the importance of items we wouldn't have previously spent money on—at least, for me, this holds true. 
Increased rent – $500/month
Admittedly, with lower rent costs, the price I'm paying for my new apartment is considerably lower than it would have been pre-pandemic. But, pre-pandemic, I also lived in a large townhome with six other roommates — none of whom I saw, essentially ever. With the onset of shelter-in-place, however, the townhome that formerly merely housed seven strangers, the majority of whom didn't cook or reside much within the space, was now packed. As such, I decided to find a new home, both for my mental sanity but also for my health, since I'd have exposure to fewer people within my bubble. I'm very fortunate I was able to make this decision. My current apartment is spacious, allows me to have my own bathroom, and is shared with only one other roommate, who has already become a friend — it just happens to cost an additional $500 a month. 
Baking supplies – $35/month
I've always loved to bake, but when the itch strikes, I typically find myself baking cookies or cakes. In quarantine, though, I've been experimenting with more complex recipes. Whether it be making pizza dough from scratch, using different ingredients like almond or coconut flour, and even incorporating new spices, adding these new elements to my baking routine has meant I've had something to learn, look forward to, and enjoy during shelter-in-place. 
Subscription services – $15/month
I was lucky enough to have Netflix through a family subscription pre-pandemic and have been paying for Spotify since I was in college. But after a few months at home, it became evident that I needed more media to keep myself entertained. I tried to be strategic about this, incorporating only one new subscription to my roster every month, essentially switching between HBO, Hulu, and Amazon Prime. As such, these subscription services have only added about $15/month to my quarantine budget. 
Investing in my work-from-home setup – $250
I don't know about you, but pre-pandemic I had a small, extremely cheap desk in my bedroom. I bought it for about $20, already used, off of Facebook Marketplace and didn't even bother to get a chair for it. I used it to stack unread mail, store any books I bought, and mostly as just another storage unit. 
Needless to say, I now use that desk on a daily basis. As such, it quickly became evident that my roommate's spare stool and this small desk were just not doing it for my work productivity. Investing in this work-from-home setup wasn't cheap, but it's a sunk cost that I see being useful even beyond the pandemic, particularly given that many companies are likely to change or extend their work-from-home policies. I also invested in a lamp, though I purchased this off of Facebook Marketplace for just $25. 
Room Decorations – $150
Pre-Rona, I barely spent much time in my bedroom. I had a notoriously difficult routine — waking up at 4 AM to get to the office, returning home at 4 PM, quickly scarfing down some dinner before leaving the house to volunteer or attend book club, and returning to crash by 8 PM. On the weekends I was typically out at brunch, picnicking, trying out new bars and restaurants, hiking, or engaged in some other activity. As such, I didn't really spend too much time staring at the walls of my room or making it feel like a home. Now, however, I've been struck by an urge to decorate my room with photographs, plants, etc. Given the layout of my bedroom, I invested in floating shelves to display a few small succulents and picture frames, hung prints of other photographs on twine, put up a painting or two from a pre-pandemic Wine & Paint night, and displayed the cross-stitch efforts I had picked up during quarantine. I've appreciated this investment since my room feels like a home now, more than just a place I sleep in between my other scheduled engagements. I've also invested in scents for my bathroom, bath bombs, pretty soap canisters, comfortable bath rugs, etc. to make that space also feel more like mine versus a space I'm merely renting. 
Total: $1,200 and counting
In total, given that I moved and began paying rent on my apartment only in September, since the start of the pandemic in March, I've spent an additional $1,200 in the past six months than I would have pre-pandemic. Ideally, this is perfectly offset by my pre-pandemic spending (and, frankly, I suspect it is, given that last summer I traveled to multiple different cities in California, went to a summer concert, and spent a lot of time and money hiking or at restaurants). All of these purchases have contributed to my mental and physical health during this time, though, which is why I feel they are justified costs. 
Happiness has been fleeting lately, and while I don't claim that money or material items can buy it, I definitely didn't invest in my space before lockdown. It has helped immensely to make that investment in myself and my environment, and I suspect that it will be an investment I continue to make, even after this year is a mere memory.
Keertana Anandraj is a recent college grad living in San Francisco. When she isn't conducting international macroeconomic research at her day job, you can find her in the spin room or planning her next adventure.
Image via Unsplash
Like this story? Follow The Financial Diet on Facebook, Instagram, and Twitter for daily tips and inspiration, and sign up for our email newsletter here.