An Honest Breakdown Of What Being Vegan (Or Gluten-Free, Or Vegetarian) Really Costs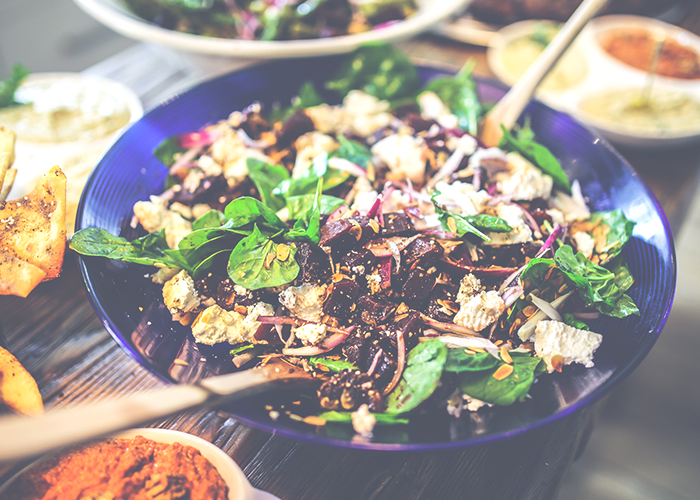 Right now, people are flipping through cookbooks and cooking blogs, gearing up to baste turkey or roast Tofurkey or dress a filling raw entrée. Holiday meals, especially in big families or among adored and diverse friends, means accommodating many different diets each year, which always get my nurse-brain whirring. Are certain diets truly more healthful and sustainable than others, or do we live in an age of legitimization of fad diets? Full disclosure: I am an omnivore, but I try to be a thoughtful one. If you're like me, or are interested in specialized diets, here are some thoughts and recipe ideas to get your kitchen cookin':
On Responsible Spending and Sustainability
There are as many motivations for a specialized diet as there are ways to feed yourself, like budget considerations, environmental concerns, or the desire to live a long and healthy life. Responsible spending is certainly a legitimate reason to choose to nourish yourself in certain ways; for years there's been information on saving money by eating less or no meat, especially when dining out. In college, I knew a guy who tried to subsist totally on potatoes to save cash, noting that a 5 lb bag of Yukon Gold ran under three bucks at the grocery store. He almost ended up with scurvy though, so that is certainly not a nutritionally successful anecdote, but it is a funny one, and it illuminates some budget concerns that motivate people to go part-or full-time-vegetarian outside of cultural or ethical ideals. (BTW, the guy ended up fine and graduated, but first realized he had to re-prioritize his beer/food budgets).
Increasingly, people are motivated by sustainability, and being good world citizens. While most home cooks know that buying produce in-season tastes better and saves you money, and those who opt for organic foods have long been mainstream, and arguments over Genetically Modified Organisms (GMO) crops are fodder for all media platforms, what if someone decided to take this approach and expound on it, embracing an environmentally and ecologically sound lifestyle? Even the average person can wonder: what about the cost, environmentally and ethically, of shipping livestock, meat, and vegetables from far distances? There are many emerging questions and theories on how to farm, and eat, sustainably.
The Monterey Bay Aquarium provides an informative guide to choosing sustainable seafood, like those which are regional and aren't endangered. They even have a cool app. It's also interesting to get familiar with what the legal definition of "organic" – spoiler! It might not mean what you think it does. Some financial benefits, like reusable water bottles, also neatly fit into the category of sustainable living because they inherently produce less waste while you cash in by not buying expensive bottled drinks. The BBC did a very interesting piece on how meat consumption may increase carbon footprints and suggests choosing meats that produce lower greenhouse emissions, such as chicken, pork, and mussels. It also suggests some counter-intuitive thoughts about whether industrial farming versus pastoral farming produces lower green house emissions. While there is some data out there about carbon footprint size by diet, it is not easy to find recent peer-reviewed studies supporting a specific conclusion, but I'm sure studies and analyses of existing data are in the works. I'll be eager to bone up on them.
Some Common Specialty Diets: Vegetarian, Vegan, and Gluten-free
Most people are pretty knowledgeable about vegetarianism, a plant-based diet that still makes room for dairy, and often eggs. There are some vegetarians who'll even eat the occasional fish. It's also one of the oldest diets, with cultural and religious roots in the far east, and one of the first considered for health benefits (I always think of the vegetarian restaurant scene in The Seven Year Itch, when Richard and the server run through his bill: "Now let's see. We had the number seven special, a soybean hamburger with french-fried soybeans… Soybean sherbet and peppermint tea… You will be proud to know that your entire meal with the cocktail was only 260 calories."). While there is some evidence to suggest that eating vegetarian, even some of the time, has measurable health benefits like lower risk of heart disease, many people choose to become vegetarian because of perceived physical benefits or to support more humane practices with animals. The National Institute of Public Health in Poland published an analysis of study data in 2014 stating that "properly applied vegetarian diet is the most effective way of reducing body mass (expressed as BMI), improving the plasma lipid profile and in decreasing the incidence of high arterial blood pressure, cardiovascular disease, stroke, metabolic syndrome and arteriosclerosis" (1). Food for thought.
Vegans are much more restricted in their diets, and often lifestyle (no leather belts, please!), than vegetarians. As any vegan will tell you, they're vegan. They'll also tell you that dairy, eggs, and honey are all off-limits. Someone may become vegan for perceived health benefits or for ethical treatment of animals or to protect the Earth's natural resources. It's important that you do your research (including talking to your healthcare provider) before entering into a strict diet, especially if it cuts out entire food groups. Educate yourself on nutrition before you go enjoy the playland of specialized diets. I will say that I've enjoyed meals at vegan restaurants and I think anyone can find inspiration in vegan recipes, because they necessarily get creative with ingredients.
Last but not least, everyone has the gluten-free friend or family member. But why do some people have a diet that would omit crunchy chewy baguettes and luxurious pasta? So I did my best to get the skinny on gluten, which is one of several naturally occurring proteins, called gliadin (the response to which causes celiac disease pathology:, in all wheat that accounts for elasticity in wheat-based doughs. The gluten-free diet has amassed astounding popularity these days, and there's little wonder why. The gluten-free diet can provide real relief for people with IBS, food sensitivities, and celiac disease, for whom wheat can wreak tummy havoc such as indigestion, painful gas, and bloating among other issues. This diet can also help you keep real svelte. It's good to note that the American Academy of Physicians Assistants reminds us that there is not enough evidence-based information to support health claims of weight loss or general population benefit from gluten-free diets at this time (2).
While every diet has its champions and naysayers, especially in these days where bacon is considered a carcinogen in some circles, it's not always fun to get caught up in the politics of what different people eat and why. For meals or holiday parties that are focused on celebrating togetherness, friendship, and love, it's nice to just make sure everyone feels welcome to partake in the warm fuzzies while it's cold outside. Because there are many delicious and affordable dishes to fit every diet, even restrictive ones, I keep a few special recipes in my repertoire.
My Tried-And-True Recipes To Tempt Any Diet
If you crave some exciting flavors while still accommodating strict diets and your possibly holiday-wrecked budget, I can't recommend the following enough! You don't need expensive substitutes from the pricey fancy grocery store to make sure everyone has something to enjoy.
1. Piaju (Red Lentil Fritters): Vegan and Gluten-free
This Bengali vegan and gluten-free snack/appetizer will also satisfy meat-enthusiasts. I was introduced to piaju years ago, quickly became obsessed, and have since happily discovered they've never failed to be a crowd-pleaser. They are simple to make and don't require a ton of prep or expensive ingredients. It's the kind of snack everyone makes a little differently, so make a test batch and tweak the spices and chiles a bit. They should turn out fine as long as you keep the consistency about the same, so don't short the onions or lentils. The key is to use RED LENTILS ONLY and DON'T SKIP THE SOAKING. They're best when hot and fresh, but can be carefully reheated in an oven.
***Recipe here: (This recipe calls to soak the lentils in hot water which I have never done; I've always been told to soak in cold. It also suggests you fry the fritters in the shape of round balls but flattening them into more of a patty makes them easier to cook evenly. If you don't feel like making the special sauce, they are equally noshy with sriracha or ketchup)
2. Vegetarian Oven Omelet from the Splendid Table: Vegetarian
This non-fussy one-skillet vegetarian dish can work as an entrée for breakfast, dinner, or brunch, and the green apple adds the tiniest sharpness of flavor to balance out the rich cheese and eggs. Every time I make this there are no leftovers, and everyone is shocked to learn the secret ingredient is green apple. Because the eggs, apples, and greens are inexpensive and usually easy to find, splurge on buying local and/or sustainable for ecologically-minded meals. This is best served room temperature. If chard isn't your thing, try other less-bitter (and usually cheaper) greens like baby kale or lots of fresh parsley.
***Recipe here: (Wonderful kitchen goddesses Lynne Rossetto Kasper and Sally Swift even include a potato and paprika variation which is also tasty, but has never received the high excitement of the green apple version, in my experience)
3. Espinaces con Garbanzos (sautéed spinach and chickpeas with a Spanish flair): Vegan (Gluten-free if you omit the bread!)
If you have moderately stocked kitchen cabinets, you may already have all these ingredients, making this easy-to-make dish an inexpensive go-to in a pinch. Even though the ingredient list is humble, each element comes together to create a delicious and comforting side or entrée, perfect for colder months. In my experience, the chickpeas satisfy even the stodgiest eater. Additionally, all these ingredients are so inexpensive and readily available in most places that it's a cinch to buy organic, non-GMO, and/or local without bustin' your piggy bank. My tip on this one is to go for the canned chickpeas — let's not overthink this simple dish too much. Best served warm; warms up beautifully in the microwave.
***Recipe here: a quick google search will also turn up more Latin-twists to this dish, but I just love the Smitten Kitchen's beautiful photos and clear directions!
1. Pilis W., Stec, Zych, Pilis A. (2014). Health benefits and risk associated with adopting a vegetarian diet. Roczniki Państwowego Zakładu Higieny, 65(1) 9-14.
2. Gaesser, G. A., & Angadi, S. (2015). Navigating the gluten-free boom. Journal of the American Academy of Physicians Assistants, 28(8), 1-7. doi: 10.1097/01.JAA.0000469434.67572.a4
Image via Pexels