A Breakdown Of The 10 Items I Got Zero Dollars For At The Consignment Store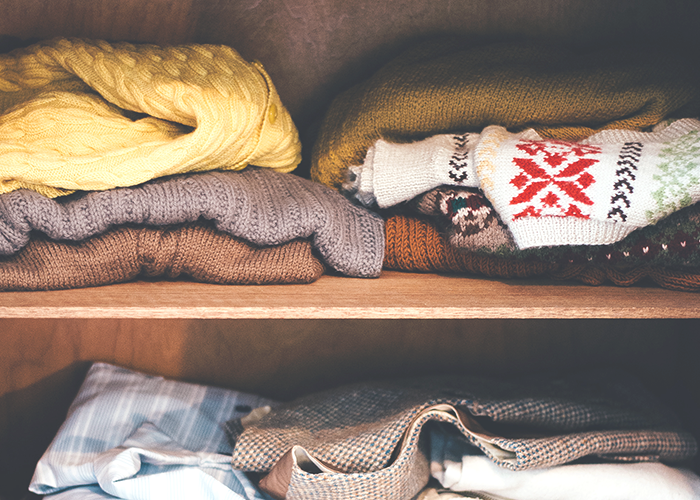 It wasn't until a few weeks back, when I was starting to pack for a trip to California, that I took a look at the contents of my closet and thought "damn, a lot of this doesn't feel like me anymore." Then, I proceeded to unzip my vacuum-sealed bags of winter and fall clothes to see if there was anything interesting in there I had forgot about. There wasn't. Out tumbled a mass of brown, black, and beige wool and knit items that looked worse for the wear after being shrink-wrapped for the last eight months. As I looked around at the piles of clothes in front of me and in my closet, it dawned on me that there was a huge disconnect between the person I wanted to project to the world, and what I was actually projecting. In my head, I was chic stylish cOoL designer living in NYC and running a company, but that was FAR from what the contents of what my wardrobe suggested. It was time to take a #hardlook at the items that were and weren't working, even if that meant a massive purge.
For the last two years, shopping for clothes has been near the bottom of my to-do list. To be completely honest, I don't love shopping and find the process of going into stores and walking, walking, walking, trying a few items on, cursing the fitting room lighting, walking around some more, and leaving empty handed because nothing fit well or looked good, to be exhausting. Spending a Saturday shopping for clothes (which is the only time I really have time to go out looking) felt like a waste of time when I could be doing more "fun" things. However that kind of mentality started making me dress a bit lazy. Yes, I get dressed every day for work and enjoy looking nice, but I was wearing items that didn't really fit well or suit my skin tone, body type, etc.
Then, just last week, Chelsea and I were talking about fashion and the usefulness of creating a "style story" to help ourselves identify the underlying concept behind our respective wardrobes. It might sound silly, but thinking in that way was extremely useful. It forced me to distill what I wanted to project to the world in a few key words. Chelsea and I bounced ideas around, and she suggested choosing a color palette along with a few key items that would act as the "anchor" in my wardrobe. I also think it's really helpful to make a Pinterest board (or just a normal desktop folder) filled with reference images for outfit inspiration and styles you like. For me, this serves as a visual reminder of what I like and how to style it. For me, a few of the items that I'm currently on the hunt for: bright-colored knits, colorful patterned blouses and tops, black wedge boots + a pair of statement shoes, a few fun dresses, some neutral sweaters, and a versatile bag
.
With all that in mind, I started purging my closet of stuff that didn't really feel like me anymore. This would free up some much-needed space in my bedroom for storing a smaller selection of items that truly defined me. Here are just a few of those items (there were two bags worth of stuff) that I decided needed to go. I went to a few consignment stores in NYC to try and get money for these items — more on that later.
A ~Fancy~ Evening Dress.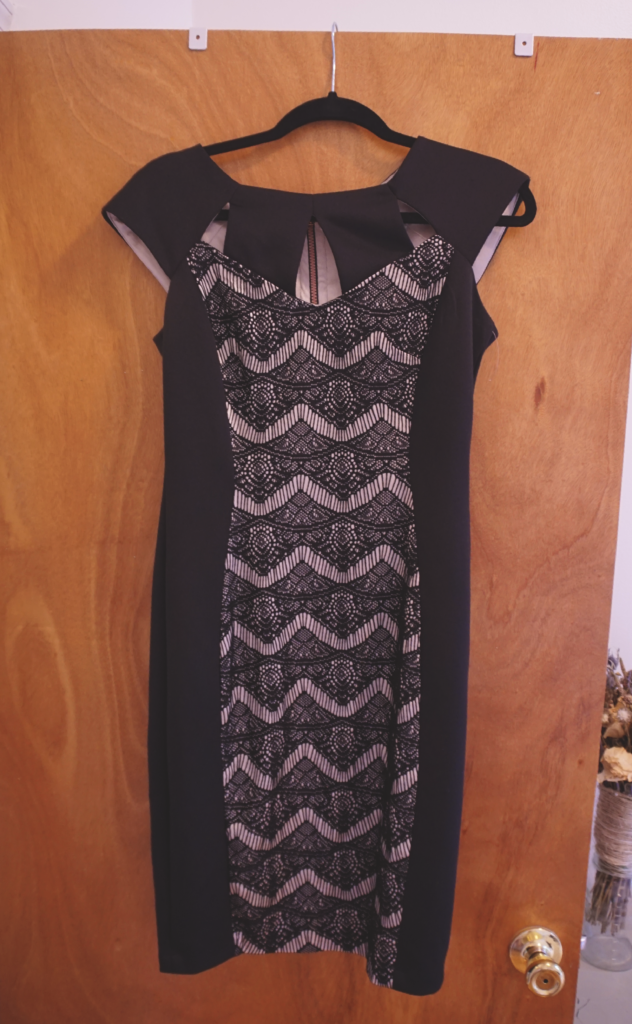 Ahh, to look back at purchases I once made fully believing that if the item had lace or cutouts in it, it HAD to be chic and classy, That is false, and I like to think I've come a long way since those days. The above ~fancy dress~ is one that I bought to wear to a company event a few years back, which I never actually wore. I purchased it at Century 21 at a low point. It might have fit my definition of chic a few years back, but now the front lace panel seems awkward as hell, and the dress is so ill-fitting I can't believe I bought it in the first place. Toss!
A Too-Short Sad Beige Floral Dress.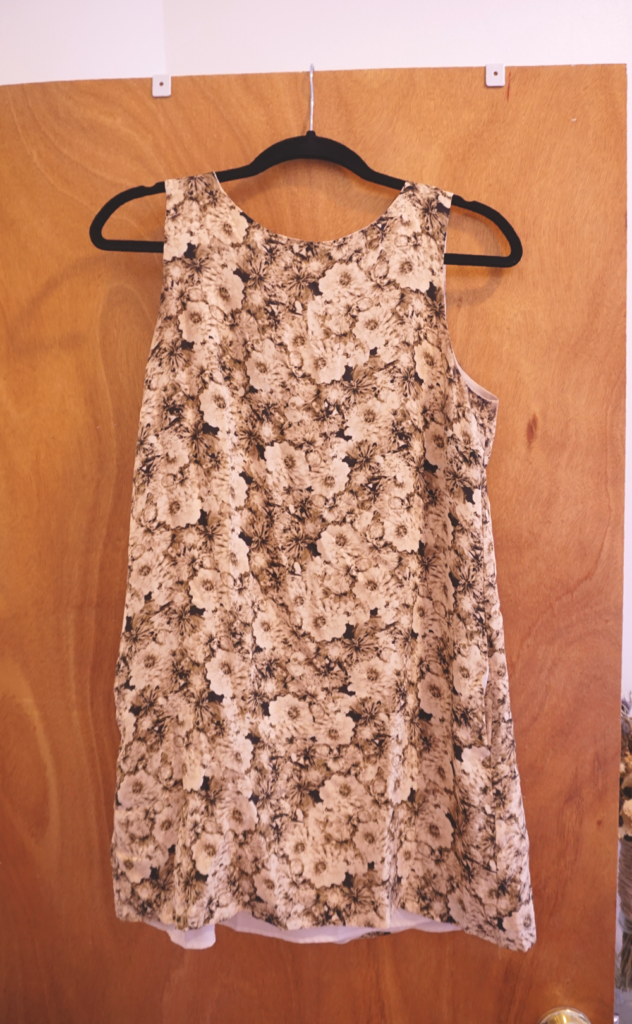 This dress was purchased on sale at Madewell a few years back, and looked much nicer then. However, over time it's gotten worn and dingy looking, and it's also gotten shorter from being washed so many times. The fit is not great and makes my upper body look doughy and shapeless. I just don't have one of those bodies where I can get away with wearing a loose bag dress with no cinched waist. (I should have listened to all the times my mother tried to tell me!) Also, the colors don't do my complexion any favors. Now that it's getting colder — and I'll be much paler soon — it needed to go.
A Dress That Could Pass For A Tennis Outfit.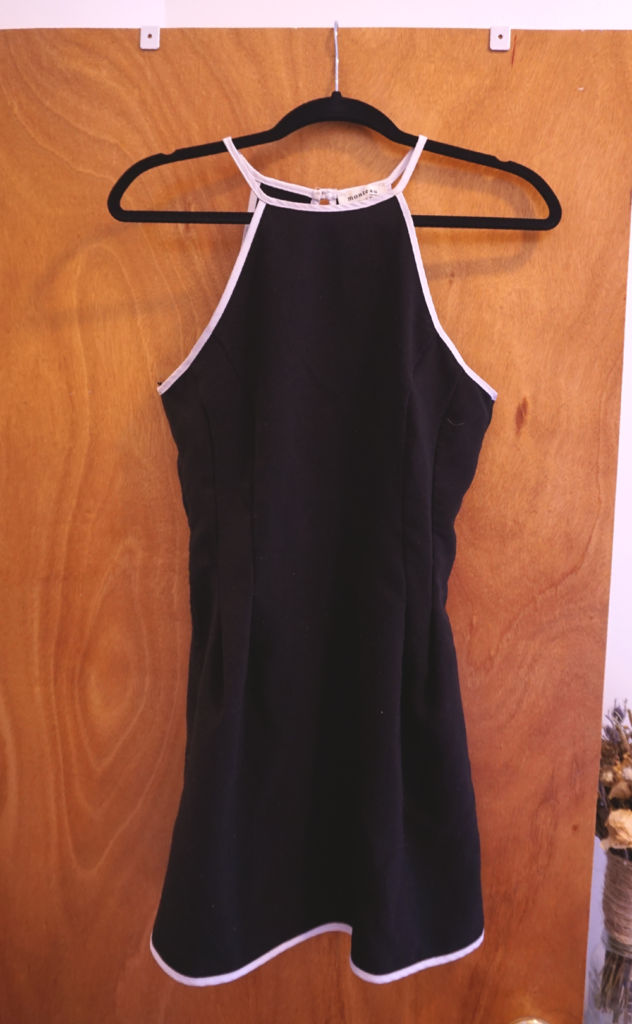 I don't know what I was thinking when I bought this dress, but I thought the neckline and white piping were the definition of #chic. I didn't notice how much it looked like a tennis outfit until someone pointed it out to me and literally asked if I was on my way back from the courts or something. #Yikes. I was stubborn for a little while because I thought it fit nicely, but I'm letting this one go so I can move onto bigger and better things.
My Stevie-Nicks-Wannabe Robe.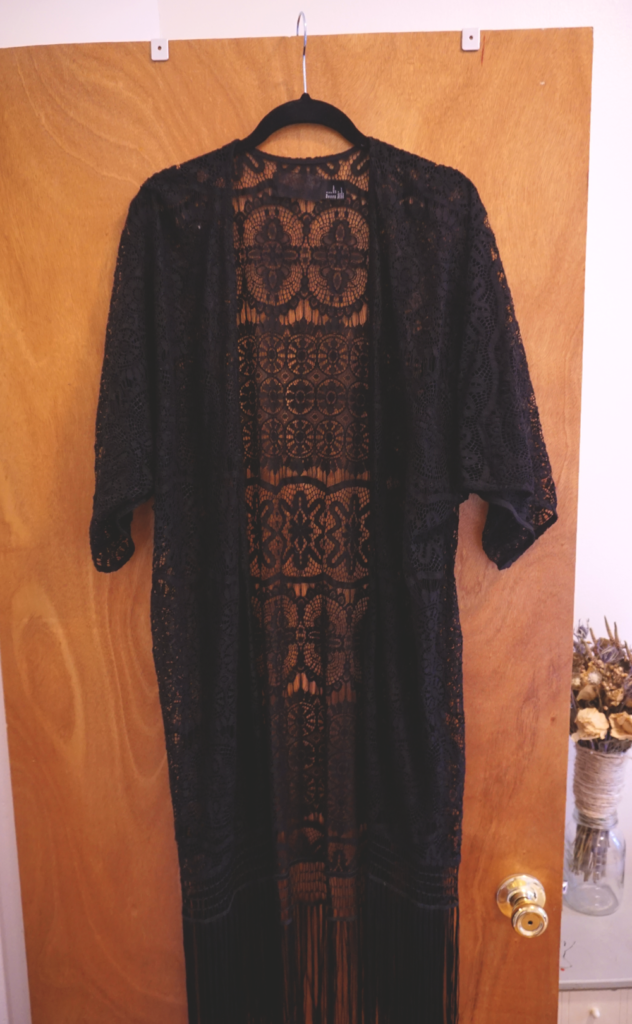 LOL. This all-lace full-length robe cost me $40 at H&M a few years back (bad fast fashion, I know!), after a few drinks out with friends. I was heading on a beach vacation, and I imagined it would look stunning if I slipped it on with my bathing suit, poolside. I, however, have nowhere near enough confidence to pull this look off and never even took it out of my luggage. Fast-forward to two years later, and I've been wearing it inside around the apartment and living out some kind of Stevie-Nicks-wannabe fantasy where I'm in a smoke-filled hip 70s dance club living my best life.
A Patterned, Out-Of-Character "Work" Dress.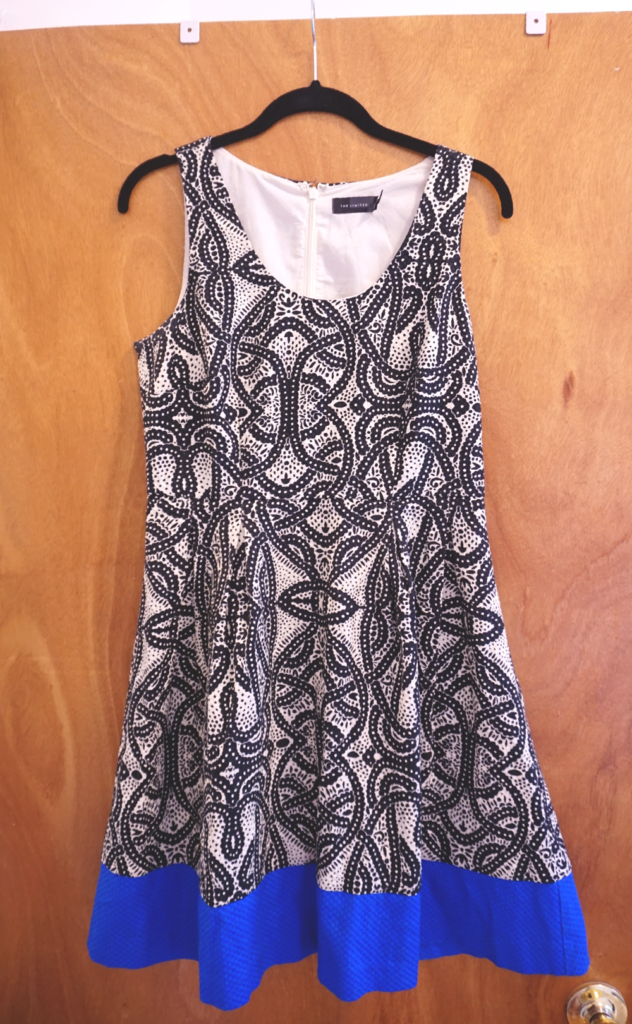 I have a tendency to go shopping with different versions of myself in mind depending on my mood that day. This dress was picked up at secondhand store out in Brooklyn when I must have been imagining myself needing something to wear that was the perfect mix of "I'm a professional, but I'm here to have fun!" The style of the dress matches literally nothing else in my closet, and from the first day I wore it outside of the store I could tell I didn't love the way I looked in it. Good thing I only paid $15 for it.
A Dated-Looking Maxi Dress.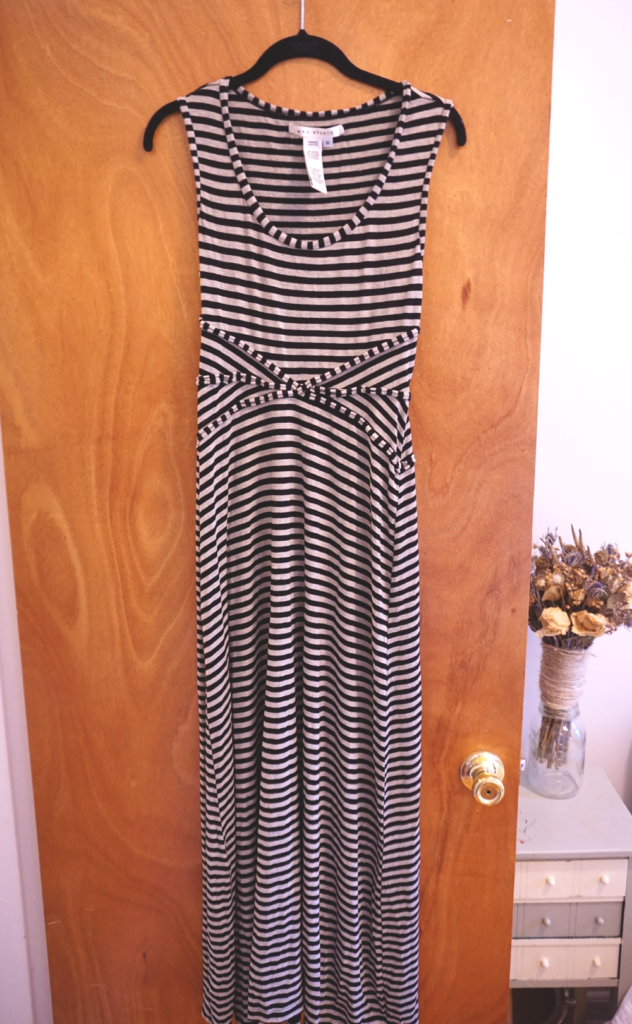 Ah, maxi dresses. They were all the rage a few summers back, and I admit that I bought a few of them even though I didn't love the emphasis they put on my arms. When you're wearing what feels like three yards of fabric draped down to your toes, the only thing left to show is your arms. I love my legs and usually tend to purchase shorter items, but maxi dresses were in style, so I figured "what the hell?!" I've gotten my use out of this and now it's time to move onto clothes that accentuate my best qualities and look more streamlined and adult.
Various 2007-esque Crop Tops.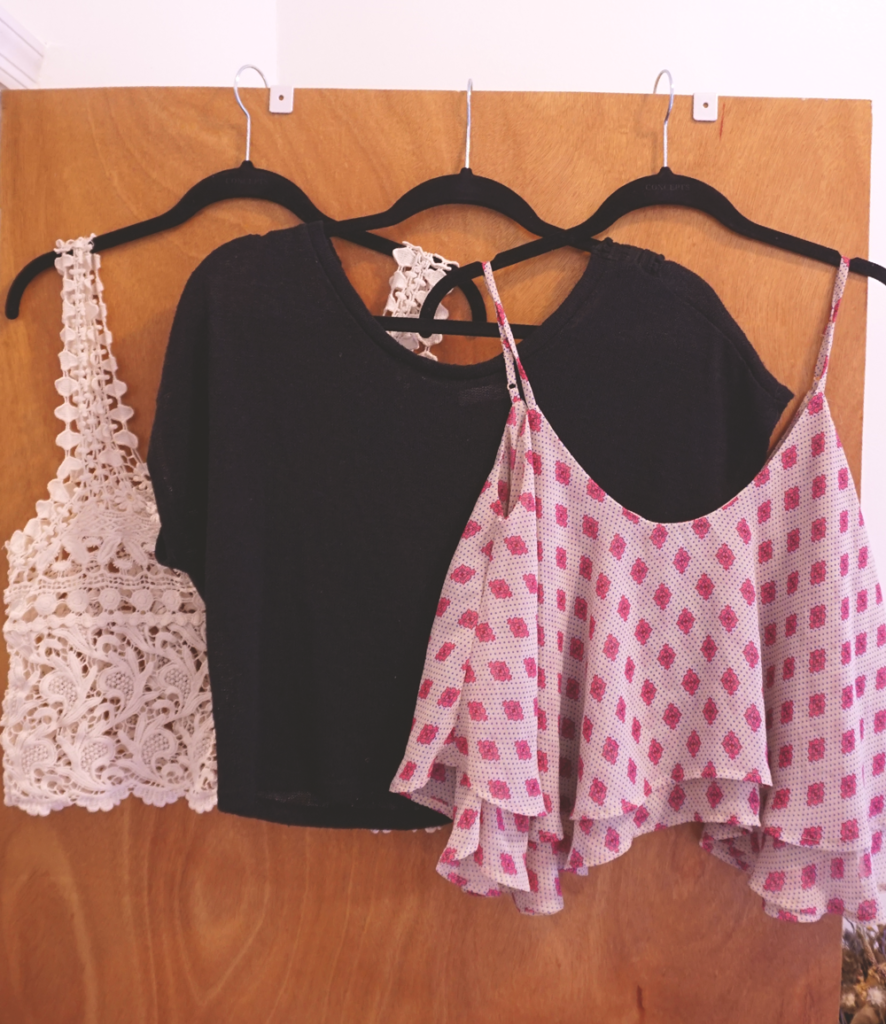 Oh boy. I've never been a fan of flashing my stomach in crop tops, but I couldn't resist buying a few for when I was going on a beach vacation last summer. However, the quality of these are so flimsy that after just a few wears they already looked like crap. From left to right, we've got: a) a threadbare crochet top that got dirty way too easily, b) a black knit crop top that was nearly backless, which made me look boxy as hell, c) a ruffled pink patterned number that was difficult to pair with a bottoms, and made me look like a baby.
A Floral-90s Dress.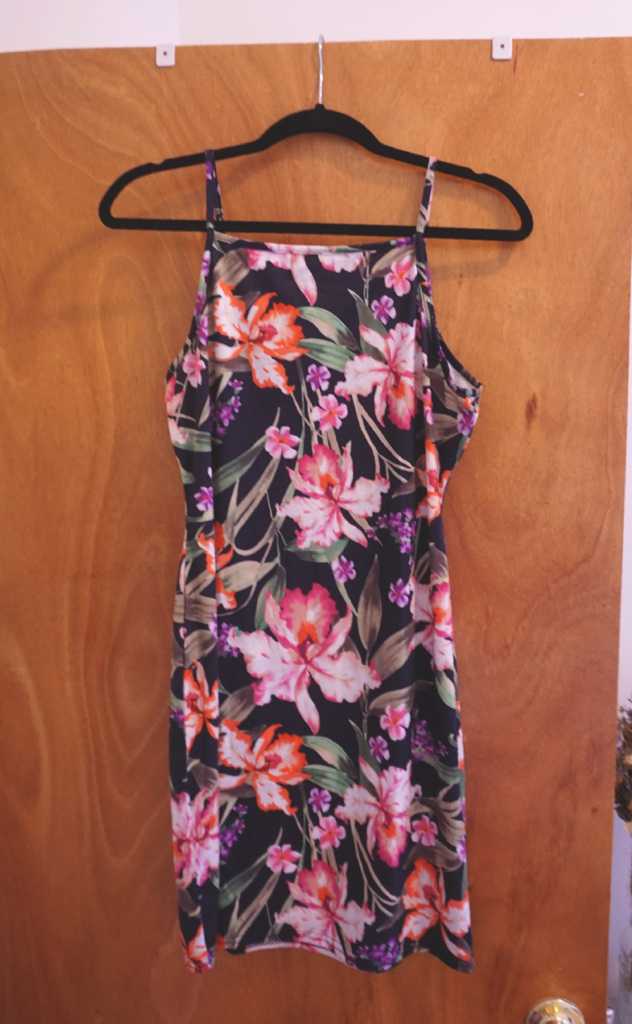 Chelsea and I were going to a '90s themed 30th birthday party, so I picked up this super-short all-floral patterned dress. Part of me told myself that I'd find a way to wear it again, but it's simply got no place in my adult NYC wardrobe (and would only be appropriate with like, silver heels in 1980s Miami beach). So, it got tossed in with all the other items that I knew I'd outgrown and didn't represent the Lauren I want to dress in 2017.
—–
I really wanted to end this post by doing a breakdown of how I sold these clothes to secondhand stores and what I made on each item, but to my surprise and horror, this did not go as planned. This past Sunday, I headed down to the Lower East Side to a ~groovy~ secondhand store to sell the clothes. The line was 15 people deep when I got there, and I noticed that most of the people were leaving with their "sell" bags half full. "Oh my god," I thought as I looked down in horror at my own stuff. Nothing in there was chic, fashionable, or stylish, and I started to get nervous that I was going to embarrass myself. But, I decided to give it a go since I was already so far downtown. The man helping me pulled my lumpy bag toward him, explained the selling rules, and proceeded to rifle through my stuff with a crinkled nose.
He told me they currently weren't buying any summer clothes (which my bag was mostly full of), and that the rest of the stuff was too worn to buy from me. I left with my head down feeling super embarrassed and ashamed for thinking it would be an easy process. I tried two more stores, which again, proved too hip for my sad pile of clothes. I picked myself up and headed back uptown, where I promptly dumped the bags into a Goodwill bin near my apartment and promptly put the ordeal out of my memory. It was an #experience for sure, but one that I'm glad I went through.
In my next post, I'll be cataloging the items I do buy, and I'll explain how each of them work into my wardrobe and what function they'll serve. Stay tuned!
Image via Unsplash