Chelsea's "Take A Break From Takeout" Dan Dan Noodles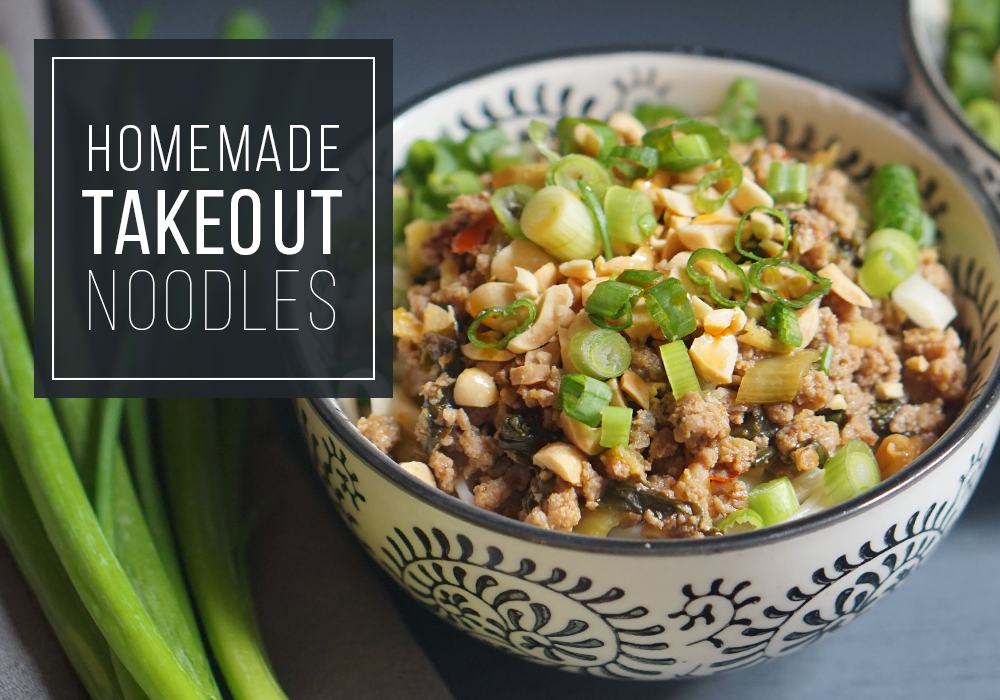 I should say two things off the bat in this recipe: One, and most importantly, this is obviously an Americanized version of dan dan noodles. While I will firmly stand behind them as EXTREMELY DELICIOUS, as the result of two years of tweaking and experimentation on this recipe, I won't try to pass them off as authentic. (As it happens, there are enough variations of "authentic" dan dan noodles that two "real" recipes might have very little to do with one another. But ah well, this is my version of it, and it's delicious and spicy and peanutty, even if it's not authentic.
I also won't pretend that it's literally the easiest recipe ever (though it's pretty damn easy), but I think that the actual process of making it is simple and mindless enough that it's perfect for a random weeknight with a podcast on in the background, when you would otherwise be ordering delivery/takeout. It's one of my go-to meals (aside from my chicken lettuce wraps, which I will soon be sharing, and frozen Trader Joe's dumplings) for when I'm craving takeout but want to do something ~good for myself~. It's not a particularly healthy dish, but it's healthy for the soul, because it gets you cooking!
Also I should say that some of these ingredients — tahini, chili oil, szechuan peppercorn — may not be things you have on hand, but once you get them, a world of new recipes opens up to you. I think all of things are definitely worth getting, and while I'd love to say the recipe would be as good without them, I don't think that's the case. Get the ding-dang peppercorns!
So, without further ado, my highly crave-able dan dan noodle recipe!
Chelsea's Famous (In Her Own Mind) Dan Dan Noodles
Prep Time: 20 Minutes
Cook Time: 30 Minutes
Makes: 4-6 Servings
You will need:
-1 lb ground pork (80/20 lean/fat, ideally)
-5 baby bok choy, roughly chopped and blanched
-2 Tbsp vegetable oil
-5 large cloves garlic, minced
-3 Tbsp fresh ginger, minced
-1/2 tsp sesame oil
-3 Tbsp soy sauce
-1 tsp Szechuan peppercorn, fresh ground
-1 Tbsp tahini
-1 Tbsp chili oil (plus extra for serving)
-1.5 Tbsp brown sugar
-2 Tbsp chili garlic sauce
-3 Tbsp rice wine vinegar
-3 cups low-sodium chicken stock
-Several cracks black pepper
-1 9.5 oz package somen or soba noodles, per your preference
-Roasted peanuts, chopped
-4 large scallions, chopped
To make this awesome dish, simply combine in a mixing bowl your garlic, ginger, sesame oil, soy sauce, peppercorn, tahini, chili oil, brown sugar, chili garlic sauce, and black pepper.
In a pan on medium-high heat, coat your pan with your vegetable oil, and bring to heat. Add your pork and begin cooking it while breaking it up into very small bits, about a minute. Add your sauce mixture, combine thoroughly, and cook well, sautéing it all about 10 minutes or until aromatic and well-browned.
Deglaze your pan with your rice wine vinegar, stirring thoroughly.
Add your chicken stock, reduce the heat to a simmer, and let simmer about 15 minutes, or until it has a rich, soupy texture. Halfway through the simmering, cook your noodles off according to package instructions, drain, and set aside. (But do not rinse them, you want them starchy to adhere well to the sauce! The idea is to cook them off just before you serve the dish, and to always make new noodles for a new serving — the sauce reheats well, but the noodles do not.)
About two minutes from the end of the simmering, add your bok choy and stir well to combine and slightly wilt them. At this point, you can also taste the sauce to see if you want to add something — if you like it a little sweeter or saltier or sesame-er or spicier (I do!) you can add those things here.
To serve, simply put a base of noodles in your bowl to the amount you want, and heap it well with your soupy sauce mixture. It should have the noodle-to-sauce ratio of a good bolognese, with some of that delicious, rich broth falling to the bottom. Top with a few douses of chili oil, and a generous handful of peanuts and scallions. Each person should stir their own bowl up just before eating. (You can also serve it family-style, making the dish in a large serving bowl and mixing it all up with the garnishes at the table in front of everyone. It's up to you!)
Make this dish your own, just like I did, and above all — enjoy!