How To Commit To Cruelty-Free Makeup Without Going Broke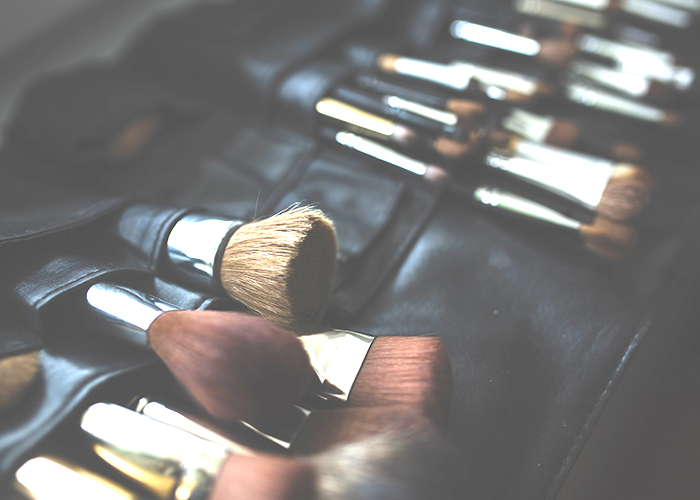 I decided to start looking into cruelty-free makeup around the same time I started wearing makeup regularly — as a junior in college, after landing my first professional internship. Before that, I couldn't be bothered with makeup, but after wearing it on a regular basis, I found that I really enjoyed it. Makeup and skincare became a form of physical self-care, which helped me practice mental self-care, and I enjoyed the pretty things that smelled good.
But I personally couldn't enjoy the routine as much if I knew that the products I used were being tested on animals, so I did some research. At first, I was worried about the cost, but it turns out that there are a ton of drugstore options for cruelty-free products (shout out to Milani, my one true makeup love) in addition to the more expensive options for when you want to splurge. I consult these guides to check which products are cruelty-free.
Note: I am lucky enough to have good skin, so I don't ever wear foundation, concealer, contour, primer, or powder, and I only have a face cleanser and moisturizer for skin care. This leaves me more of my beauty budget to spend on lipstick and nail polish. Nearly every brand mentioned does some form of face makeup, and I've also included some skin care recommendations as well. With that said, here are some of my favorite cruelty-free beauty purchases I've discovered over the years.
Budget Brands:
Milani
Mascara
: $7.99
Blush
: $7.99
Lipstick
: $4.99
Eye shadow
: $6.99
I was so excited when I discovered that Milani was cruelty-free. Their mascara is some of the best I've tried, and they have great lipsticks in a bunch of colors. I think this is the best option for someone used to drugstore makeup and wants a cruelty-free alternative.
E.L.F.
Eyeliner
: $3.00
Eyebrow kit
: $3.00
Lipstick
: $4.00
E.L.F., which stands for Eyes, Lips, Face, is one of the best cruelty-free finds. It has everything, from lipstick to brushes to brow kits, and I don't think I've seen anything above $6 in the drug store.
Wet N Wild
Lipstick
: $1.99
Eyeliner: $0.99
Wet N Wild is a great brand if I want to try a funky lipstick color and pay maybe $2 to use it once and then let it collect dust until the end of time, because let's be serious, I cannot pull off purple lipstick.
Real Techniques
Blush brush
: $9.00
Eyeshadow brush
: $8.00
It is especially important to find cruelty-free brushes, since many brushes use real hair instead of synthetic hair for the brush tips. These are metallic and funky.
Barry M. [UK and Ireland only]
Nail polish: £3.99
Lip crayon: £4.99
I am so mad that I can't get this in America because the nail polishes are THE BEST. They have so many colors and formulations, and their speedy dry polishes are a lifesaver. Come to the U.S. soon please! In the meantime, I'm making my sister, who lives in Wales, bring home the whole collection for me for Christmas.
Pacifica
Perfume
: $11.00
They are cruelty-free and vegan, which means there are no animal products at all in any of their products, which is amazing. Plus, the packaging is beautiful.
NYX*
Matte lip cream: $6.00
Lip-gloss: $5.00
So, NYX itself is cruelty-free, but a company that tests on animals owns it, which for some people means it is not cruelty-free. These things are complicated, and I am not advocating for absolutes in either direction, so I am happy to still shop with NYX, especially because they have the best budget liquid lipstick I have found yet.
Burt's Bees*
Lip balm
: $6.00 for 2
One of my can't-live-without products.
Bigger Splurges:
LUSH
Bath bomb: $6.95
Facial cleanser: $18.95
Hair mask: $25.95
Lipstick: $19.95
Powder toothpaste: $9.95
Lip balm: $9.95
LUSH actively campaigns against animal testing — their bags even have "fighting animal testing" written on the side. Their products are definitely more expensive than the others on this list, but they attempt to pay their workers a living wage, which I think justifies the price increase. The bath bombs are so relaxing (and occasionally leave you covered in glitter, which is a plus for me), and the powder toothpaste is weird as anything, but I swear is helping whiten my teeth.
Bulldog
Face lotion
: $13.99
Yes, this is a men's skincare brand, but their face lotion is amazing, the bottle has green accents that match my bathroom, and down with gendered branding, anyway!
Butter London
Nail polish
: $15.00
I have one Butter London nail polish that I really love — a posh purple color that I got from Bigelow Pharmacy in New York (a lovely old fashioned drug store).
Pixi
All-in-one face blush, highlight, bronzer, eye shadow kit: $34.00
Lip balm: $8.00
Pixi also does a lot of skincare, and I haven't had the chance to try it out yet, but I know people who swear by the Glow Tonic. They also have a "Last Chance" section on their website, and I got the all-in-one kit for half off — my best beauty score to date.
Two Faced
Eye shadow palette: $36.00
I did a ton of research before buying this because it was so expensive, but I use it literally every day, and I love it.
Tarte*
Mascara: $21.00
This mascara comes in packaging that makes me feel like a movie star, so for me it's worth the expense. There's also a good waterproof option.
* Parent company tests on animals
Other popular cruelty-free brands (which I haven't tried yet!) include Charlotte Tilbury, Kiss My Face, Becca, Drybar, Kat Von D, Urban Decay, NARS, Hourglass, Trader Joe's brand, and Kylie Cosmetics.
If you are interested in going cruelty-free, I would recommend starting slowly. Don't throw out your current products and waste the money you spent, but rather replace them with cruelty-free alternatives when you've used them up. And when you go on your next shopping trip, consult the guides I linked above to see which products are cruelty-free and which ones aren't.
There are a few blog posts with good dupes for non cruelty-free makeup favorites, and lots of YouTube videos with people talking about their experiences. As with any makeup, there are luxury brands and affordable brands, but there is something for everyone. It is not the niche market I thought it was, but is a totally doable change. And it makes a makeover or spa night so much more satisfying, knowing that nothing had to suffer for your self-care.
Lauren is a law student in a big city. When she's not reading casebooks, she's reading novels and dreaming of rural Ireland and/or outer space.
Image via Pexels