The Easiest Way To Update Your Wardrobe With Just 6 Items Or Less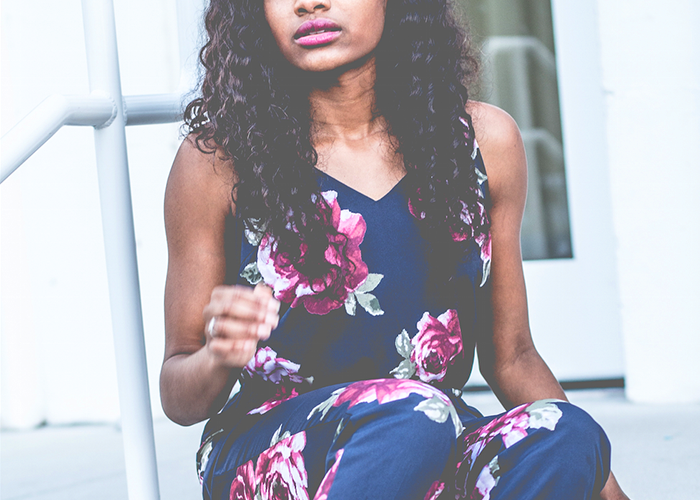 Spring definitely isn't here. Like, at all. But it is very important to me to look to the future, rather than sink further into this cold, wintery depression.
So I'm going to talk about my favorite thing: clothes.
Specifically, warm-weather clothes.
I am one of those people who is not into ~fall fashion~ at all. Fuck an infinity scarf. Don't bring a turtleneck near me. It all represents the time of year I detest.
I believe that my ~spring and summer look~ is far superior to my fall and winter one, so I get insanely happy every April when I get to start dusting off my old sundresses and prepping them for wear.
And if you live somewhere cold, and you've been living in tall boots, fleece-lined leggings, and cozy sweaters like me, you might be a little desperate for a change. I get so amped every time the shops begin transitioning to spring clothing that I'm tempted to blow all of my cash on a ridiculous amount of flow-y blouses and floral-print anything. But not this year, for I am armed with the power of TFD.
I may want to update my wardrobe with some transitional, spring-y pieces (especially since I tossed a lot of my stuff when I moved last month), but I definitely don't want to go overboard for two reasons: 1) I have to pinch pennies in a major way, and 2) I simply don't have space for too much junk here.
So, I've come up with a master list of how you can easily and seamlessly update your spring wardrobe in just six clothing items or less. If you've got the budget, go crazy — get them all. If not, adding just one of these might give you the refreshing warm-weather (soon!!!) update you crave.
1. A fresh pair of flats.
The number one thing that signals "spring is coming" to me is swapping boots for flats. It obviously isn't going to be sandals weather any time soon, but on those still-chilly-but-just­-warm-enough days where you don't feel like you need to cover every sliver of skin on your body, swap the chunky boots for a pair of (closed-toe) flats.Classic ballet flats
are an obvious staple, but I've also been loving this updated lace-up pair
with a pair of subtly-printed straight-leg pants and a slouchy knit.
2. Cropped skinny denim.
An evergreen spring-trend is wearing slightly-cropped
pants. This bodes well for all of us on a budget, because it might be as simple (and cheap) as taking a pair of scissors and trimming in inch or so from the bottom of your least-worn skinnies to refresh them and make them feel new. Wear these with the aforementioned flats, and something a little cozier on top (because, you know, it is still going to be winter for at least another few weeks).
3. Floor-length cardigan.
I have a ton of slouchy, warm cardigans
that I only break out in the springtime, because they're not quite warm enough to wear on the actually-freezing days when I need the warmth of my clothing to cover my entire torso, but they're still super cozy when it is chilly, and look really cool over a tank or tee shirt with a pair of cuffed jeans or joggers. Opt for one in a fabric that is a bit more lightweight, or in a happy, spring-y color like light pink.
4. A gray faux-leather jacket.
If a black leather (or faux-leather) jacket is the ultimate fall wardrobe staple, a powder-gray one
is definitely its spring-weather equivalent. I love my black moto jacket as much as the next girl, but sometimes it feels too harsh and dark against the softer palette of my spring wardrobe. After purchasing this lighter colored one, I quickly realized that I gravitate towards this one before the black one with almost every outfit. It looks edgy but still pretty and in-place with delicate sundresses
, and looks cool and unexpected with jeans and a tee. This is one of the best purchases I ever made for my wardrobe a few springs ago, and it always resurfaces as the weather gets warm.
5. A jumpsuit.
If you're into being sundress-chic like me, but your chilled little legs can't quite handle it yet, consider a jumpsuit
. They are weird to get used to — you may feel like a chubby infant the first time you wear it, and you'll basically never get used to getting completely naked to pee in a public restroom. But they are as simple and breezy and throwing on your favorite dress, with a little added warmth and coverage in the leg area. (Also, they look ultra-chic with any cute lightweight sweater or jacket and ankle boots
.)
6. A sleek, sophisticated belt.
If you only have to choose one thing from this list to update your entire wardrobe, I suggest a classic, no-frills black leather belt
with a sleek, simple buckle. This is basically necessary year-round, but I particularly love belts in early spring. They update your jeans-and-sweater look if you tuck in your shirt to show off the buckle, and look super-cool and edgy tied around the waist of your pretty, girly sundress. Pro-tip: put your long cardigan on over a sundress, and buckle the belt around both layers. If you're feeling crazy, let a scarf hang down your body, and buckle the belt around the scarf too. Sound weird, but looks chic-as-hell every time.
Mary writes every day for TFD, and tweets every day for her own personal fulfillment. Talk to her about money and life at mary@thefinancialdiet.com!
Image via Unsplash