Every Thought I Had While Wearing A "Bargain" Wedding Dress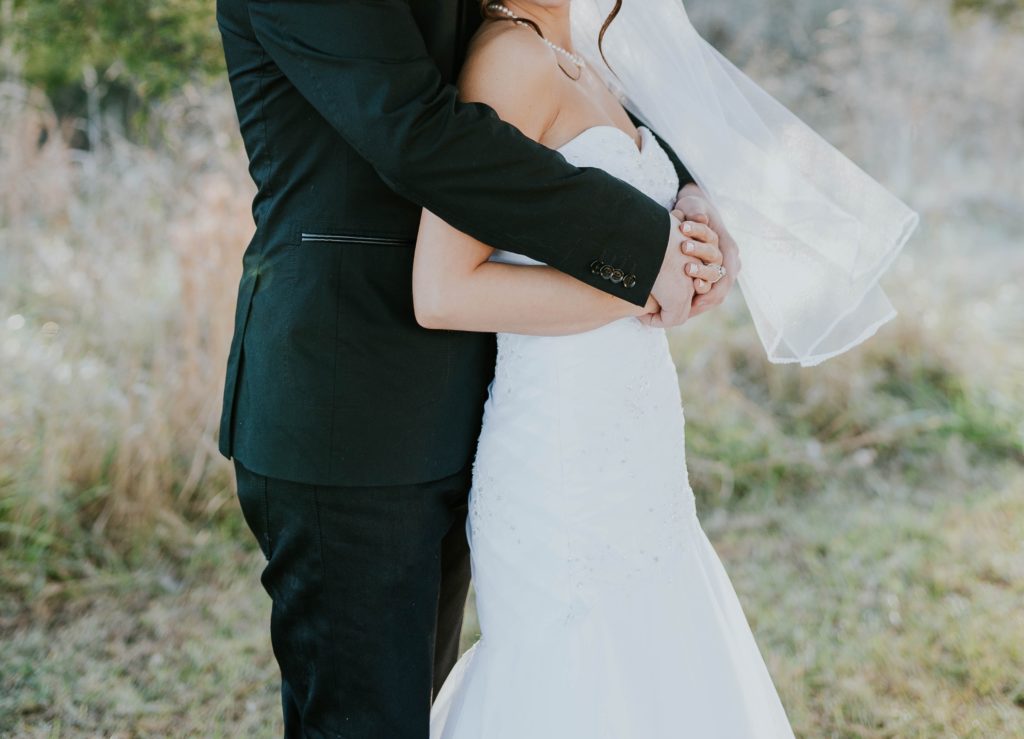 I wore a $300 dress on the day of my wedding. I hadn't planned it that way. My original budget was $1,500 total, even though it would have been a stretch. My mom had offered to pay for part of it, but I knew she didn't have an extra $1,500 lying around. So I was planning to cover most of it myself. Even though I didn't have $1,500 lying around, either.
But I figured, hey, it's my big day. Once in a lifetime. My fiancé and I could make it work — it was important to get the wedding we wanted. And I had heard that the dress was a big part of having a perfect wedding.
Wedding dresses often make up a large portion of the overall budget. According to The Knot, the average dress costs $1,631, including alterations. So how did I end up choosing a $300 dress? And how did I feel wearing it?
The David's Bridal Experience
"Look at this one," I said to my mom about 20 seconds after we walked into David's Bridal. She had flown in to D.C. from Indiana the day before for this special occasion. I pulled out the simple white strapless dress hanging next to the door.
"Oh, that one is nice," my mom said. 
"It has little dots on it." I ran my hand over the spots sewn into the delicate tulle fabric. The dress felt familiar. My mom said she thought the fabric was called Swiss dot.
"I'm definitely trying this one," I said as I pulled it from the rack.
My mom and I had come to David's Bridal just to try on different styles. The store had a wide selection — I could try on a mermaid gown, an A-line dress, and a ball gown in the same trip. But I had no intention of purchasing a dress from the store. The saleswoman helped me put the dotted dress on, and I walked out. I saw the train trailing behind me from the wall of mirrors. "Wow," my mom said. "That's beautiful." I looked at myself and smiled. 
I tried on several other dresses, but my mom and I both liked the dotted one. So I put it back on. The saleswoman grabbed a slip to put underneath to give it more poof. Once we added the slip and a veil, my eyes teared up. But this couldn't be my dress. We had an appointment the next day at a boutique shop in Annapolis, and I felt certain that I would like the more expensive dresses better. They would be more comfortable, softer somehow. Better.
We left David's Bridal and went to lunch at Potbelly next door.
The Decision to Buy
As my mom and I were chewing on our sandwiches, we talked about the dress. The saleswoman had informed us that it was on sale. If we bought it today, it would cost $299. But tomorrow it would be $399. I thought she might be bluffing, but I ignored that instinct. 
My mom and I loved a good sale — she had raised me to use coupons and keep an eye out for bargains. We talked about how pretty the dress was. I said I felt really comfortable in it, and that it was very much my style, since I had wanted something light and classic. No sparkle, as I had specified.
"Maybe we should just get it," I said as I sipped on some water. My mom's eyes lit up. The saleswoman had said that we could return it for store credit if we decided against it, and it was such a good deal that I was sure I'd be able to find a veil or something else that I could use the credit towards if necessary. I felt a thrill in my chest as we entered David's Bridal again. The same woman saw us and grinned as we told her we wanted the dress. I ordered the "off-white" color because the fabric called "white" had a blue tint to it. That's what happens with cheaper fabric, and the off-white was lovely. 
It would ship in two weeks. My wedding was still eight months away.
The Visit to the Fancy Boutique Store
The next day, we arrived at the boutique store. My mother-in-law had joined us. It was a gorgeous store — their gown selections lined two walls with high ceilings, ornate mirrors in the corners. The shop only took one appointment at a time, so we had the entire place to ourselves. 
I told the saleswoman that my budget was $1,500 max, and I wanted that to include alterations. She said that they had a few for $1,500, but that was their lower end. They helped me pull two dresses for $1,700 and $1,800. Inside, I panicked a bit. I hadn't realized that they would consider the number I gave them an estimate. I picked out 5 dresses, all more ornate than the one we had already ordered. It felt like we had a dirty secret — we had already bought a dress. And from David's Bridal no less, the opposite of this high-end store. My mom and mother-in-law sat on the couches as I got undressed and went to try on the first dress. 
As soon as I pulled the first one over my hips, a realization hit me: I didn't need to be there. I already had my dress. None of these were going to work for me. Honestly, it was a huge relief.
I decided to just have fun.
I tried on all the dresses, and was surprised that they were not any more comfortable. They weren't softer. In fact, several of them had beading that rubbed the undersides of my arms. The only one that was even close to something I would want was a flowing blush A-line that I said looked like a princess gown. My mother-in-law watched and gave her input while my mom flipped through a magazine. She glanced up at each of the dresses and shrugged.
I got undressed, feeling confident in my decision. I wanted the David's Bridal dress. When I sat down, I said quietly, so the saleswomen wouldn't overhear, "I'll be honest. I like the David's Bridal one the best." Shock spread over my mom's face. 
"Really?" she said. "I thought you were going to say you wanted that pink one."
I glanced over my shoulder to make sure the saleswoman hadn't come back. "Nope," I said. "That David's Bridal one was way more comfortable than these."
So we left, empty-handed and happy.
The Lead-Up to the Wedding
For several weeks after deciding to go with the affordable dress, I scoured the Internet for proof that other brides had worn my dress and looked good in it. I found reviews that detailed the small alterations that made the dress look nicer — and more expensive — and jotted down a list:
Change out the zipper for an invisible one, or add buttons

Use a slip underneath for added oomph (and to hide the fact that the fabric was see-through)

Finish the end of the tulle layer with a seam, so it's not a raw edge

Add a bustle to keep up the train
My anxiety died down after a couple of weeks, although I did reconsider the dress several times during those eight months. I wasn't quite sure how I would feel on the day. I thought I may have made a mistake. Maybe my gut had lead me wrong. What if I put on the dress the day of the wedding and realize it looks horrible? It would be too late. Trying it on at home helped ease the worry, but it cropped back up several times during the planning process.
In the end, I spent $450 on alterations. They cost more than the dress itself. And after buying shoes and accessories, I spent around $900 total. I was surprised how quickly it added up. I came in under budget, but not as far under as I expected.
The Big Day
In the middle of the blur of the wedding day, I went to put on my wedding dress. There it was hanging in the changing room of the bridal suite we had rented — simple and beautiful. I quickly unzipped it and stepped in. Once I was in the dress, it felt like a bodysuit.
My bridesmaids teared up when I came out — one of those sold life moments that you remember forever. I felt strong. Gorgeous. When a close friend came in the room, she said, "Now that is a great dress." My confidence soared for the rest of the day. 
The dress was perfect. I felt wholly myself all day. Comfortable and timeless and beautiful. Just me.
At the end of the night, when I unzipped my gown, I noticed how blackened the bottom of the dress had become from walking around in it all day. For a second, it felt like a shame, and I imagined that I would feel much worse if the dress had cost an entire paycheck. But then I realized that the dress had done its duty — it had clothed me while I married the man of my dreams. It filled me with courage to take the big leap. And it didn't force us to go over budget. 
The gown could be cleaned, but at the same time, if I didn't get around to cleaning it for a year, that would be fine, too. 
My ideal wedding dress didn't need to cost $1,500, especially before alterations. A dress for $300 was exactly the right one for me.
Tiffany Verbeck is a freelance writer and storyteller who helps small businesses and entrepreneurs tell their brand story. She runs a professional blog on personal finance at www.tiffanyverbeck.com and a personal blog on growing up in Indiana called Midwestern Transplant. She can be found on Twitter at @tiffanyverbeck.
Image via Unsplash
Like this story? Follow The Financial Diet on Facebook, Instagram, and Twitter for daily tips and inspiration, and sign up for our email newsletter here.