Exactly What It Cost Me To Become A Certified Yoga Teacher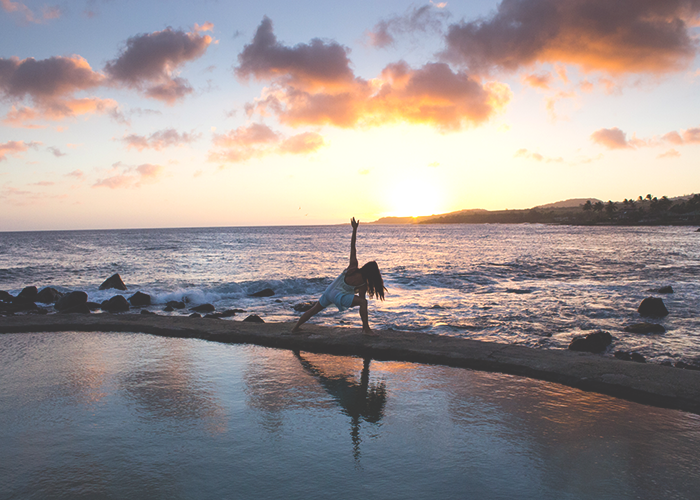 I'm using the term "yoga teacher" lightly here, because as you know if you've read anything I've written here before, I'm not currently teaching any yoga — I write and I watch children, and I'm blissfully happy with that money-making setup at the moment. However, I am technically ~certified~ to teach yoga, and could very well find myself pursuing it as a career one day in the future.
A little background: In 2014, after deciding to take some time off from school, I completed a 200-hour teacher training program at a Yoga Alliance registered studio. (Technically, you don't need to have attended one to teach yoga — but more on that later.)
I did yoga every day in my bedroom by myself, but had never taken a studio class until the day I registered for training. Yoga was never something I was into for terribly spiritual reasons, or with the intention of turning it into my career. To be honest, I was just a confused 19-year-old who was having trouble making good friends at school, so I took up yoga (learning via YouTube videos and books from my university library) as a reason to stay in on a Friday night instead of going out and smoking the devil's lettuce with a bunch of 19-year-old hooligans.
I've talked about my experience once or twice on TFD, but never really touched on the money side of it — mostly because there weren't a ton of ridiculous expenses involved with it, besides the fee for the training course itself. But I've been asked a decent amount of times to talk a little more about the financial side of completing this program, and whether or not it was worth it.
So, for your reading pleasure, I've broken down every single expense that was related to the program, just to give you an idea of what it all added up to:
Training Course Registration Fee: Nearly $3,000. A pretty penny for sure, but actually on the way-cheap end from the research I've done on other training programs.
Mat
/various yoga props: $30 total. It was suggested that we have a mat and any props we might need (block
, strap
, blanket
, etc.), although all of the above were offered at the studio for fee, and I actually didn't end up buying anything except mats. I got one to keep in my car specifically for use in the studio (I'm a bit of a germaphobe and wouldn't want to bring a mat into my house that was on the floor of a studio), and one to keep on the floor of my bedroom for daily practice. Quality yoga mats can range from $30-120, but I'm not a quality yogi, so I got both of mine at Marshall's for less than $15 each.
Clothes/gear: Less than $100. It should be noted that I was much younger than everyone else in the class, and therefore didn't have quite the disposable income that my peers had. Living on a college-kid budget meant not buying shit at Lululemon, and definitely not boasting a huge collection of yoga gear. I had about five assorted $1.90 camis from Forever 21, two pairs of leggings from Kohl's, and one from American Apparel (RIP) — each costing about $25. I also had three sports bras on rotation from Fabletics (which I love, but have never actually ordered online — it is sold in cardboard boxes at a discount warehouse that opens one weekend a month near my house).
Gas/parking: $20-ish for parking. The studio was about 25 minutes from where I lived at the time, and I drove there three days a week. I honestly don't know how much that cost in gas, but it wasn't very much. I had to get my parking validated when I left the studio, but I would often forget, so that added up — I did it enough times that I probably ended up paying about $20 for parking over the course of the program. That one is totally on me. If you do a YTT program, this probably won't happen to you.
Food/other social things: Probably $50 total. In an attempt to bond, many of the students would go out for lunch on our breaks or go for drinks or dinner after class in the evening. I truly didn't have the money to do this, and when I felt the FOMO and gave in, I would spend the whole night regretting the fact that I spent $4 on an organic coffee at a cafe that didn't even have regular milk (who tf only has coconut milk and almond milk at their coffee shop?). They did have damn good coffee, though, even if I had to drink it black. I also bought lunch a few times, but would usually walk down the street to the cheaper cafe by myself instead of going to the pricey one next door with everyone else. More often than not, I packed a brown bag and ate it in my car while talking on the phone to my best friend about how much I didn't fit in. Weh! Being 19 is hard!
So, that's the full financial breakdown of my yoga teacher training.
Do I regret it? Hell no. Although I'm not actually teaching yoga, the training program provided me with the tools to teach (should I ever have the desire to), as well as the skills necessary to comfortably carry out a yoga practice by myself without ever stepping in a studio again. As a person who is quite introverted by choice, I often much prefer to do the things that I enjoy in the privacy of my own home, and truly cherish solo time. Going to a studio to do yoga surrounded by a bunch of other people doing yoga is fun sometimes, but it isn't really something that is for me. I'm grateful that my teacher training program taught me so much about anatomy, history, poses, and proper alignment that I feel comfortable and safe practicing yoga entirely on my own every single day. (Bonus: I don't have to pay $150/month to stretch in a studio.)
Would I recommend it? Maybe not. If you want to build a strong foundation in yoga for your own personal practice, or if you have interest in teaching and don't feel like you comfortably could, then I would definitely recommend doing a teacher training course. You'll learn a lot, and you can use the knowledge however you choose, whether that be going on and becoming an instructor in a studio, starting a business and teaching private lessons on your own, going on for more advanced training in more specific areas like prenatal or children's yoga, or doing like me and making it a part of your everyday life while not necessarily profiting off of it.
If you have been doing yoga for a long time, have an arsenal of poses that you deeply understand, and have a solid enough foundation of how yoga poses work anatomically and feel safe doing yoga, it might not be necessary — even if you have the desire to teach. There is a lot of reading that can simply be found on the internet or in a bookstore that will teach you a lot of the important things you learn in a training program, like anatomy and sequencing. Legally speaking, you don't need to have completed a teacher training program to teach yoga. A lot of studios won't hire you if you don't, but some will — and if you plan to teach privately or start your own business, all you really need is a few people who trust you when you say you know what you're doing, and your business and career will grow through word of mouth.
I'm personally so happy I did complete the training — yoga is still something that makes me very happy, and something that is a part of my life every single day. It was definitely something that I set on the back burner while I finished school and pursued other passions of mine, but it is something I plan to continue working with in some capacity as I move on. Financially speaking, it wasn't a great investment, since I haven't made a bunch of money from it — but it was definitely worthwhile.
Mary writes every day for TFD, and tweets every day for her own personal fulfillment. Talk to her about money and life at mary@thefinancialdiet.com!
Image via Unsplash