Exactly How I'm Taking A 6-Day Trip To Berlin For $1,200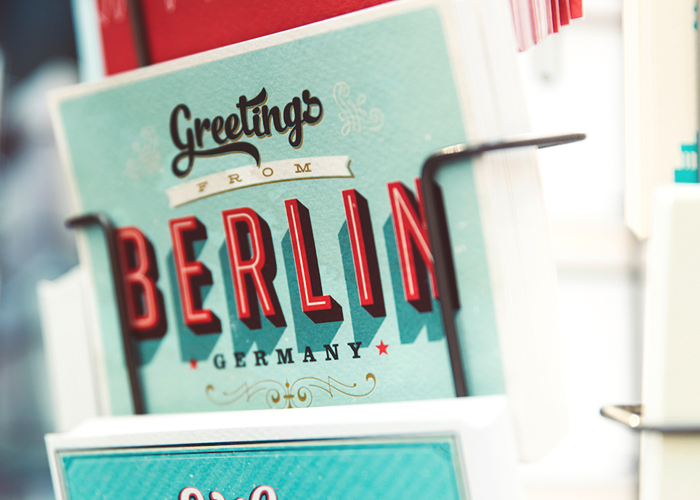 This May, my boyfriend, Peter, and I have planned a six-day, five-night trip to Berlin. It all came about four or five months ago, when Peter woke up one morning and said, "We should take a trip to Europe." He didn't mean we should drop everything and go right then and there — thank god — but that we should seriously start planning a trip. I said, "Yes, absolutely, but I have to start budgeting for it."
After reading about a few different places, we settled on Berlin. Peter has always wanted to visit Germany after taking German classes in high school, and I was pretty insistent on visiting just one city rather than trying to cram too much into six days. It also had cheap flights, and some really good-looking Airbnb options, so we decided it would be a good place for a budget trip. We still weren't planning to buy tickets for a while, because I was assuming I'd have to spend between $600-800 for the flight, and I'd obviously need to save that up. But Peter noticed that tickets for May were getting very cheap — like, half-our-intended-budget cheap — and he ended up buying them a week-ish later (after we both discussed it, of course).
I'm very excited, because even though I've gone on a few self-funded trips as an ~adult~, this will be my first time going to Europe paying for it entirely on my own. It's also my first trip to Germany, and Peter's first-ever time in Europe, and I think it's very cool and special that I get to share that with him. Plus, we both love German food and beer, and walking, and I think this will be the perfect place for all of those things.
Full disclosure: Peter paid for everything up front, and I paid him back in chunks over the following few months. I realize this made it a lot easier for me, because if we both needed to have the money ready at the time of purchase, we would have had to put the trip off until likely August or September. I know this wouldn't be an option for everyone. However, what I'm finding through the internet (and a lot of articles here on TFD) is that this kind of budget travel isn't remarkable. All it takes is a little bit of research, and a lot of planning and impulse-resisting. (I.e. don't randomly decide to buy the first ticket to Europe you come across after coming home from a shitty day of work, especially if you don't already have a travel fund saved up.) So, while I wouldn't have been able to take this trip so soon if Peter wasn't the one I was going with, I would still be able to take it eventually.
We are still working out our plans, but so far, we've bought plane tickets and transportation passes, and booked our Airbnb, and all of that came out to $656.37 per person. Here's a breakdown:
1. Airfare: $399.94
We booked our flights through WOW Air, a budget travel airline based in Iceland. Two tickets were just under $800 — the price I'd originally thought I'd have to pay for one. (Yay!) The catch is that the airline technically only flies to and from Iceland via North America and Europe, so we do have a short layover in Keflavik for about an hour in each direction. A friend of ours was going to Iceland via WOW around the time we were booking our tickets, and he was pretty positive about his experience. The price we paid included all applicable the fees, like picking our seats and baggage fees. A lot of people really hate having layovers, and I get that, but it was more important to us to save a little money on this trip (even though I know the risks of flying with a budget airline). We may decide the layover wasn't worth it, when we could have spent $100 each or so more to fly direct on a different airline, but we'll have to wait and see!
2. Airbnb: $195
Our Airbnb, a large studio near Richardplatz, came out to $78 for five nights, so $390 total (including fees). Frankly, we didn't research the area a ton — we wanted somewhere near public transportation, and to keep it roughly to under $50 per night per person. We asked a couple of friends who've been to Berlin about the area, and they all had good things to say. I'm particularly excited that we'll be close to this "hidden" village.
3. Transportation: $61.43 
We did a little research on the public transportation options, and decided to each get a Berlin WelcomeCard. This six-day passes were each 42 €, which at the time came out to $61.43 per person. That will cover unlimited public transportation for each day we're there, plus a 25-50% discount on a lot of attractions in the area. My plan is for us to avoid having to take taxis at all costs, especially because this option is already paid for.
4. Other expenses: ~$550, aka TBD
I'm so far hoping to limit my spending to around $90 per day, so that the trip comes to about $1,200 total. I do know that a lot of places in Berlin are cash-only, and having only a set amount of cash with me when I go out certainly helps curb my spending. I could be more stringent with my food and activities budget, but truthfully, I wanted to keep our flight and lodging costs low so that we could have more wiggle room for spending on fun while we're there. Knowing Peter and me, I anticipate most of our budget going to food. I'd much rather plan out a few fun/nice restaurants to go to than limit ourselves so much that we can't eat out at all. We can certainly make do with a few groceries for breakfast, and then will be able to treat ourselves for dinners.
Otherwise, we are planning to do some paid activities, like visiting Charlottenburg Palace with our WelcomeCard discount, and this bike tour a friend recommended. (Although, the last time Peter and I went biking while on a weekend trip to Hudson, I may or may not have ridden my bike right into a tree. So we'll see.) We've been contemplating taking a day trip elsewhere, and we still might — though it seems like there's so much to do in Berlin itself, we'd rather just take in all that we can while there. If we do take a daytrip, it will likely be somewhere close by, like Potsdam. I also personally prefer not to plan too much, just in case we change our minds when we get there. And when it comes to shopping, I am much better at avoiding spending mindlessly on souvenirs than I was when I was younger — though I will definitely be keeping my eye out for interesting postcards, and maybe fun print for my wall.
I will, of course, be writing a breakdown of what I actually end up spending, so stay tuned!
Holly is the Managing Editor of The Financial Diet. Follow her on Twitter here, or send her your ideas at holly@thefinancialdiet.com!
Image via Unsplash