Exactly What I Spend On Beauty Every Month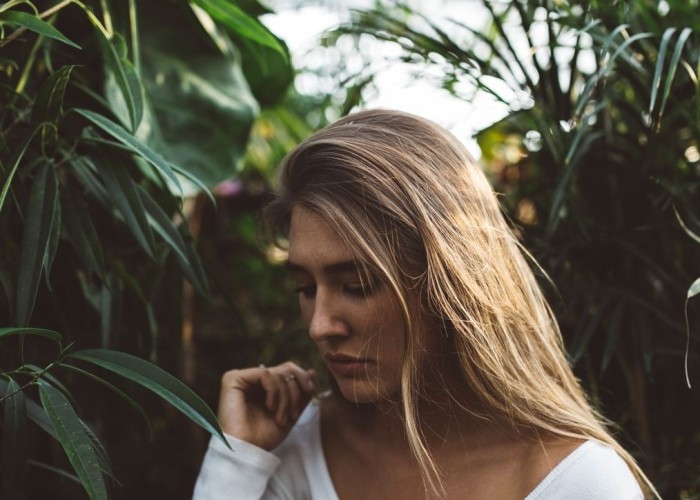 Though I wear makeup almost every day, I got into beauty relatively late in the game. Sure, I had the years of being an overeager teenager, so self-conscious that I never left the house without pancake makeup that was a few shades too dark, but I grew really tired of that constant application process and stopped wearing it altogether. Most of my photos from ages 16-22 feature a bare-faced kid, and that was perfectly fine. But I began applying makeup when I started working full-time in an office, and slowly, I worked it up to a pretty solid routine that takes me almost no time to do, and rarely fails me.
All that product isn't cheap, though, and as I learned, beauty is so much more than what you put on your face. (Hell, it's so much more than just your face, but that's an existential pep talk for another day.) I work for a fashion site that also houses a pretty amazing beauty closet, and I'm lucky enough that they let me play with a few of the products we test out, but most of my product hunt has been done through trial and error and my own hard-earned money (pro-tip: Sephora's return policy is the greatest thing ever). Here's what I spend, on average, every month.
1. Gym membership: $205
Did you wince upon reading that? Yeah, I did, too. But we're being absolutely and completely honest here, and so we might as well get the worst one out of the way first. Now, I know that there are cheaper gyms out there, and by no means am I suggesting that a more expensive gym is going to get you better results. But for what I pay for, it winds up being cheaper than other options. (Trust me, I tried belonging to one of the $20-a-month chains, and I never went. In some ways, that gym was a bigger waste of money than my current membership.)
I take about 5 spin classes a week, and those alone would run me $30-35 each at boutique studios — that would be $175 a week without my membership. No thanks. On top of that, I typically hit the gym for 3 more strength training sessions and two more cardio sessions (I just really like to work out). I'm at the gym A LOT, so it's imperative that I like the environment and have a lot of locations to go to, so I can get my workout in whenever I can.
And beyond that, my gym offers shampoo, conditioner, body wash, and lotion in the locker rooms. (It's Kiehl's, too, which isn't cheap.) There's deodorant, razors, tampons, towels blowdryers, you name it. I don't have to bring a n y t h i n g, and that is deeply glorious. Because I usually shower at the gym, I save a lot of money on shampoo — I think I bought my most recent bottle four months ago, and it's still sitting in my shower, half-full — and while that isn't the main reason most people join a gym, it doesn't hurt.
2. Foundation: $23
My skin isn't that bad, but the complexion is a little uneven, so I like having something on my face as a base, and this is my favorite formula. I typically go through a tube of this stuff a month. If Sephora wanted to charge me every month to just send it to me, I'd be fine with it. I like a relatively matte face, so this is basically just my skin in a tube, no powder required.
3. Mascara: $24 every 3 months (mascara expires, so be sure to replace it regularly) / $8 a month
I have tried and tried to switch to a drugstore brand, but this stuff is the holy grail. (Maybelline's Volum'Express The Rocket mascara is probably the closest approximation to it, though.)
4. Lipstick: $28 every 2 months / $14 a month
If I have one signature thing, it's bright lipstick. You swipe it on, and you've instantly got a full look, whether or not you have any other makeup on at all. I've spent some time amassing my collection but despite my stash, I rotate between a few favorite colors and haven't yet needed to replace them — one tube lasts a looooong time (longer if you store them in the fridge, as I do). I might add a new color every two months or so, though, and your average lipstick will run anywhere from $8 to $32, so let's say I spend $14 a month on my mouth.
5. Johnson's baby oil: $4 
You need to take it off somehow. The stuff your mom used to slather on your butt is the only thing that takes EVERYTHING off in one swoop. It's multi-purpose, too, so it's my go-to body lotion, and it even works as shaving cream in a pinch.
6. Neutrogena clear pore cleanser/mask: $7 
You can't leave all that oil on your face, and this wipes it all away. I typically use it once a day, and sometimes leave it on as a mask before washing it away.
7. Peel-off mask: $18 
I like to use one of these single-use packs a week, so I typically go through a box every month. They dislodge everything that might be lurking in my pores, and though I like one variety over the others, they all work pretty well, and guarantee that I'm not wasting any product by applying too much.
8. Glossybox: $20 
I used to belong to a few different subscription programs, but this one is by far my favorite, so I canceled the other ones. (No use in spending money if you're not fully satisfied, right?) You get full-sized products, and while I might not find use for everything they send me every month, I like passing some things on to my friends if they might like them. There's always something I like, though — this month was a shampoo, and last month featured a face scrub and a shaving cream that I'd absolutely buy again.
9. Nail polish: $8
It's notoriously hard to finish a bottle of nail polish — seriously, when was the last time you completely drained a bottle — but I'll pick up a new color every once in a while. If you find the average between a $1 bottle of New York Color quick-dry clear polish which is seriousy the best top coat ever, and a pricier $18 bottle from Deborah Lippmann, that averages out to maybe $8 a month — the price of popping a bottle of Essie in your basket at the drugstore because the color caught your eye.
Of course, there's the random facial (usually $70), haircut ($60, on average), box of hair dye ($10), eyebrow shaping session ($20), and perfume (how do you break down the average use of a bottle of perfume?!) but I don't buy these things with any real regularity and so I'm not going to count them. My eyebrows have also been hacked down over the years to the point where they're just not growing back anymore, so I can usually maintain them with a bright light and tweezers. But I used to spend good money every month so a stranger could rip them out. Just know that it gets better, girls. It truly does.
Author's note: I am both notoriously lazy about my hair, and very lucky that it is the kind of hair that lets me be notoriously lazy about it, so I never spend any money on hair product. I have that half-used bottle of cleansing crème I bought months ago, and a rogue bottle of dry shampoo I have used a grand total of two times but showering at a gym that provides premium shampoo and conditioner cuts a huge chunk of money out of the way.
Total: $303, on average
Even though that's entirely skewed by my gym membership, that's a not-insignificant amount of money. It's about $97 a month if you don't want to include that, which is still not exactly cheap, but for the amount and quality of product I'm using, it's not that bad.
It also helps that my makeup routine has been whittled down to three products every day — I have blush and bronzer, contour and highlighter and eyeshadow and eyeliner, of course, but I hardly use these things, and they're stored in my fridge so they don't go bad. And because I rarely use them, I typically buy the trial or travel size, so it saves me space, product, and money. (This travel-sized duo has lasted me over a year, and I haven't even hit the pan yet.) You can usually find these small sizes near the cash register, but be careful because they add up.
Countless thinkpieces have already been written on the subject of "waking up like this (***flawless)", so I'll spare you. And though I know my self-worth and intelligence would in no way be diminished if I stopped wearing makeup tomorrow, this is a routine I like partaking in. It makes me feel good about myself, and it's also just plain fun. It's something of a hobby, and on days when I wake up feeling like crap, that swipe of Ruby Woo is essential to boosting my mood.
There's a reason why this is a multi-billion dollar business, and why countless millions of those billions of dollars are spent hawking the stuff at us in the hopes that we buy it. Simply put: because we will. But newer, reasonably-priced brands are coming out with new formulas and products every day, though, and there's no reason why something you find at your local CVS won't work just as well — or even better — than something hidden on the Bloomingdale's makeup floor. Chances are good that one day, I'm going to have to cut back on some of these things, whether that's because of a job change or starting a family or simply because I switch products or brands. And that's fine, and totally normal.
What matters is that whatever you're using helps you feel like the best version of you possible. And that — with or without makeup, #nofilter or with filter, whether you woke up like this or spent three hours drawing on the perfect liquid cat-eye — is pretty freaking ***flawless in its own right.
Ella Ceron is social media editor at New York Magazine's The Cut. She is on Twitter and Instagram.
Image via Unsplash