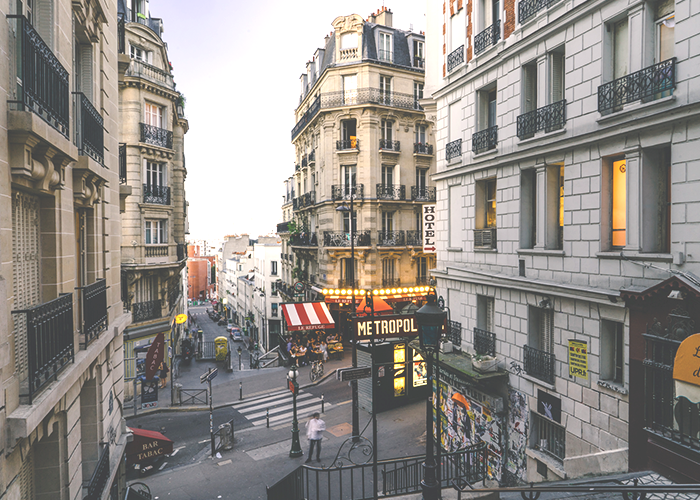 Growing up, summer vacations were my family's ultimate indulgence. My parents — a sheet metal worker and a third grade teacher — worked hard to be able to take my brother and me on trips to Florida at the end of each school year. Those weeks of relaxation were hard-earned luxuries for my mom and dad, and were treated as such; each trip to the beach was filled with indulgences we'd never normally allow ourselves back home. From lounging all day to eating dinner out every night, family vacations were little slices of uninhibited, unstructured paradise.
As I became an adult, that vacation mentality stayed with me — but it also began to influence my spending. Each summer, as a family trip approached, my resolve would weaken in the face of online sundress sales and sponsored posts for trendy Instagram swimsuit boutiques. That tendency to "let loose" as a way of making vacations special came to mean spending money on my trip wardrobe, too. After all, that week in paradise was supposed to be indulgent, right? Never mind that my fresh-out-of-college, majored-in-sociology paycheck wasn't leaving a lot of cushion for extraneous purchases.
A few clicks — and a few hundred dollars — later, I quickly became more interested in buying a luxurious travel aesthetic than actually traveling. Planning any trip — from a weekend away with friends to a family getaway in a new place — became a reason to splurge on the perfect pieces to bring along. Eventually, I amassed a collection of clothes purchased only for trips, with no regard for price or practicality.
During a closet purge this spring, I noticed that my donation pile was filled with these destination clothes and accessories. Hibiscus-print dress with no business being worn at home in New Jersey? Check. See-through $50 cover-up not nearly as effective as an oversized tee? Check. Trendy bikini tops too big for my diminutive chest (but super cute for pictures)? Check, check, check.
Not only had I been spending way too much on maxi skirts and wedges, the clothes I was buying were wasted once each trip was over, taking up space on my shelves. From the look of things, my worst case of overindulgence happened in the weeks before my 2015 honeymoon to St. Thomas. I spent almost $500 on new bathing suits, cover-ups, and clothes for the trip, but hadn't worn most of those items since that week. Some never fit me to begin with — but they certainly fit the Insta-tropical desires I ultimately indulged.
The size of the pile was an awakening for me. So was the realization that I could pay for multiple round-trip flights to Florida with the money I'd spent on vacation wear. I resolved at that moment not to take this habit on another trip with me.
I'm headed back to Florida with my family this summer, and for the first time, I'm being honest with myself about my propensity for sartorial overindulgence. Here are some of the shopping rules I'm following to help me break my habit for good:
Be realistic about how you travel.
Think about trips you've taken and what you've actually done, used, and worn — especially if you're returning to a familiar spot. Will those macramé poolside shorts even stay on very long, and are they worth the $30? Do you really need a drape-y sweater for cool nights — or will you even stay up late enough to take nighttime walks on the beach? Will that fringy poncho actually make you feel like you "belong" in Jackson Hole, or will it make you feel less like you? Be real with yourself.
Shop your closet.
This one seems obvious, but it's one I forget every time I fall into the trap of impulsive shopping ahead of a vacation. Browsing online for trendy clothes and ogling social media posts of your friends' perfect wardrobes are both much easier than browsing your bedroom. But if you deliberately go through what you already own, you might realize you don't need to make a single purchase. Sort through your wardrobe ahead of time, and take note of everything that's packable.
If you're going to buy something new
, ask yourself these questions before forking over the cash:
Does it fit me? Or am I buying it for the wrong reasons?
Is it functional? Will it serve its purpose well? Will I wear it after vacation too?
Is this financially responsible? Is this item well-made and/or priced appropriately?
Buying new clothes for a vacation isn't inherently wasteful. Well-loved bathing suits don't last forever, and vacations should be indulgent breaks from everyday life. We deserve to treat ourselves! What is wasteful is forgetting that the actual indulgence is the trip itself. I'm looking forward to a summer vacation that's less about how I'm dressed, and more about the destination — and I'm pretty sure my bank account is, too.
Molly is a nonprofit consultant and aspiring writer from New Jersey. You can often find her running, hiking, letting her tea get cold, and obsessing over word choice. She posts about the best and worst bits of life over on her blog.
Image via Unsplash