How A Self-Proclaimed Beauty Addict Packs For Travel (Without Checking A Bag)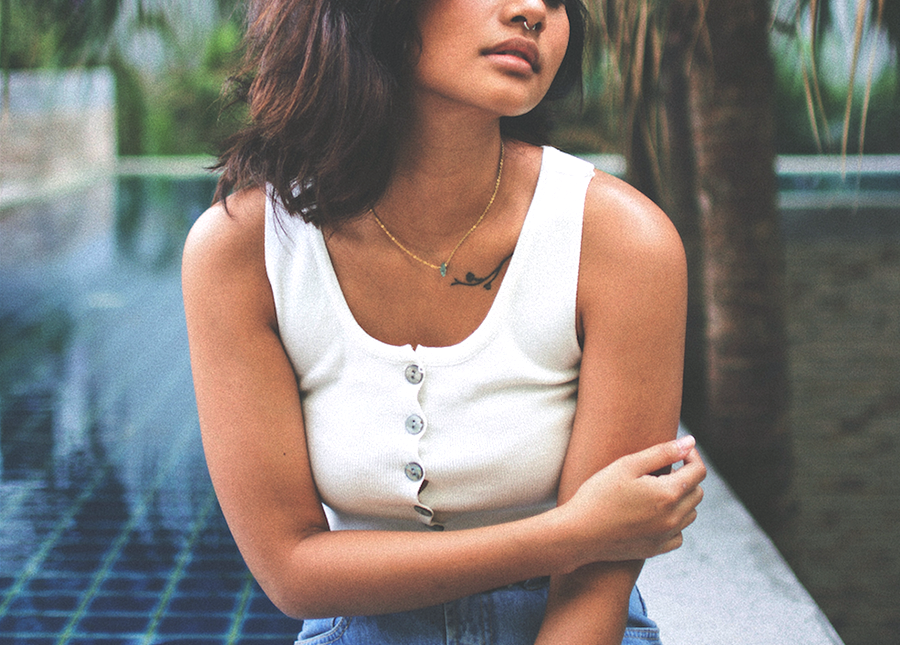 Packing efficiently for travel is a skill that everyone desperately desires and very few actually have. I can't even begin to describe my jealousy when a friend recently went on a two-week vacation to Japan and all she took with her was a carry on suitcase and a backpack. Meanwhile, I pack for a three-day vacation like I'm literally never coming home again. If the end of the world just so happens to coincide with my friend's bachelorette weekend in New Orleans, fear not, because I will be ready with a rain jacket, three bathing suits, two pajamas options (depending on the temperature of the room), fifteen extra pairs of underwear, and plenty of sensible shoes.
Although my bag may weigh in at close to the maximum limit, I've actually become somewhat of a packing ninja when it comes to my toiletries. As a self-proclaimed beauty addict, one might assume that my toiletries bag would be the bulk of my suitcase. On the contrary, I've honed a nearly perfect system for packing for travel that happens to be both extra as hell and TSA-approved.
What to Pack
1. Foundation and Concealer
As someone who owns as many foundations as she owns shoes, having to choose a single foundation to take on vacation would send me into full-blown hysterics. So I take two. I take one medium to full coverage liquid foundation and one stick foundation. My go-to liquid foundation is L'Oreal Infallible Pro Glow, which I like because it's in plastic packaging versus a breakable glass bottle, it's long-wearing, and it can be sheered out with a lightweight moisturizer if I want less coverage. Stick foundations are higher in pigment, so I always bring Hourglass Vanish Stick Foundation to add more coverage or spot conceal any pimples that dare to show up on my vacation. For concealer, I pack the It Cosmetics Bye Bye Undereye Concealer, because it will cover up even the worst jet lag.
2. Powders
Common advice would tell you to buy a palette with a blush, bronzer, highlighter, and eyeshadows already in it, but I find that palettes are kind of like a sushi buffet — great in theory, but always disappointing upon execution. The palettes that have everything in them are usually pretty large and bulky, and let's be honest, there's no way those bronzers and highlighters in palettes work for every skin tone. My advice would be to pack small individual compacts of things you know you love and use already. My Benefit Hoola Bronzer, Becca Cosmetics blush, and Dose of Colors Highlighter all fit in the palm of my hand stacked together, and their smaller size makes organizing my makeup bag a lot easier. I keep the Tarte Tartelette Tease clay eyeshadow palette in my collection purely for travel since it's so small, but if you're really low on space, you can also use your bronzer and highlighter as eyeshadow in a pinch.
3. Cream Sticks
I've found a loophole in the entire TSA system, and that loophole is cream sticks. I love using creams because they're a bit more natural and subtle, which is exactly the kind of look I'm going for on vacation. Cream sticks fly under TSA's radar, as long as they're in a solid/stick form, so go wild if you want to! Nudestix is a great brand and their entire line of makeup products are in stick form. I love their All Over Face Color in Bondi Bae for bronzer and Illumi-naughty for highlight. Laura Mercier's Caviar Stick Eye Color are great eyeshadow sticks to throw in your makeup bag for a quick yet dramatic eye look.
4. Lips
I don't bring any kind of liquid lipstick when I'm traveling because, one, I don't want it to take up space in my precious liquids bag, and two, my face and lips are especially dry when I fly, which makes those drying liquid lipsticks the absolute last thing I want to put on my face. Instead, I stick with a few classic bullet lipsticks (again, creams over liquids) in neutral tones and a clear gloss. I also allow myself to bring one (1) pop of color, whether that's a true red, a red-orange, or a deep plum. No matter how much the doomsday prepper in me wants to bring them all "just in case," I know that realistically, there's a slim chance I'll wear both a vampy maroon and a poppy red on the same vacation.
5. Travel-Sized Products
You know all of those annoyingly small samples you get with your purchase at Sephora or makeup counters? Now is their time to shine. I keep a drawer with all my travel-sized products and pull them out when I'm packing. Things like primers, moisturizers, and cleansers are all pretty common freebies, and you should definitely stockpile these items to take on trips if you want to avoid the dreaded task of decanting your liquids into smaller containers.
How to Pack
1. Don't Check Your Toiletries Bag
As my beauty products have grown over the years, so has their price tags. I've invested quite a lot into my makeup and skincare products, and if they were ever to say, disappear (looking at you, Delta Airlines), I honestly don't know if I (or my bank account) would ever recover. I stopped checking my toiletries bag, and frankly never looked back. As long as you're smart about your liquids, you should have no problems toting your toiletries bag through security. If I have a checked bag, I'll pack it with things I can stand to lose, like shampoo and conditioner, but my limited edition Anastasia Beverly Hills x Mario eyeshadow palette? Never.
2. The Liquids Bag
This is without a doubt the most crucial part of packing your toiletries bag, but it's actually a lot easier than you think. In terms of makeup, most liquid foundations are around one ounce anyway, so you can bring your regular foundation without breaking TSA's sacred 3.4oz rule. If you use the tips outlined above and pack powders and cream sticks over liquids, your makeup shouldn't take up too much of that valuable quart-sized bag. I always minimize liquid makeup in order to make room for what really matters — liquid skincare. I have a set of travel-sized containers from Amazon and I decant my cleansers, liquid exfoliators, mists, moisturizers, and other skincare items into their temporary homes. I recommend sticking a piece of tape on the containers and writing the product name or function so you don't end up using your cleanser as a primer. Housing all your liquids in a quart-sized Ziploc is equally important as what's in it if you don't want TSA to question you, and it actually comes in handy with liquids, because something will inevitably leak going to or from your destination.  
3. The Clear Toiletries Bag
I don't care how cute your current toiletries bag is — clear cases are a thousand times more functional and I suggest making the switch to one immediately, if not sooner. If you've ever been in a dim hotel room struggling to find your black eyeliner within your black makeup bag, you'll understand how crucial this tip is. The clear toiletries bag makes finding and organizing your products a breeze. It's like having all the answers to a game of Tetris. I got this clear bag on a flash sale for $45 and it's worth every penny, considering it's basically witchcraft. I swear it fits absolutely everything, including my makeup brushes standing up. It's like Mary Poppin's magic bag. It has removable divider pockets and a mini bag within the main bag to hold smaller items so they don't get lost. If that's not in your budget, this set of three clear toiletry bags is a steal (and it comes in pink!).
Don't Forget
1. Facial Mists
I always bring a travel-sized facial mist to use on the plane to give my skin a big gulp of hydration. Plane air is, for a lack of a better word, fart-y. Facial mists deliver a shot of luxury in the midst of all that unpleasantness, and for a moment it's like you're flying private. Just kidding, but it does feel bougie as hell. I received a travel-sized version of Farmacy's Skin Dew a while ago and I just refill the bottle with whatever facial mist is tickling my fancy at the time.
2. Pimple Patches
There's nothing worse than getting a pimple on vacation, which I why I always come prepared with pimple patches. The Peach Slices Acne Spot Dots by Peach and Lily come in a variety of different sizes to cover any pimple, and instead of attacking your pimple with harsh chemicals like salicylic acid or benzoyl peroxide, they're made to absorb the contents of your unwanted guest like a vacuum. Gross, but it works.
3. Sheet Masks
I feel like I'm beating a dead horse here, but my skin tends to get along poorly with travel. I always pack a sheet mask just in case I need a little somethin-somethin, or if I'm going to a wedding and want my face to look at its best. They're easy to slip into your liquids bag and they can be a real lifesaver if you get a burn on your face. The Tony Moly sheet masks are inexpensive for a large pack, and you can easily find them on Amazon.
4. SPF
It's nearly summer in 2018. Our ozone layer is like a doily and the human race could burst into flames at any moment, so, yes, you should be wearing sunscreen. La Roche-Posay makes great sunscreens that don't feel as greasy as the ones your mom rubbed all over your face as a kid.
*****
Of course, this isn't everything I pack, but it's most of the important things. I still bring all my basic necessities like eyeliners, brow products, brushes, etc. Make no mistake, my toiletries bag is definitely Doing The Most, but I'm not going to give up who I am as a person and suddenly become one of those off-duty model types for the weekend. Instead, I optimize my toiletries bag by packing powders and multi-use sticks over liquids in such a way that I'm able to carry it right through security, alleviating that ever-present fear of lost baggage and feeling like a celebrity as I do it. It's a win-win situation all around.
Cristina is a freelance beauty writer in Austin, Texas. She spends her spare time masking and wondering if jade rollers really work. DM her your favorite moisturizer on Twitter or visit her on her website. 
Image via Unsplash