How Dating During COVID Made My Romance Life Better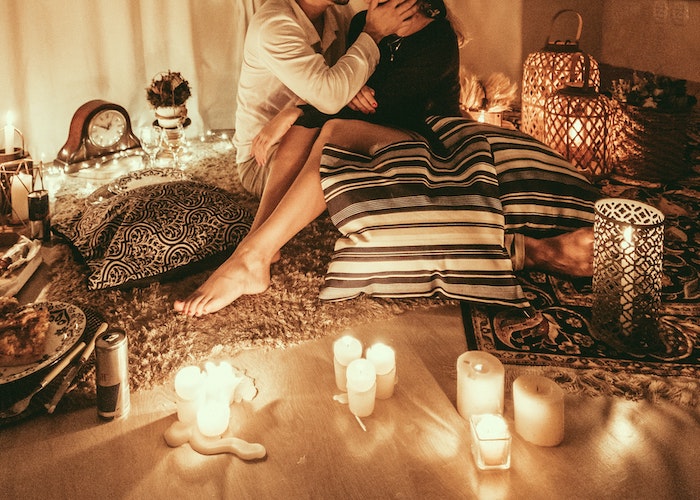 The need for human contact and connection is something we can't deny ourselves of, for very long. No matter how independent you are, the yearning for the comfort another person brings to our lives is a natural instinct. And in a time where we've been ordered to limit our contact with others, this feeling doesn't just magically disappear.
Over the past eight months, the dating world has undergone a rollercoaster of cultural shifts. Back in March, meeting people quickly became a threat, and new, romantic encounters were discouraged. Even the government weighed in on this, declaring to singles everywhere, "You are your safest sex partner."
Dating, it seemed, was canceled. But loneliness is a persistent feeling. 
This year, online dating apps saw a surge in subscribers. Match Group, the owner of popular e-match apps like Hinge, Tinder, and OKCupid, reported a 15% subscriber surge in the first quarter of 2020.
As someone who went through a breakup mid-pandemic, and was now facing the world single, I mourned the loss of dating during pre-pandemic times. The thrill of meeting a stranger on a night out, and the ability to casually date around without consequence or threat. I missed the excitement, mystery, and adventure of it all. That said, in navigating the dating scene recently and in speaking with friends who have done the same, I have noticed some positive shifts too. 
Dare I say that some of these changes may be good ones? 
We're Getting To Know Each Other Better  Through "Distant Dating"
With online dating on the rise, many folks in the dating scene right now are getting to know the person they're interested in before actually meeting up. Taking additional time to figure out what you have in common, where you stand on important political issues, and even shared interests like music taste, can lead to better connections over time should you decide to pursue this person. 
My conversations on dating apps a few years ago were minimal and boring, and I'll admit, I contributed to that. If I found the person attractive and thought we had at least one thing in common, I'd hope to meet up. This summer, I had much more nuanced conversations with strangers before seeing each other IRL (or, deciding not to).  
Due to the health concerns of COVID-19, I found that potential dates are much more open to meaningful conversations online. First "dates" over Zoom are gaining popularity: one woman told Repeller that, "Distant dating helped [her] finally connect." And dating apps are adapting to these changes, making chatting online easier. Hinge has added phone and video chat features. Bumble has introduced social distance dating preferences on their profiles, prompting users to identify what kind of dates they're interested in going on right now (virtual or distant, being one example). Dating right now seems less scary when there are options like these available.
There's More Time To Work On Yourself First
Essential workers aside, most of us have extra time on our hands right now. While this ample amount of time alone with our thoughts can be daunting, it also means there's a lot of self-reflection going on right now. Folks have gotten into new hobbies or reconnected with old ones, perhaps doing things they weren't able to before. Exploring passions makes us more well-rounded and happy people, making it easier to show up in our relationships (and for our partners), too. 
We've all had a chance to think about what and who is truly important in our lives, too. City dwellers have fled their apartments and the workforce has been pushed to consider career changes. The pause on "the norm" that came with the pandemic (plus, the reality of climate change and political divisions), has given the world a new perspective on taking a step back in order to reevaluate our core values and principles. If you're in the dating game, this may mean you've thought about what you're looking for in an ideal partner. Getting more clarity on this will help both you and your potential dates.
Better Communication 
It's a well-known fact that communication is important in relationships, and typically this is something that develops gradually over time. But dating during a pandemic necessitates good communication upfront: discussing what precautions you're both taking, your risk tolerances, and your health status are now casual topics of conversation with a potential or new romantic partner. 
While I wish we still lived in a world where these discussions weren't necessary, I do think that having honest conversations early on is a good thing. This is a chance to see if your communication styles align, and will open the door to expressing your feelings and needs. Plus, good communication helps establish trust. 
Another way that the pandemic has strengthened communication is around consent. In a world where nothing is assumed, not even whether you'll meet in real life (or just chat online), the necessity of consent is reinforced. There's less expectation; the timeline of dating is completely reframing, and you and your love interest have a part in rewriting it yourselves. 
In the end, there's no doubt that the loss of casual dating (at least, for now) has been a rough transition. There are many aspects of dating that have been made more difficult due to COVID-19.  But slowing the pace, and bettering communication and consent are cultural shifts that I hope will stick around. In a time when we all have more time for ourselves, maybe personal growth will make us better for our partners, too. Amidst the difficulties of the dating world right now, positive changes are happening that I hope will serve our culture in the long run.  
Ashley is a freelance writer and on-going contributor at TFD based in Toronto. An avid traveler, she recently returned home to Canada after two years living abroad in Vietnam and Japan. She loves to read, try new things in the kitchen and get outside. You can learn more about her work here and can follow her adventures on Instagram @ashley_corb. 
Image via Unsplash
Like this story? Follow The Financial Diet on Facebook, Instagram, and Twitter for daily tips and inspiration, and sign up for our email newsletter here.